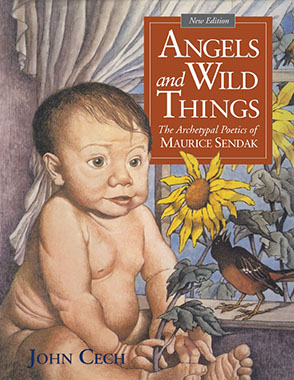 Angels and Wild Things
The Archetypal Poetics of Maurice Sendak
John Cech
Buy
Angels and Wild Things
The Archetypal Poetics of Maurice Sendak
John Cech
"[Cech] meshes a variety of critical approaches with biographical and autobiographical substance to progress through Sendak's work. . . . The largely chronological organization of the book traces the emergence of Sendak's child archetype and maps the exploration and expansion of it. Cech consistently alludes to the historical and cultural influences on the artist, from family to self, from Mickey Mouse to Judy Garland, from Blake to Mozart. In Sendak, Cech divines the child as empowered and vulnerable, as innocent and experienced—a liberating idea."
Media

Description

Reviews

Bio

Subjects
This new edition includes a preface by the author covering the life, work, and cultural impact of Sendak in the years since 1994.
1997 Honor Book Children's Literature Association
This new edition includes a preface by the author covering Sendak's life, work, and cultural impact in the years since 1994.

Over the course of more than ninety books, in a career that spanned six decades, Maurice Sendak became the most influential and, at times, the most controversial creator of works for children. Each of the books in his trilogy—
Where the Wild Things Are
,
In the Night Kitchen
, and
Outside Over There
—was precedent setting, dramatically expanding the boundaries of subject matter and images that have been conventionally accepted in books for younger children. In this first comprehensive reading of Sendak's key works, John Cech considers the symbolic child who was developed in Sendak's books and who remained at the center of his vision.

By fusing biographical, historical, cultural, and literary materials with the insights of depth psychology and archetypal theory, this study traces the evolution of Sendak's work—from its first, bold steps in the 1950s, to its liberating breakthroughs of the 1960s and early 1970s, to the rich complexity of his later books. Cech concentrates on those books that Sendak has both written and illustrated. In these books, we can see most clearly the alchemy of his creative process, which wove together the remembrances of his own things past, the spirit of his times, the history of children's literature, and Sendak's animating concern with the archetypal figure of the child—a symbol of creative potential, emotional vitality, and spiritual renewal.
"[Cech] meshes a variety of critical approaches with biographical and autobiographical substance to progress through Sendak's work. . . . The largely chronological organization of the book traces the emergence of Sendak's child archetype and maps the exploration and expansion of it. Cech consistently alludes to the historical and cultural influences on the artist, from family to self, from Mickey Mouse to Judy Garland, from Blake to Mozart. In Sendak, Cech divines the child as empowered and vulnerable, as innocent and experienced—a liberating idea."
"Cech delivers a sophisticated analysis that delves into Sendak's writing and pictures and the rich symbolism of his work, all for the purpose of capturing the 'unique Sendakian child.' . . . Sendak, Cech claims, 'takes adults back to their [childhoods] and allows children to fully claim their own.' This fascinating study, which includes a generous supply of black-and-white illustrations, a twelve-page inset of full-color reproductions, and a complement of notes, will give students of children's literature and devotees of Sendak the chance to follow the trail."
John Cech is Professor of English at the University of Florida, Director of the University of Florida's Center for Children's Literature and Culture, and a past president of the Children's Literature Association.