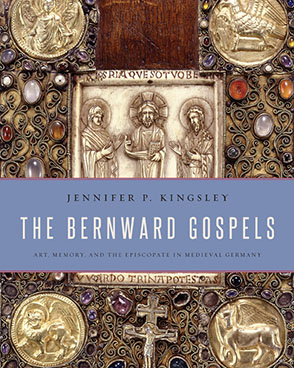 The Bernward Gospels
Art, Memory, and the Episcopate in Medieval Germany
Jennifer P. Kingsley
BUY
The Bernward Gospels
Art, Memory, and the Episcopate in Medieval Germany
Jennifer P. Kingsley
"The Bernward Gospels is a learned and well-written volume that contains innovative insights into the miniatures of one of the most important and famous medieval manuscripts. It is to the author's credit that she makes fresh observations and draws important conclusions about a medieval work that has been studied continuously for well over one hundred years. Jennifer Kingsley demonstrates once again the sophisticated nature of the manuscript's pictorial program and implicates the pictures in broader conversations about the proper function of medieval imagery, memory, and spiritual seeing."
Description

Reviews

Bio

Table of Contents

Sample Chapters

Subjects
Few works of art better illustrate the splendor of eleventh-century painting than the manuscript often referred to as the "precious gospels" of Bishop Bernward of Hildesheim, with its peculiar combination of sophistication and naïveté, its dramatically gesturing figures, and the saturated colors of its densely ornamented surfaces. In The Bernward Gospels, Jennifer Kingsley offers the first interpretive study of the pictorial program of this famed manuscript and considers how the gospel book conditioned contemporary and future viewers to remember the bishop. The codex constructs a complex image of a minister caring for his diocese not only through a life of service but also by means of his exceptional artistic patronage; of a bishop exercising the sacerdotal authority of his office; and of a man fundamentally preoccupied with his own salvation and desire to unite with God through both his sight and touch. Kingsley insightfully demonstrates how this prominent member of the early medieval episcopate presented his role to the saints and to the communities called upon to remember him.
"The Bernward Gospels is a learned and well-written volume that contains innovative insights into the miniatures of one of the most important and famous medieval manuscripts. It is to the author's credit that she makes fresh observations and draws important conclusions about a medieval work that has been studied continuously for well over one hundred years. Jennifer Kingsley demonstrates once again the sophisticated nature of the manuscript's pictorial program and implicates the pictures in broader conversations about the proper function of medieval imagery, memory, and spiritual seeing."
"A welcome look into the creative motivations and commissions of one of the most important patrons of the Middle Ages, this fine book is not merely a study of a luxury manuscript. It provides English-language readers insight into the artistic innovations of a new class of wealthy and powerful donors—the well-connected bishops of Ottonian Germany. A fascinating story of power, prestige, and aesthetics in these commissions, The Bernward Gospels also considers the special relationship with God that Bernward of Hildesheim hoped to achieve in the densely meaningful images of his Gospels. In particular, Jennifer Kingsley explicates a series of visionary miniatures in the gospel book, concluding that for Bernward, the Eucharist and its implements could be a 'prompt for spiritual sight' and that his gifts to the church were intended to save his soul."
"In focusing minutely on a single patron and the visual program of one commission, [this study] brilliantly addresses a multitude of issues in Ottonian theology, history, and art."
"[Jennifer] Kingsley's book is solidly constructed, accurate in the analysis and knowledge of texts and scholarship, as well as historical context. The classic and innovative approach opens new perspectives for the study of the great monuments of manuscript painting in the Ottonian period."
Jennifer P. Kingsley is Lecturer and Administrator in Museums and Society at Johns Hopkins University.
Contents
List of Illustrations
Acknowledgments
Introduction
1 Memory
2 Service
3 Sight
4 Touch
Conclusion
Appendix
Notes
Bibliography
Index