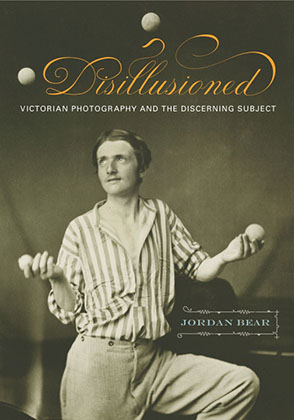 Disillusioned
Victorian Photography and the Discerning Subject
Jordan Bear
BUY
Disillusioned
Victorian Photography and the Discerning Subject
Jordan Bear
"In an impressive and timely counterpoint to recent emphasis on the archival appropriations of photography, Jordan Bear turns conventional assumptions about belief in photographic realism on their head, showing that, throughout the nineteenth century, claims for photographic verisimilitude were greeted with doubt, distrust, disappointment, and even ridicule, opening the way to other photographic practices—and, indeed, as exemplified by Disillusioned, to another history of photographic production and consumption and to important new insights into the historical formation of the discerning liberal subject."
Media

Description

Reviews

Bio

Table of Contents

Sample Chapters

Subjects
Winner of the 2016 Book Award, post-1800 category, from the Historians of British Art
How do photographs compel belief and endow knowledge? To understand the impact of photography in a given era, we must study the adjacent forms of visual persuasion with which photographs compete and collaborate. In photography's early days, magic shows, scientific demonstrations, and philosophical games repeatedly put the visual credulity of the modern public to the test in ways that shaped, and were shaped by, the reality claims of photography. These venues invited viewers to judge the reliability of their own visual experiences. Photography resided at the center of a constellation of places and practices in which the task of visual discernment—of telling the real from the constructed—became an increasingly crucial element of one's location in cultural, political, and social relations. In Disillusioned: Victorian Photography and the Discerning Subject, Jordan Bear tells the story of how photographic trickery in the 1850s and 1860s participated in the fashioning of the modern subject. By locating specific mechanisms of photographic deception employed by the leading mid-century photographers within this capacious culture of discernment, Disillusioned integrates some of the most striking—and puzzling—images of the Victorian period into a new and expansive interpretive framework.
"In an impressive and timely counterpoint to recent emphasis on the archival appropriations of photography, Jordan Bear turns conventional assumptions about belief in photographic realism on their head, showing that, throughout the nineteenth century, claims for photographic verisimilitude were greeted with doubt, distrust, disappointment, and even ridicule, opening the way to other photographic practices—and, indeed, as exemplified by Disillusioned, to another history of photographic production and consumption and to important new insights into the historical formation of the discerning liberal subject."
"Jordan Bear presents nineteenth-century British photography as an epistemological problem, bearing on questions of reality and how it should be represented. These are social and political questions as much as cultural ones, and the great strength of Bear's book is his insistence on the inseparability of these terms. Anyone interested in the history of photography will want to read his account and measure it against the way these same terms are being negotiated in our own time."
"Disillusioned will take up a useful place alongside studies like Michael Leja's Looking Askance: Skepticism and American Art from Eakins to Duchamp—scholarship that shifts the art historical priority from production to the active, creative, and socially generative processes of what used to be called mere 'reception.'"
"Historically rich, theoretically sophisticated, critically informed, and modest even as it shifts the grounds of critical consensus about a number of key questions about photography. It is quite simply a tour de force."
Jordan Bear is Assistant Professor of Art History at the University of Toronto.
Contents
List of Illustrations
Acknowledgments
Introduction. The History of Photography and the Problem of Knowledge
One. See for Yourself: Visual Discernment and Photography's Appearance
Two. Shadowy Organization: Combination Photography, Illusion, and Conspiracy
Three. Same Time Tomorrow: Serial Photographs and the Structure of Industrial Vision
Four. Hand in Hand: Gender and Collaboration in Victorian Photography
Five. Signature Style: Francis Frith and the Rise of Corporate Photographic Authorship
Six. Indistinct Relics: Discerning the Origins of Photography
Seven. The Limits of Looking: The Tiny, Distant, and Rapid Subjects of Photography
Conclusion. "Normal" Photography: The Legacy of a History
Notes
Bibliography
Index
Mailing List
Subscribe to our mailing list and be notified about new titles, journals and catalogs.