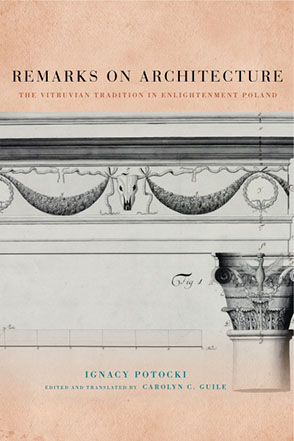 Remarks on Architecture
The Vitruvian Tradition in Enlightenment Poland
Ignacy Potocki, edited and translated by Carolyn C. Guile
BUY
Remarks on Architecture
The Vitruvian Tradition in Enlightenment Poland
Ignacy Potocki, edited and translated by Carolyn C. Guile
"An exceptional case study of what rigorous and inventive scholarship can bring to our knowledge not only of the strategies at work in the Polish-Lithuanian commonwealth, but also of the Enlightenment European architectural theory more generally."
Description

Reviews

Bio

Table of Contents

Sample Chapters

Subjects
At the end of the eighteenth century, the authors of Poland's 3 May 1791 Constitution became the heirs to a defunct state whose territory had been partitioned by Russia, Prussia, and Austria. At this moment of intensive national postmortem, Ignacy Potocki, an eminent statesman and co-author of the Constitution, wrote the treatise
Remarks on Architecture
.
One of the best-preserved examples of early modern Polish architectural thought, Potocki's work announces itself as a project of national introspection, with architecture playing a direct role in the betterment of the nation. Addressed to the contemporary Polish nobility, the book argues that architecture is a vessel for cultural values and that it plays an important part in the formation and critique of broader national traditions. Throughout, Potocki conveys the lessons of a Vitruvian canon that shaped Continental classical architectural theory and practice throughout the early modern period.
Expertly translated by Carolyn Guile and featuring an introduction that explores Polish Enlightenment architectural writing as an example of cultural exchange, inheritance, and transformation, this edition of Potocki's treatise broadens our understanding of European architectural history during the early modern period.
"An exceptional case study of what rigorous and inventive scholarship can bring to our knowledge not only of the strategies at work in the Polish-Lithuanian commonwealth, but also of the Enlightenment European architectural theory more generally."
"This publication of Ignacy Potocki's treatise on architecture makes an important contribution to our understanding of Enlightenment ideas about architecture, aesthetics, and classicism, while further elucidating the complex relation of Polish ideas to the European Enlightenment as a whole. Carolyn Guile has provided an excellent translation and a fascinating introduction to Potocki, his treatise, and its significance for the history of art, architecture, and aesthetics."
"A very valuable addition to the existing body of literature and primary sources on eastern Europe available in English."
Carolyn C. Guile is Assistant Professor of Art History at Colgate University.
Contents
List of Illustrations
Preface
Acknowledgments
A Note on the Text
Introduction
Remarks on Architecture, by Ignacy Potocki
Transcription of the Manuscript: "Uwagi o Architekturze Przez Ignacego Potockiego"
Notes
Bibliography
Index
Mailing List
Subscribe to our mailing list and be notified about new titles, journals and catalogs.