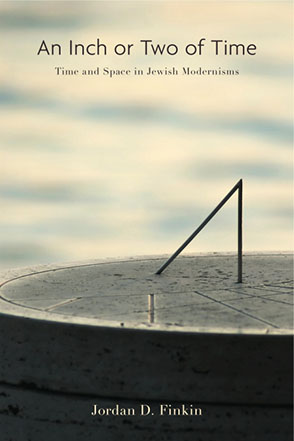 An Inch or Two of Time
Time and Space in Jewish Modernisms
Jordan D. Finkin
Buy
An Inch or Two of Time
Time and Space in Jewish Modernisms
Jordan D. Finkin
"An Inch or Two of Time sets forth a complex, elegant argument that recontextualizes eastern European modernist Yiddish and Hebrew poetry. Jordan Finkin's book revisits concepts of Jewish collective memory and redefines the arc of Jewish history through the disruptive language and fragmented style and themes of interwar Jewish poetry. Finkin's argument centers on the conjoined metaphors of time and space that are expressed and embedded in this poetry in the Jewish languages, Yiddish and Hebrew. Through them, Finkin addresses the broader issues of disrupted time and space, which informed all of modernist literature, art, and music during a period when these concepts were radically redefined in modernity at large. Finkin discovers the redefinition of 'time and space, history and territory,' which leads to new understandings of the idea of 'nation' and of literature. By reading key examples of Yiddish, Hebrew, and German modernist poetry through the conceptual prism of time and space, Finkin argues persuasively the degree to which these particular examples of Jewish modernist poetry can illuminate modernism in general."
Description

Reviews

Bio

Table of Contents

Sample Chapters

Subjects
In literary modernism, time and space are sometimes transformed from organizational categories into aesthetic objects, a transformation that can open dramatic metaphorical and creative possibilities. In An Inch or Two of Time, Jordan Finkin shows how Jewish modernists of the early twentieth century had a distinct perspective on this innovative metaphorical vocabulary. As members of a national-ethnic-religious community long denied the rights and privileges of self-determination, with a dramatically internalized sense of exile and landlessness, the Jewish writers at the core of this investigation reimagined their spatial and temporal orientation and embeddedness. They set as the fulcrum of their imagery the metaphorical power of time and space. Where non-Jewish writers might tend to view space as a given—an element of their own sense of belonging to a nation at home in a given territory—the Jewish writers discussed here spatialized time: they created an as-if space out of time, out of history. They understood their writing to function as a kind of organ of perception on its own. Jewish literature thus presents a particularly dynamic system for working out the implications of that understanding, and as such, this book argues, it is an indispensable part of the modern library.
"An Inch or Two of Time sets forth a complex, elegant argument that recontextualizes eastern European modernist Yiddish and Hebrew poetry. Jordan Finkin's book revisits concepts of Jewish collective memory and redefines the arc of Jewish history through the disruptive language and fragmented style and themes of interwar Jewish poetry. Finkin's argument centers on the conjoined metaphors of time and space that are expressed and embedded in this poetry in the Jewish languages, Yiddish and Hebrew. Through them, Finkin addresses the broader issues of disrupted time and space, which informed all of modernist literature, art, and music during a period when these concepts were radically redefined in modernity at large. Finkin discovers the redefinition of 'time and space, history and territory,' which leads to new understandings of the idea of 'nation' and of literature. By reading key examples of Yiddish, Hebrew, and German modernist poetry through the conceptual prism of time and space, Finkin argues persuasively the degree to which these particular examples of Jewish modernist poetry can illuminate modernism in general."
"The book rewards a slow stroll through its dense pages, as Finkin brings enormous erudition in the primary and secondary sources to a patient, quiet reading of some well-known and many lesser-known texts."
Jordan D. Finkin is Visiting Scholar in Jewish Culture and Society at the University of Illinois at Urbana–Champaign.
Contents
Acknowledgements
Appendix
Introduction: The Aesthetics of Spatiotemporality
Chapter 1: A Brief Essay on Time, Space, Nation, and Metaphor
Chapter 2: "Heymen un Reymen:" Homelandscapes, Shtetlekh, and Other Creative Spaces
Chapter 3: Temporaesthesia
Chapter 4: The Revolutionary Principles of Time and Space
Chapter 5: Enclosed in Distances: The Poetic Experiments of Yocheved Bat-Miriam
Afterword
Bibliography
Introduction: The Aesthetics of Spatiotemporality
Happy the man, whose wish and care
A few paternal acres bound,
Content to breathe his native air,
In his own ground.
(Alexander Pope, "Ode on Solitude")
If these famous lines of Pope's are the appropriate barometer of contentment then the Jews have been distinctly discontented. In Isaac Bashevis Singer's mordant phrase, the Jews are "a people who can't sleep themselves and let nobody else sleep either." Even when on their native Eastern European ground, their insomnia was chronic. The more Jews felt the pressure for nation, the greater the anxiety about their few paternal acres, wherever those might be. Not only longing for, but also actual connections to physical space transcend political or cultural autonomy. Natural, reflexive, and organic connections to places are part of being human. Jewish self-reflection, however, tends to trace tensions over that terrain. Jews are a Diasporic people, and Diasporic thinking, for better or worse, has an affinity for the portative. But unlike Boris's father in Woody Allen's "Love and Death" who owns a small piece of land—which he carries with him under his coat—land is not portable. Time, however, and with it a perception of history, a connection to an historically oriented sense of mission and of meaning, are all transmissible.
In his artful meditation on the connections between history and collective memory, the historian Amos Funkenstein makes the intriguing assertion that "reflection on the contents of collective memory gives rise to increasing freedom in their individual instantiation. In other words, the more a culture permits conscious changes and variations of the narrator in the contents, symbols, and structures of collective memory, the more complex and less predictable the narrative of history becomes." The structures of memory are plotted in interesting ways along spatial and temporal axes. Moreover, the "narrator" of Jewish time and of Jewish space is not only the rabbi or the historian, the political leader or public intellectual, but also indeed the writer and the poet. That an estimated 100,000 people accompanied the funeral procession of the Hebrew and Yiddish writer Y. L. Perets in Warsaw in 1915 requires some pause to consider. That a poet and short-story writer occupied that kind of cultural position says something fundamental about how literature is more than an aesthetic conceit.
This is the landscape in which the stakes of this project are set: understanding the trope of being homeless in the world, at home in a given place, but in George Steiner's phrase frappante "housed in time." This book is not a synthetic approach to the subject, nor an historical overview. Neither are the poems analyzed historical documents, but rather fictive conceits. Nevertheless, they are conceits that reveal core cultural concepts relevant to Jewish spatial, temporal, and indeed historical thinking.
The present volume represents a modest project, offering small apertures—produced by a few preliminary stabs at understanding the ways in which metaphors of time and space are made to interact—from which to look at the uses of time and space in modern Jewish literatures. My focus on poetry, and on the Hebrew and Yiddish poetry of the high modernist interwar period, is unapologetic insofar as in these works there is concentrated so much energy devoted to figuring out the structures by which literary language works. Moreover, modernist literature offers one of the best vantage points from which to view the active engagement with these ideas because it was modernism's own valuation of critical self-reflection that places issues of perception front and center. The writing of such verse was driven by the poets' shared belief that poetry had the power to shape the world through language: such poems are themselves some of the most contested of literary spaces. Poetry, as Paul Valéry put it, is language in the state of being born; the cultural space which poetry occupies is the creative core of a language, and its metaphors of space and time are the engines of that creativity. To worry about time and space, history and place, in their literary forms is to worry about precisely these texts.
Furthermore, this work proceeds on a broad assumption about East European Jewish culture: that it placed a premium on overt, as opposed to covert, semiotic systems. A great cultural premium was placed on texts and therefore on language—a point encapsulated not only in the concept of Jewish Discourse and the cultural practices certainly of Ashkenazi Jewry over close to the past thousand years but on the fact that Yiddish and Hebrew were perceived not only as Jewish cultural products but in many ways as constitutive of Jewish culture. But an equally consequential emphasis was placed on the development and deployment of sophisticated interpretive strategies. It is as if an inversely proportional relationship existed between a circumscribed Jewish political autonomy over physical places on the one hand and control over ever-expanding semantic spaces on the other. Modern Yiddish and Hebrew literature are born of that world. Notions of space and time, I argue, are integral to those developments.
*
Time and space have long been studied as the axes of perception, as some of the primary categories by which we as human beings organize our experiences. The study of time and space as cultural categories in Jewish Studies, however, has a less lengthy history but has expanded in earnest in the past generation. Certainly a reëvaluation of the relationship of Jews to history has been one of the most important factors in the making of modern Jewry, as the works of historians like Yosef Haim Yerushalmi and Amos Funkenstein have painstakingly pointed out. On the spatial side, a cohort of scholars of modern Jewish culture have participated in the "spatial turn" in the humanities, as can be seen most recently in the works of Barbara Mann, Shachar Pinsker, and Allison Schachter. Taken together, Jewish Studies is clearly working through the complexities and ramifications of the concepts of time and space and their deployment by Jewish intellectuals, writers, and artists. Again, the present volume—on the metaphorical interconnection of time and space in Hebrew and Yiddish modernist verse—is one brick in that growing edifice.
In Yehuda Amichai's poem "An old Bus Stop," a poem in which the titular location stimulates a reverie on the emotional pulls of the poet's life, the temporality of his memory meets the physicality of the place. At the conclusion of the poem Amichai writes, "The stop is still there. God is still / Called 'Place,' and I, sometimes, / Call Him 'Time.'" In Barbara Mann's illuminating reading of this poem she notes of the bus stop that it "represents […] a caesura in theological experience wherein the God of History is encountered in intimate terms, through a simple address in a particular location." And moreover, insofar as the poem also meditates on the complexities of space in modern Israel, by speaking of emotional reflections in theological terms, she reads the poem as dealing with "a foundational question in Jewish theology: Is God revealed in time, in history, or in space, in 'the Land'?" Here the categories of time and space remain distinct, a separation which is very common. What interests me, however, are not those instances where it is a matter of a choice between time or space, of an either/or situation, as in Amichai's "sometimes." Nor those in which we encounter an intersection, time and space. Rather, my interest is in those cases of mixing, of time as space or vice versa.
Stepping back, if we take the Bible briefly as a starting point, in Psalm 39:5-6 the supplicant pleads: "Make known to me, oh Lord, my end and what is the measure of my days, I will know how ephemeral I am. You have made my days but a few hand-breadths, and my duration is as nothing to you; all men stand but as a breath." These verses make momentary use of a felicitous spatial metaphor for time. That is, a period of time is marked out in terms of spatial distance. On its face this is not so startling, as many languages employ similar metaphorical figures. The goal of this book is to unpack the deeper significance of this metaphorical vocabulary when used by Jewish writers, often in startling ways, to understand their condition in the modern world.
I do not mean to give the impression that this specific literary activity is unique to the Jews. The renowned English hymnodist Isaac Watts (1674-1748), for example, creatively reformulates precisely this Biblical passage by focusing on that metaphorical structure:
Teach me the measure of my days,
Thou maker of my frame!
I would survey life's narrow space,
And learn how frail I am.
A span is all that we can boast,
An inch or two of time;
Man is but vanity and dust,
In all his flower and prime.
Watts skilfully plays up the carpentry imagery of the psalm, going so far as to add workshop dust in order to highlight a tangible dust-and-ashes understanding of mortality. But while the carpenter measures the wood in order to cut and to construct, God measures time just as precisely in order to cut off and bring to an end. Watts foregrounds the psalm's psychological insight into human insecurities about mortality by bringing out the metaphorical dimension of the verses: while the future may be unfathomable, the carpenter's saw is all too real. The metaphorical language of the poem offers a profound understanding of how we as human beings can experience reality through literature. More specifically, this "inch or two of time" is a pithy example of the kinds of spatiotemporal conflations with which I am concerned in this book.
Put another way, while time and space are the axes according to which we understand the world, they can also be transformed from abstract organizational categories into aesthetic objects. This transformation unlocks dramatic metaphorical and creative potential, especially when space and time are made to interact, as in the striking "inch or two of time." Indeed, engaging the metaphorical power of the interrelations of time and space is one of modern literature's innovative attributes.
This book presents, in a series of case studies, an argument for viewing the metaphorical interaction of time and space as one of the innovative techniques of modern and modernist literature, certainly in its Jewish inflections in Hebrew and Yiddish. While in this introduction and opening chapter I will look at some of the important issues relevant to investigating time, space, and their connections to one another, these observations are in service of an argument that is ultimately a literary one. If we take as a starting point the metaphorical intuition contained within the "inch or two of time," modern writers used that linguistic intuition in order to come to terms with the radical changes of the modern world with which they were confronted, including rampant accelerations in urbanization, industrialization, democratization, communication, transportation, privatization, secularization; revolutions in politics, science, technology, warfare; new conceptualizations of the individual, the community, the nation; etc., etc. The ability to create time out of space and space out of time is a complicated expression of a creative power to impose a kind of order on a world spinning dizzyingly out of control. There are those who maintain that a language, its grammar, structure, and categories, determine how we understand and make sense of the world (the so-called Sapir-Whorf hypothesis). A modernist would say, however, that not only does language itself form the world, but we deform the world through language. This is language's power.
Mindful of that power, this book will focus its attention through three literary lenses. The first is modernism, specifically its literary high-water mark in the early interwar period. This was a moment when the order of the world was not only in disarray and chaos, but also in a cataclysmic, apocalyptic, revolutionary way. The second lens is poetry. In no other genre was the formative and deformative power of language both present and the subject of its own contemplation so immediately. While in prose we find a number of experimental, radical, and innovative hallmarks of modernist literature, I focus on that poetry in which the metaphorical potential of spatiotemporality was most concentrated.
Looking at all of modernist poetry in this way would be an enormous task, and one impossible to undertake in a single volume. What I propose for this book as a whole therefore is to look at these issues through a third lens, namely Jewish literature, specifically modernist Jewish poetry in Yiddish and Hebrew. Jewish writers, certainly since the late nineteenth century, were dedicated to producing a literature that could come to terms with a modernity that they as Jews experienced in specific and important ways. Their perspectives, cultural history, socio-political vantage-point, etc., gave them a unique perch from which to experience, examine, and understand what was going on in the processes of modernity. Moreover, as members of a national-ethnic-religious community long denied the rights and privileges of autonomy or self-determination by political authorities—and one with a dramatically internalized sense of exile and landlessness—the Jewish writers at the core of this investigation reimagined and reinterpreted their spatial and temporal orientation and embeddedness. They set as the fulcrum of their imagery the metaphorical power of time and space both as calibrations of perception and as aesthetic objects in and of themselves. Where, for instance, non-Jewish writers might tend to view space as a given, as their foreground—an element of their own sense of belonging to a nation at home in a given territory—many of the Jewish writers discussed in this project are just as likely to spatialize time. That is, they create an ersatz space out of time, out of history, which—given the cultural emphasis placed on traditional canonical texts articulating a national historical pageant experienced in annual ritual cycles—is the "space" they most comfortably inhabited. While such a scheme represents not a one-to-one correspondence but a set of interesting tendencies, the heightened sensitivity towards the literary potentials of spatial and temporal metaphors among these Jewish writers is one of the impetuses for this project. Indeed, the revolution in modernist Jewish-language poetry involved the reorganization of language itself as an organ of perception. That is why space and time—as well as the equation of space and a spatial sensorium with temporal concepts—are so important for literary studies of this period.
To take but one example (expanded on later in greater detail in the third chapter), in the aftermath of a series of brutal Ukrainian pogroms in 1919-1921 the Yiddish modernist poet Perets Markish wrote a nightmarish sonnet which envisions an ominously deserted marketplace. Through a window we see on a wall how "clocks hang, hairy like hacked-off heads of calves, / And lick emptiness with the pendulum's back-and-forth." We find brutality and death merging into the domestic space. And within that space the objects of the senses, that is, the concrete, the tangible, the tasteable—in other words the spatial—are objectified as clocks. Their pendulums, like tongues, are the organs that experience that sensory, spatial world. The aesthetic domination of the senses has given way to (has been displaced by) time. This is typical of the disorientation and reorientation undertaken by many Jewish modernist poets, one of a number of strategies which make their poetry so challenging and so rewarding.
The convergences and divergences in the two literatures at the heart of this analysis—Yiddish and Hebrew—which were produced by groups of writers and intellectuals living and writing in largely the same communities in the early part of the last century, offer a dramatic test case for the issues of space and time at the heart of this project. For example, is there any way of formulating a sense of time and space that is uniquely "Jewish"? And if so, what are the necessary and/or sufficient conditions of such a formulation? How do socialist cosmopolitanism and Zionist nationalism plot on these axes? Does language choice affect the emphasis on time or on space, or does an understanding of these categories determine language choice? So, for example, starting from stereotypical assumptions, would a Zionist writing in Hebrew, with his or her emphasis on land and political autonomy, focus more heavily on spatial topics, while a revolutionary Yiddishist, with his or her universalist principles and deterritorial outlook, stress temporal themes? And as is alluded to by this latter pronominal indeterminacy, does gender play a role in questioning normative understandings of space and time? These are some of the questions guiding this project.
In the first chapter I present not a tour d'horizon but a somewhat idiosyncratic exposition of some of the key spatial and temporal concepts involved in the close literary readings of Jewish modernist writings I offer subsequently. Ideas of dynamism and stasis, linearity and cyclicality, parochialism and universalism all vie with one another as time and space enter a poetic free-for-all in the modern period. As I argue, however, the stakes of this wrangling are not merely aesthetic. How you conceive of the relationship between time and space, history and territory, has a profound impact on a range of other concepts, including the idea of the nation, a most fraught idea in Jewish modernity. Indeed, beyond the ideological ones, these metaphorical concepts have deep moral implications as well.
Though I have tried to impose a general kind of order to the progression of topics, from philosophy to linguistics to national space and history to literature, this seeming order belies the maniacal associative leaps in its composition reminiscent of Strindberg's "A Dream Play." But as in the remarkable psychological perceptions of that work, time and space nowhere in literature function according to orderly systematic constructions. In their messiness lies some of their aesthetic appeal.
The second chapter is an exploration of the "Jewish space" par excellence in Jewish Eastern European, the shtetl. These places, anything from oversized village to small city, were the demographic center of gravity in Jewish Eastern Europe for a good deal of the modern period. These were also the native places of the vast majority of the writers dealt with here and formed the backdrop to many of their works. That said, these literary shtetls are not ethnographic locales; they are profoundly intimate and contentious literary spaces. And in this space writers experimented with a number of political, ideological, and philosophical ideas. Intersecting with all of this is the notion of home and homeland.
Divided into two parts, this chapter deals with the idea of home as embodied first in the shtetl, and then in its natural environment and landscape, which I refer to as a "homelandscape." Literary thinking about the shtetl is nearly coterminous with that habitation, but critical models for its description have not been updated for some time. This chapter is a preliminary step in reconfiguring some of the spatial and temporal tropes associated with the Diasporic homeland.
The temporal ramifications of space are pursued in the next chapter. The metaphorical intersection of time and space, spatiotemporality, is most graphically portrayed in the aesthetic perception of time as an object of sensory perception. Briefly put, if time can be slowed down to a static moment, then it can be "sensed" like taste or touch; time can, in effect, be spatialized. This spatialization of time I call "temporaesthesia." I pursue the analysis of this metaphorical relationship in a comparison of two mainstays of European and Jewish modernist verse—the German Expressionist Georg Trakl and the Yiddish Expressionist Perets Markish—who both use this technique from divergent perspectives, depending on whether space is in the foreground or the background of their cultural experience. This pairing also underscores both the participation of Jewish artists in other European trends as well as their own unique contributions. In the coda to this chapter, I explore the distinctive temporaesthetic technique of one of the most striking of Hebrew modernist poets, David Fogel, as a test to the presumptions of Jewish territoriality implicated in the readings of Markish and Trakl.
A different configuration of time and space lies at the heart of the fourth chapter. The first decades of the 20th century saw Europe and the world convulsed by world war, revolutions scientific, social, and political, civil wars, pogroms; in short, all manner of chaotic transformation. One of the great explosions of Jewish creative energy not only coincided with these realities, but was catalyzed by the revolutionary atmosphere after the First World War and the Russian Revolution. The universalizing rhetoric of that heady period, which electrified many a Jewish writer, included the creation of a new model of personhood and a new time for that New Man to achieve his unfettered potential. That new revolutionary time overturned the past and, while looking to the future, focused on the concrete present, the fervent "now" in which the new man could transform his gaze from the dark past of tradition to the bright dawn of the future. The "moment," concrete and elemental, became a basic unit of revolutionary poetry.
Writing as members of a "deterritorialized" nation long invested in exploring temporal alternatives to that control over space which it lacked, Jewish poets were able to capitalize on an inherited vocabulary of temporality to write poetry that could easily match the new revolutionary spirit. This chapter deals with some of the signal achievements of this new temporal thinking, including two Soviet Yiddish poets of differing poetic temperaments: the more aestheticist Ezra Fininberg and, again, the brash and vociferous Perets Markish. (I think it will not go unnoticed that many of the case studies presented here in some way deal with or intersect with Markish. On one level this is because I cannot seem to escape the magnetism of his persona and his poetry. Yet more importantly, much of his early poetry especially is intimately involved in trying to understand and experiment with precisely these ideas of space and time.)
In the final chapter I turn to one of the more complicated and enigmatic voices in Jewish modernism, the poet Yocheved Bat-Miriam. Likely due to her poetry's hermetic nature, she is a poet who is mentioned far more often than her work is seriously attended to, the subject of only a handful of scholarly articles and one short monograph. Relevant here is her poetic experimentation with the vocabulary of time and space. One of the poets associated with the Moderna, the movement of Hebrew modernism in Palestine whose heyday coincided with the interwar period, Bat-Miriam is read very often both alongside and apart from its other major canonically associated figures. She is also often written into the framework of women writers of the period (and the themes and styles with which they are linked). Yet Bat-Miriam stands out from these simplified categorizations as something of an enigma in modern Hebrew letters. This chapter focuses on the poetry of Bat-Miriam's early period in order to outline some of the primary features of her experiment with developing that spatial and temporal vocabulary, including how memory functions as the connecting link between time and space. Her early poetry presents a kind of intimate spatiotemporality, weaving together memory of her native Byelorussian landscape with her experience of her adopted Palestine, through biblical, religious, and romantic/erotic imagery. The landscapes and timescapes of her verse defy easy interpretation and call for a continued investment in understanding space and time themselves, making her project an essential link in Jewish literary thinking about these topics. Bat-Miriam's intuitions about the associative structures of temporality in particular are reflected in her use of memory, of poetic techniques such as synaesthesia, and of the poetic potentials of the Hebrew verbal system. Though submerged by the poetry's complexity, the boldness of Bat-Miriam's investment in and investigation of time and space makes hers a distinct, if distinctly underappreciated, voice in Hebrew and Jewish letters.
The poetics of spatiotemporality offered a fertile vocabulary for modernism's exploration of the self, its relationship to community and nation, and its connection to the world. I provide for how poetry works as a kind of organ of perception on its own, and why Jewish literature presents a particularly dynamic system for working out the implications of that understanding. And while there is an important case to be made, implicit in this project, for why Jewish modernist literature is an indispensable part of the modern library, these creative and aesthetic experiments, for all their philosophical sophistication, ideological stridency, or aesthetic nuance, are nevertheless intensely personal attempts by artists to navigate the stormy seas of modernity. That the stakes of those experiments were oftentimes high—in a way which we tend to lose sight of these days when appreciation of poetry lists somewhat to leeward and its moral dimension once taken so seriously now seems quaint—must inform our reading of these works and their context.
Also of Interest
Mailing List
Subscribe to our mailing list and be notified about new titles, journals and catalogs.