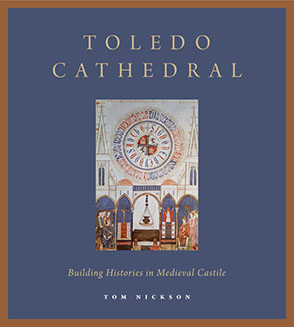 Toledo Cathedral
Building Histories in Medieval Castile
Tom Nickson
BUY
Toledo Cathedral
Building Histories in Medieval Castile
Tom Nickson
"This superb volume is unlikely to be read from cover to cover. It is a mosaic of different studies dealing with disparate themes related to the architectural origins of each part of the building. The intending reader needs to dip into it rather than attempt to absorb its contents at a sitting. Perhaps Nickson's most valuable contribution is to give us not merely an analysis of stonework but a very lucid presentation of the evidence for multiple aspects of identity, and the claims of the cathedral to power and primacy. . . . Tom Nickson gives us an expert analysis, superbly illustrated, in a highly detailed but also well-accomplished piece of research."
Media

Description

Reviews

Bio

Table of Contents

Sample Chapters

Subjects
Winner of the 2016 Eleanor Tufts Award from the American Society for Hispanic Art Historical Studies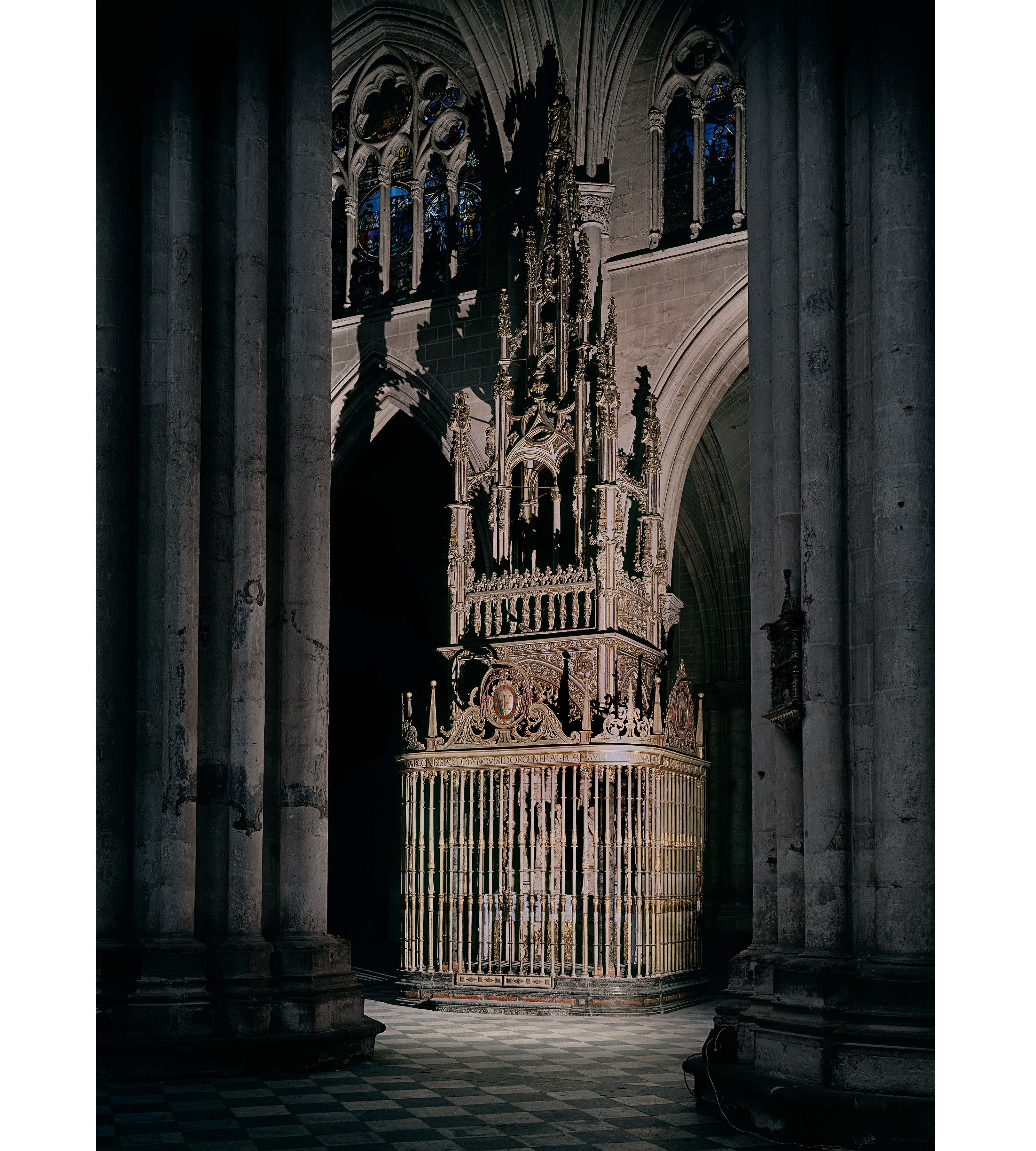 Medieval Toledo is famous as a center of Arabic learning and as a home to sizable Jewish, Muslim, and Christian communities. Yet its cathedral—one of the largest, richest, and best preserved in all of Europe—is little known outside Spain. In
Toledo Cathedral
, Tom Nickson provides the first in-depth analysis of the cathedral's art and architecture.
Focusing on the early thirteenth to the late fourteenth centuries, he examines over two hundred years of change and consolidation, tracing the growth of the cathedral in the city as well as the evolution of sacred places within the cathedral itself. He goes on to consider this substantial monument in terms of its location in Toledo, Spain's most cosmopolitan city in the medieval period. Nickson also addresses the importance and symbolic significance of Toledo's cathedral to the city and the art and architecture of the medieval Iberian Peninsula, showing how it fits in with broader narratives of change in the arts, culture, and ideology of the late medieval period in Spain and in Mediterranean Europe as a whole.
"This superb volume is unlikely to be read from cover to cover. It is a mosaic of different studies dealing with disparate themes related to the architectural origins of each part of the building. The intending reader needs to dip into it rather than attempt to absorb its contents at a sitting. Perhaps Nickson's most valuable contribution is to give us not merely an analysis of stonework but a very lucid presentation of the evidence for multiple aspects of identity, and the claims of the cathedral to power and primacy. . . . Tom Nickson gives us an expert analysis, superbly illustrated, in a highly detailed but also well-accomplished piece of research."
"A wonderfully interdisciplinary study, Toledo Cathedral will have great appeal to a variety of readers interested in medieval Spain and Gothic art and architecture, as well as those who study medieval memory and the extended 'life' of buildings."
"Compared with those of northern Europe, medieval cathedrals of Spain have thus far received relatively little scholarly attention. This comprehensive study . . . is therefore welcome."
"Nickson has produced a magnificent and multifaceted piece of scholarship, thus making a superb contribution to the state of our common knowledge. Toledo Cathedral: Building Histories in Medieval Castile will remain for generations to come an essential point of reference for all who wish to embark on the study of medieval Toledo and 'Gothic' (if we must) Spain."
"Nickson contends that 'scale, ambition, and rhetoric' set Toledo Cathedral apart from the other thirteenth-century Spanish cathedrals of Burgos and León, and certainly the ambitious objectives of his study of Toledo set it apart from previous scholarship on Spanish Gothic architecture."
"This study proves a strong voice for Toledo in the realm of scholarship. Nickson's introduction acknowledges the fact that his diverse angles of approach may make some readers read this book piecemeal. Those who do wish to pursue specific topics will find the volume easy to consult and clearly laid out; the second appendix, for example, pairs with fig. 64 to reconstruct the original location of chapels, altars, and their dedications (some eighty-four in all), while numerous color plates give details ranging from liturgical furnishings, manuscript illuminations, textile work, and, of course, architecture. This rich range, integrated with many high-quality images, will make Toledo Cathedral a valuable resource for any scholar of medieval Castile, or indeed of medieval Europe. But the book is much more than a collection of fascinating parts; the author's engaging, frank first-person style and interwoven narratives make it a rewarding work in its entirety."
"A learned but fluent book."
"A masterly exploration and minute analysis of a soaring masterpiece, Tom Nickson's revelatory study directs new and penetrating light onto the social importance—and architectural significance—of his subject."
"With this imposing study of the primatial cathedral of Spain, Tom Nickson has written one of the outstanding architectural monographs in the history of Spanish (and European) Gothic. But, as the author underlines, the book is as much concerned with the building of history as the history of building. It reconciles many separate studies on the cathedral and blends new Spanish art-historical scholarship with close documentary archaeology. Above all, it presents a rich overlay of Roman, Visigothic, and Islamic cultures and integrates them into Toledo's active communities of Jews, Muslims, Christians, and confessional converts—questions of ethnic identity which still dominate our own concerns. Spain, at last, has the cathedral it deserves."
"Few studies of Spanish Gothic architecture address the history and significance of a major cathedral with such mastery as does Tom Nickson's Toledo Cathedral. Nickson's meticulous scrutiny of primary texts and material evidence builds a cogent, persuasive construction narrative that illuminates the roots and trajectory of Toledo Cathedral's distinctive design, while his reconstruction of the late medieval people, objects, and performances that animated this great building sheds unprecedented light on its continuing importance to a city bent on asserting its centrality to Iberian history, politics, and culture. Blending traditional architectural analysis with incisive social history, this impressive, generously illustrated book will reshape our understanding not just of Toledo's history and meaning but also of the story and significance of Gothic architecture in Spain."
"Just as the archbishops of Toledo had envisioned their monumental cathedral as speaking to diverse audiences near and afar, the book can serve a similarly broad readership. In his references to English, French, Italian, and Andalusian traditions, Nickson links Castilian magnificence with international developments."
"The cogent publication by Nickson will serve as a touchstone for scholars who pursue new research on a range of questions."
Tom Nickson is Lecturer in Medieval Art and Architecture at The Courtauld Institute of Art, London.
Contents
List of Illustrations
Tables
Abbreviations
Acknowledgments
Note on the Text
Part 1
Introduction
Building Histories
The Historical Trajectory
Toledan Encounters
Chapter 1. The City
The Forma mezquite
Part 2
Chapter 2. The Design
Rodrigo and his Chapter
Building Big
Vaults
Chapels
Chapter 3. Rodrigo's Project
Setting Out
New Altars, Old Altars
The Upper Levels
Building the Cathedral
Building Toledo
Chapter 4. Between Córdoba and Paris
Design and Transmission
Inventing vaults
Chapter 5. The Exemplary Form
Archaeological Evidence
Written Evidence
Stylistic Evidence
Finding the End
Part 3
Chapter 6. The Cathedral of Memory
Liturgy
The Dead
Sacred Topography
The Treasury
Chapter 7. Cults
Mad about Mary
Mary Multiplied
Greedyguts and Avarice
The Cult of St Ildefonso
The San Ildefonso Chapel
St Eugene
The Cross
Chapter 8. Urbs regia
The Royal Chapels
Kings and Crosses
History Embodied
Picturing History
Chapter 9. Cathedral and City
The Puerta del Reloj
The West Façade
The Puerta del Perdón
Chapter 10. Art and Belief
Tenorio and his Painters
Locating the Choir Enclosure
Picturing the Pentateuch
The Choir Enclosure and Image Culture in Late Medieval Castile
Conclusion. Toledo and Beyond
Glossary
Appendix
Notes
Bibliography
Index
Mailing List
Subscribe to our mailing list and be notified about new titles, journals and catalogs.