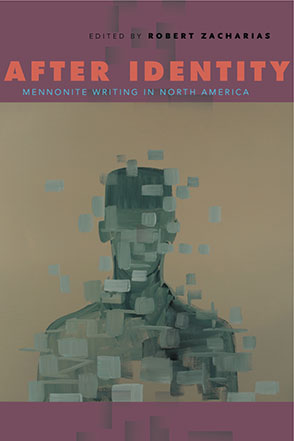 After Identity
Mennonite Writing in North America
Edited by Robert Zacharias
Buy
After Identity
Mennonite Writing in North America
Edited by Robert Zacharias
"Showcasing some of the best new scholarship in cultural studies, After Identity explodes the tight boundaries of Mennonite culture and points us toward the new literary representations that are redefining Mennonite identity in the twenty-first century. An important book for anyone interested in the debates around culture, identity, and writing in the United States and Canada."
Description

Reviews

Bio

Table of Contents

Sample Chapters

Subjects
For decades, the field of Mennonite literature has been dominated by the question of Mennonite identity.
After Identity
interrogates this prolonged preoccupation and explores the potential to move beyond it to a truly post-identity Mennonite literature.
The twelve essays collected here view Mennonite writing as transitioning beyond a tradition concerned primarily with defining itself and its cultural milieu. What this means for the future of Mennonite literature and its attendant criticism is the question at the heart of this volume. Contributors explore the histories and contexts—as well as the gaps—that have informed and diverted the perennial focus on identity in Mennonite literature, even as that identity is reread, reframed, and expanded.
After Identity is a timely reappraisal of the Mennonite literature of Canada and the United States at the very moment when that literature seems ready to progress into a new era.
In addition to the editor, the contributors are Ervin Beck, Di Brandt, Daniel Shank Cruz, Jeff Gundy, Ann Hostetler, Julia Spicher Kasdorf, Royden Loewen, Jesse Nathan, Magdalene Redekop, Hildi Froese Tiessen, and Paul Tiessen.
"Showcasing some of the best new scholarship in cultural studies, After Identity explodes the tight boundaries of Mennonite culture and points us toward the new literary representations that are redefining Mennonite identity in the twenty-first century. An important book for anyone interested in the debates around culture, identity, and writing in the United States and Canada."
"The twelve essayists in Robert Zacharias's After Identity: Mennonite Writing in North America (to which Zacharias also contributes an introduction and chapter) share in the larger cultural desires to surpass taxonomic or binary thinking, and their collective contributions inquire carefully and seriously into the meaning and the value of the categories of identity such as 'Mennonite' and 'Mennonite writing.'"
"When a traditional culture enters into a part of the modern, secular realm (academia), how does that traditional culture maintain its sense of identity? After Identity does not attempt to offer simplistic answers to these questions, but it does a superb job of mining the multiple issues that confront the field of Mennonite literature as it attempts to define itself."
"A vital book that not only expresses the importance of finding alternative reading practices for Mennonite literature, but also presents various compelling and convincing ways to locate those reading practices."
Robert Zacharias is Assistant Professor of English at York University.
Contents
Acknowledgments
Introduction After Identity: Mennonite/s Writing in North America
Robert Zacharias
Part 1 Reframing Identity
Chapter 1 The Autoethnographic Announcement and the Story
Julia Spicher Kasdorf
Chapter 2 A Mennonite Fin de Siècle: Exploring Identity at the Turn of the Twenty-First Century
Royden Loewen
Chapter 3 Mennonite Transgressive Literature
Ervin Beck
Chapter 4 Double Identity: Covering the Peace Shall Destroy Many Project
Paul Tiessen
Chapter 5 After Ethnicity: Gender, Voice, and an Ethic of Care in the Work of Di Brandt and Julia Spicher Kasdorf
Ann Hostetler
Chapter 6 The Mennonite Thing: Identity for a Post-Identity Age
Robert Zacharias
Part 2 Expanding Identity
Chapter 7 In Praise of Hybridity: Reflections from Southwestern Manitoba
Di Brandt
Chapter 8 Queering Mennonite Literature
Daniel Shank Cruz
Chapter 9 Toward a Poetics of Identity
Jeff Gundy
Chapter 10 Question, Answer
Jesse Nathan
Chapter 11 "Is Menno in There?" The Case of "The Man Who Invented Himself"
Magdalene Redekop
Chapter 12 After Identity: Liberating the Mennonite Literary Text
Hildi Froese Tiessen
List of Contributors
Credits
Index
Introduction
After Identity:
Mennonite/s Writing in North America
Robert Zacharias
This is why we cannot leave the beliefs,
or what else would we be?
—Julia Spicher Kasdorf, "Mennonites"
<end epi>
The first Mennonites arrived in the British colonies of North America in the middle of the seventeenth century, with permanent settlement beginning several decades later in Germantown, Pennsylvania. It took roughly 250 years, until the start of the twentieth century, before the first authors of Mennonite descent began publishing literary texts in what had become Canada and the United States. "Mennonite/s writing," as a recognizable body of texts, is a much more recent phenomenon still, emerging over just the past thirty-five years: first in Canada, where a surprising burst of fiction and poetry by Russian Mennonite writers during the 1980s garnered national attention and was christened "the Mennonite miracle," and next in the United States, where poetry and life writing by Mennonites began landing on awards lists with regularity in the 1990s. An increasingly vibrant critical conversation has emerged alongside the literary tradition, primarily in academic venues such as the Mennonite Quarterly Review, Journal of Mennonite Studies, Conrad Grebel Review, Mennonite Life, and, more recently, the online Center for Mennonite Writing Journal. The rising interest in Mennonite literature in the United States, coupled with ongoing interest in Canada, has sparked calls for a widespread reassessment of the field as a focus of criticism. Given that "Mennonite/s writing" is much more a critical construct than a transparent body of literary texts, After Identity: Mennonite/s Writing in North America seeks to turn the field's critical gaze back on itself. More specifically, the chapters in this volume aim to interrogate what is at stake in—and potentially to initiate a move beyond—the field's ongoing preoccupation with Mennonite identity itself.
<1>Post-Identity
The Mennonites of North America are descendants, by faith or birth, of the sixteenth-century Christian dissenters collectively referred to as Anabaptists. Stressing adult baptism, nonconformity, and nonviolence, the diverse Anabaptist movements that sprang up in Europe during the early sixteenth century were subjected to widespread persecution. The first large migration of Mennonites to North America occurred as part of William Penn's "holy experiment" in Pennsylvania around the turn of the eighteenth century. Many of the descendants of these Mennonites, often called Swiss Mennonites or Pennsylvania Dutch, later established the first Mennonite presence in Canada when they emigrated from the United States following the American Revolutionary War. The second major cultural or ethnic group of North American Mennonites, often referred to as Russian Mennonites, arrived from their once-prosperous colonies in present-day Ukraine in three mass migrations (1870s, 1920s, and 1940s). The larger Mennonite faith, however, has spread around the world through missionary efforts, and today there is a global Mennonite religious community of more than 1.5 million baptized adults, with the largest population in Africa. There are roughly 500,000 baptized members of Mennonite churches in North America, scattered broadly across some 150 different groups and denominations. Although the majority of North American Mennonites are assimilated into mainstream culture, others—especially those from Old Order or related Amish and Hutterite traditions—continue to live separated from "the world," maintaining distinct ethnoreligious traditions with conservative dress, unique dialects, and a reluctance to embrace modern technologies.
The brief history recounted above—as inadequate as it is necessary —reflects the center of what Calvin Redekop has called the "Mennonite identity crisis," in that it is split between a narrative of a religious community expanding across the globe, on the one hand, and a narrative of two related ethnic communities migrating to North America, on the other. Although the division between faith and ethnicity has a long and contentious history in the broader field of Mennonite studies, Mennonite literary critics have rarely been willing to restrict their engagement with Mennonite literature to faith-based writing. In fact, many scholars in the field have expressed their disinterest in explicitly "religious literature," and few have engaged the details born of the community's denominational diversity beyond the broad Swiss/Russian divide. Although this has certainly left some unanswered questions about who, exactly, the Mennonites are in Mennonite/s writing, critics have consistently responded to problems of definition by outlining the parameters of the field as broadly as possible. Al Reimer's "wide-angle lens" is exemplary in this regard, encompassing "the work of writers who spent at least their formative years in a Mennonite milieu-family and / or community and / or church—regardless of whether they now consider themselves 'Mennonite' in a religious sense, or in a purely ethnic sense, or in both senses, or in neither sense" (Mennonite Literary Voices 2). In the introduction to her landmark anthology A Cappella: Mennonite Voices in Poetry, Hostetler similarly wrestles with the challenge of definition before settling on one meant to reflect "a diverse spectrum of sensibility informed by Mennonite experience—from outright rejection to vibrant and ongoing faith" (xviii). When she goes on to claim that her anthology can "represent the full range of North American poetry by writers of Mennonite origin" because, for Mennonites, "religious, ethnic, and linguistic criteria cross national boundaries" (182), she expresses a well-established principle in the field.
As admirably inclusive as such a critical tradition might be, it is worth taking note of a few of its implications. First, though it defines "Mennonite" in broad terms, it remains fairly narrow in its strict devotion to authorial biography. In this, the field is closer to nationalized literary studies, in which borders are conventionally drawn along the lines of an author's citizenship, than to fields in which the focus reflects the contents of the texts themselves—as in, say, many genre studies. Second, it is worth recognizing that the field's "wide-angle lens" has quietly worked to downplay a host of significant religious, cultural, political, and historical differences among Mennonite communities across North America. And third, the North American frame itself has tended to gloss over the ways in which the field has been structured differently in Canada and the United States. The state-supported rise of multicultural literature in Canada, for example, framed the study of Mennonite writing through the concept of ethnicity, enabling Russian Mennonite authors to figure prominently in Canadian literary discussions of "ethnic literature." In the United States, where discussions of ethnic difference historically have been linked more closely to the discourse of race, Mennonites have more often been understood as "one of many hundreds of Christian sects vying for attention" (Hostetler, "Bringing" 149). As valuable as Mennonite/s writing continues to be as a long-standing project of inter- or transnational writing—indeed, the field offers a rich archive ripe for consideration through the non-national critical paradigms that have arisen in literary studies over the past two decades—scholars have yet to fully explore the ways in which questions of Mennonite identity and cultural difference, especially those surrounding language, faith, ethnicity, and race, have been negotiated through starkly different regional, denominational, and national contexts.
In asking questions about the enduring role of identity in the field of Mennonite/s writing, this volume participates in a much larger reconsideration of cultural identity currently under way in contemporary literary studies. Although notoriously slippery as a critical concept, Charles Taylor's broad definition of identity as "a person's understanding of who they are, of their fundamental defining characteristics as a human being" (25) has proven sufficient to ground an ongoing debate about the interplay between individual and collective identities in contemporary multicultural societies. Yet critical discussions about identity have changed dramatically since Taylor was writing in the early 1990s, when it was conventional practice to classify minoritized literatures by racial or ethnic identity markers and position them in straightforwardly supplemental (if often antagonistic) relation to national narratives. Since then, a multifaceted critique of identity from across the humanities and social sciences has thoroughly undermined the notion of stable and homogeneous cultural groups, while the transnational turn in literary studies has made a parallel interrogation of the link between nation-states and cultural production. As the radical contingency of identities both cultural and national was increasingly accepted in North American scholarship, sweeping appeals to broadly defined communities such as "Asian American" or "Jewish Canadian" were rightly called into question.
Some scholars, including sociologists Rogers Brubaker and Frederick Cooper, advocated an outright rejection of identity as a critical term on the grounds that it was irredeemably "riddled with ambiguity, riven with contradictory meanings, and encumbered by reifying connotations" (34). At the same time, however, many of the concerns addressed by conventional identity politics are far from resolved, including not only the racialized inequalities that continue to mark North American society but also the larger discursive structures that facilitate their persistence. It may have been possible to posit a fully post-national or even post-identity future at the turn of the millennium, but the dramatic rise of economic and security concerns in North America over the past decade has occasioned a forceful reassertion of the nation-state and a racialized politics of identity. It is in this context that questions of identity—of communal history and cultural memory, of collective action and individual agency, and of race, ethnicity, and the politics of belonging—remain pressing but conflicted areas of critical concern.
In literary studies, debates over the prospect of moving "past" or "beyond" identity remain closely entwined with the politicized study of minoritized literatures. In The Semblance of Identity: Aesthetic Mediation in Asian American Literature, for example, Christopher Lee begins by pragmatically defining identity as "a means to conceptualize the relationship between an individual and the historical, cultural, and social conditions that situate his or her life circumstances" (2). Whereas Taylor, writing in the early 1990s, emphasized the complex role of "authenticity" in the construction of identity, Lee's description of the "'post-identity' turn" succinctly describes the fundamental ambivalence of more recent engagements with identity:
<ext>
[W]e can conceive identities as providing a form—a grammar as it were—for making sense of and representing the relationship between the subject and the social. Post-identity marks the breakdown of this grammar and unfolds as an inherent and integral dimension of identitarian thinking. Understanding post-identity in this manner allows us to account for why, despite frequent declarations about the constructedness and/or incoherence of identities, aspects of identitarian thinking continue to persist as affective investments, means of knowledge production, and modes of ethico-political engagement and imagination. (8)
</ext>
Rather than understanding the drive toward post-identity in temporal terms as a reaction against identity, Lee suggests that it reveals the contradictions always already inherent in identitarian logic. His overview of the conundrum of identity politics in Asian American studies suggests that the field has widely acknowledged the superficiality of its identitarian frame yet continues to insist on its ongoing value in mobilizing collective agency and antiracist action.
Remarkably similar arguments have been made in Canadian literary studies, including by Roy Miki, who has called "Asian Canadian" a "double-edged site" that provides the vocabulary necessary for collective political action even as it risks reinscribing the essentialist logic that makes such action necessary (31). In their introduction to Asian Canadian Writing Beyond Autoethnography, Eleanor Ty and Christl Verduyn place contemporary Asian Canadian writing within a larger movement of writers who are "[n]o longer . . . identifying simply with their ethnic or racial background in opposition to dominant culture" and who "consciously attempt to question or problematize the link between ethnic identity and literary production, while still recognizing the racialized context in which they write" (3). Ty and Verduyn go on to insist that their interest in moving "beyond autoethnography" is not meant to disparage the gains made through past autoethnographic gestures or to discredit its potential value in the present. Instead, using language that parallels Lee's description of the "'post-identity' turn" as marking the instabilities of identitarian thinking, they argue that to go "beyond autoethnography" is simply to "characterize and highlight texts that refuse to be contained simply by their ethnographic markers" (4–5).
Although the history, form, and function of Asian North American studies are clearly incommensurable with Mennonite North American studies, the larger scholarly context outlined in Semblance of Identity and Beyond Autoethnography—in which scholars of minoritized literary traditions search for ways to build on earlier identity-based critical studies while taking seriously their limitations—offers an apt description of how and why scholars of Mennonite writing are currently working to reconsider their own field. Indeed, Ty and Verduyn's description of the state of contemporary "ethnic writing" in Canada has clear parallels with Hildi Froese Tiessen's recent account of what she calls the "new Mennonite writing," in which, Tiessen suggests, "history and tradition are no longer authoritative" and authors seem to be "less concerned . . . with group history than with individual becoming; less compelled by essential identity than by multifaceted identifications" ("Homelands" 14–15). In such a context, the enduring emphasis on reading Mennonite literature as the expression of a distinct ethnoreligious heritage feels increasingly outdated and reductive, one that risks practicing, as Anthony Appiah warns of group identities more generally, a "politics of compulsion" (163).
At the same time, Mennonite writing occupies a very particular position in the racialized tradition of area studies and multicultural literature, one that may further help to explain why the exploration of Mennonite literary identity has become an ambivalent project for many critics. The first major surge of Mennonite writing in North America came in a period dominated by identity politics and postcolonial critique, both of which mobilized minoritized communities in the name of social justice, often contrasting racialized or ethnic communities against a privileged majority culture. Given the conventional markers of historical North American Mennonite identity—as inheritors of a white, patriarchal, European, heteronormative, and conservative Christian tradition—there are legitimate questions about the position of Mennonite writing within the genealogy of North American identity politics. The shifting position of Mennonite literature in Canadian criticism, in which the conversation on cultural difference moved from ethnicity to race in the 1990s, helps to make clear what is at stake. When Mennonite literature emerged as a distinct body of writing in the 1980s, religious difference was largely understood in ethnic terms, and Mennonite writing was commonly discussed alongside other ethnic literatures, including Jewish, African, Asian, and Ukrainian literatures. By the late 1990s, however, critics were pointing directly to Mennonite literature as part of an argument that "white" cultural difference ought not to be uncritically collapsed into the same tradition as racialized literary studies. The critical conversation in the United States, where scholars "must apparently make a case for the category of Mennonite poet as an ethnic . . . rather than a merely denominational one" (Hostetler, A Cappella 36), has been more attuned to the role of religion in Mennonite writing, but a strictly theological understanding of Mennonite difference seems to be insufficient to explain the ongoing fascination with the most recognizable aspects of conservative Mennonite and Amish identity across popular culture in the United States. There is no question, then, that Mennonite identity has signified as a form of cultural difference in North America but it is far from clear just what that difference is or that it is in line with the larger activist projects that have characterized identity politics as a whole.
Indeed, critics from Stuart Hall to Slavoj Žižek have critiqued the aestheticization of difference in contemporary multiculturalism as a way of depoliticizing material and racialized inequalities by redefining them as the realm of culture and the arts. To the extent that the identity politics of the 1990s was focused on antiracist advocacy, critical discussions about traditional Mennonite literary identity have been running the risk of looking like they were advocating for their own privilege, or practicing what Richard Dyer, writing in the context of the rise of whiteness studies, has called "me too-ism." "We are often told that we are living now in a world of multiple identities, of hybridity, of decentredness and fragmentation," writes Dyer. "Yet we have not yet reached a situation in which white people and white cultural agendas are no longer in the ascendant" (541). In such a context, for critics of Mennonite literature to announce that concerns regarding identity are somehow passé, or to advocate for Mennonite studies to move "beyond" identity, risks implicitly endorsing the larger social, critical, and institutional infrastructure within which a still-normative form of Euro-Mennonite identity continues to operate from a position of relative privilege. Such claims risk projecting (and implicitly affirming) a uniform, status quo subjectivity onto the increasingly diverse and deeply unequal experiences of Mennonites across the continent, including many for whom basic identity claims continue to be necessary as means of coming to voice within communities that have rarely afforded them such authority. Moreover, there are key discussions about state and domestic violence, physical and sexual abuse, sexual diversity, and mental health currently taking place in Mennonite communities, churches, and institutions. Many of these concerns have been, and continue to be, powerfully explored in Mennonite literary texts, yet few have been meaningfully engaged by Mennonite literary criticism. As such, the critical urge to move "after identity" must itself be called into question, and needs to be contextualized within the particular critical history in which it is being expressed.
Mailing List
Subscribe to our mailing list and be notified about new titles, journals and catalogs.