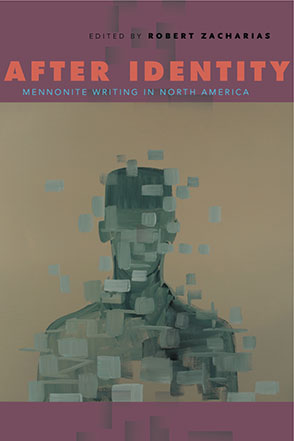 After Identity
Mennonite Writing in North America
Edited by Robert Zacharias
BUY
After Identity
Mennonite Writing in North America
Edited by Robert Zacharias
"Showcasing some of the best new scholarship in cultural studies, After Identity explodes the tight boundaries of Mennonite culture and points us toward the new literary representations that are redefining Mennonite identity in the twenty-first century. An important book for anyone interested in the debates around culture, identity, and writing in the United States and Canada."
Description

Reviews

Bio

Table of Contents

Sample Chapters

Subjects
For decades, the field of Mennonite literature has been dominated by the question of Mennonite identity.
After Identity
interrogates this prolonged preoccupation and explores the potential to move beyond it to a truly post-identity Mennonite literature.
The twelve essays collected here view Mennonite writing as transitioning beyond a tradition concerned primarily with defining itself and its cultural milieu. What this means for the future of Mennonite literature and its attendant criticism is the question at the heart of this volume. Contributors explore the histories and contexts—as well as the gaps—that have informed and diverted the perennial focus on identity in Mennonite literature, even as that identity is reread, reframed, and expanded.
After Identity is a timely reappraisal of the Mennonite literature of Canada and the United States at the very moment when that literature seems ready to progress into a new era.
In addition to the editor, the contributors are Ervin Beck, Di Brandt, Daniel Shank Cruz, Jeff Gundy, Ann Hostetler, Julia Spicher Kasdorf, Royden Loewen, Jesse Nathan, Magdalene Redekop, Hildi Froese Tiessen, and Paul Tiessen.
"Showcasing some of the best new scholarship in cultural studies, After Identity explodes the tight boundaries of Mennonite culture and points us toward the new literary representations that are redefining Mennonite identity in the twenty-first century. An important book for anyone interested in the debates around culture, identity, and writing in the United States and Canada."
"The twelve essayists in Robert Zacharias's After Identity: Mennonite Writing in North America (to which Zacharias also contributes an introduction and chapter) share in the larger cultural desires to surpass taxonomic or binary thinking, and their collective contributions inquire carefully and seriously into the meaning and the value of the categories of identity such as 'Mennonite' and 'Mennonite writing.'"
"When a traditional culture enters into a part of the modern, secular realm (academia), how does that traditional culture maintain its sense of identity? After Identity does not attempt to offer simplistic answers to these questions, but it does a superb job of mining the multiple issues that confront the field of Mennonite literature as it attempts to define itself."
"A vital book that not only expresses the importance of finding alternative reading practices for Mennonite literature, but also presents various compelling and convincing ways to locate those reading practices."
Robert Zacharias is Assistant Professor of English at York University.
Contents
Acknowledgments
Introduction After Identity: Mennonite/s Writing in North America
Robert Zacharias
Part 1 Reframing Identity
Chapter 1 The Autoethnographic Announcement and the Story
Julia Spicher Kasdorf
Chapter 2 A Mennonite Fin de Siècle: Exploring Identity at the Turn of the Twenty-First Century
Royden Loewen
Chapter 3 Mennonite Transgressive Literature
Ervin Beck
Chapter 4 Double Identity: Covering the Peace Shall Destroy Many Project
Paul Tiessen
Chapter 5 After Ethnicity: Gender, Voice, and an Ethic of Care in the Work of Di Brandt and Julia Spicher Kasdorf
Ann Hostetler
Chapter 6 The Mennonite Thing: Identity for a Post-Identity Age
Robert Zacharias
Part 2 Expanding Identity
Chapter 7 In Praise of Hybridity: Reflections from Southwestern Manitoba
Di Brandt
Chapter 8 Queering Mennonite Literature
Daniel Shank Cruz
Chapter 9 Toward a Poetics of Identity
Jeff Gundy
Chapter 10 Question, Answer
Jesse Nathan
Chapter 11 "Is Menno in There?" The Case of "The Man Who Invented Himself"
Magdalene Redekop
Chapter 12 After Identity: Liberating the Mennonite Literary Text
Hildi Froese Tiessen
List of Contributors
Credits
Index
Mailing List
Subscribe to our mailing list and be notified about new titles, journals and catalogs.