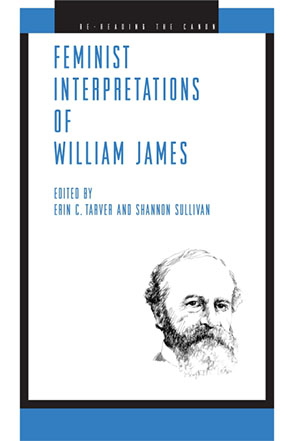 Feminist Interpretations of William James
Edited by Erin C. Tarver and Shannon Sullivan
Buy
Feminist Interpretations of William James
Edited by Erin C. Tarver and Shannon Sullivan
"The authors show that James's work clearly presents difficulties for feminists and how feminists might engage with James's ethical philosophy, the role of the body, and matters of epistemology. The editing is well executed, and explanatory notes appear throughout. Though the book is best suited to scholars with a background in James's work, the descriptions and analyses are convincing and will be useful even to those without significant prior exposure to James."
Description

Reviews

Bio

Table of Contents

Subjects
Widely regarded as the father of American psychology, William James is by any measure a mammoth presence on the stage of pragmatist philosophy. But despite his indisputable influence on philosophical thinkers of all genders, men remain the movers and shakers in the Jamesian universe—while women exist primarily to support their endeavors and serve their needs. How could the philosophy of William James, a man devoted to Victorian ideals, be used to support feminism?
Feminist Interpretations of William James lays out the elements of James's philosophy that are particularly problematic for feminism, offers a novel feminist approach to James's ethical philosophy, and takes up epistemic contestations in and with James's pragmatism. The results are surprising. In short, James's philosophy can prove useful for feminist efforts to challenge sexism and male privilege, in spite of James himself.
In this latest installment of the Re-Reading the Canon series, contributors appeal to William James's controversial texts not simply as an exercise in feminist critique but in the service of feminism.
Along with the editors, the contributors are Jeremy Carrette, Lorraine Code, Megan Craig, Susan Dieleman, Jacob L. Goodson, Maurice Hamington, Erin McKenna, José Medina, and Charlene Haddock Seigfried.
"The authors show that James's work clearly presents difficulties for feminists and how feminists might engage with James's ethical philosophy, the role of the body, and matters of epistemology. The editing is well executed, and explanatory notes appear throughout. Though the book is best suited to scholars with a background in James's work, the descriptions and analyses are convincing and will be useful even to those without significant prior exposure to James."
"This volume represents some of the best applications of feminist pragmatist scholarship. It also takes seriously the documented sexism of a seemingly socially progressive and well-intentioned pragmatist philosopher, William James. . . . This method of rereading the canon serves as a model for feminists to generate complex and rich interpretive horizons that don't excuse the sexism of the philosopher as accidental to his philosophical theories, nor advocate a wholesale rejection of the philosopher's work as essentially sexist, but seek a middle interpretive ground that critically engages the philosopher's social prejudice while attempting to transform pragmatist thought toward meeting the goals of feminist projects."
"A welcome and lively contribution on William James, and adds significantly to the series' wider reconstructive project. . . . James is here revealed warts-and-all, and that certainly is to the good of Jamesian scholarship, pragmatism, and feminist philosophy more generally."
Erin C. Tarver is Assistant Professor of Philosophy at Oxford College of Emory University.
Shannon Sullivan is Chair of Philosophy and Professor of Philosophy and Health Psychology at the University of North Carolina at Charlotte.
Contents
Preface
Nancy Tuana
Acknowledgments
Introduction
Erin C. Tarver and Shannon Sullivan
Part I: The Promise and Peril of James's Philosophy for Feminism
1 The Feminine-Mystical Threat to Masculine-Scientific Order
Charlene Haddock Seigfried
2 "The Woman Question": James's Negotiations with Natural Law Theory and Utilitarianism
Jacob L. Goodson
3 Women and William James
Erin McKenna
4 Lady Pragmatism and the Great Man: The Need for Feminist Pragmatism
Erin C. Tarver
Part II: Pragmatist Ethics of Care
5 The Energies of Women: William James and the Ethics of Care
Susan Dieleman
6 William James and the Will to Care for Unfamiliar Others: The Masculinity of Care?
Maurice Hamington
Part III: Embodiment and Emotion
7 Habit, Relaxation, and the Open Mind: James and the Increments of Ethical Freedom
Megan Craig
8 James and Feminist Philosophy of Emotion
Shannon Sullivan
9 "A Perverse Kind of Pleasure": James, the Body, and Women's Mystical Experience
Jeremy Carrette
Part IV: Epistemic and Narrative Contestations
10 The Will Not to Believe: Pragmatism, Oppression, and Standpoint Theory
José Medina
11 Incredulity and Advocacy: Thinking After William James
Lorraine Code
Afterword
Charlene Haddock Seigfried
Index