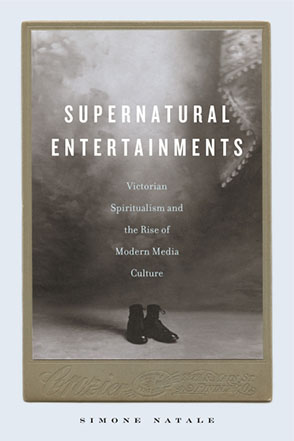 Supernatural Entertainments
Victorian Spiritualism and the Rise of Modern Media Culture
Simone Natale
BUY
Supernatural Entertainments
Victorian Spiritualism and the Rise of Modern Media Culture
Simone Natale
"This is an ambitious, overdue book, steeped in the period's popular culture, and offering a fresh, insightful perspective on a topic familiar to its scholars."
Description

Reviews

Bio

Table of Contents

Sample Chapters

Subjects
In
Supernatural Entertainments
, Simone Natale vividly depicts spiritualism's rise as a religious and cultural phenomenon and explores its strong connection to the growth of the media entertainment industry in the nineteenth century. He frames the spiritualist movement as part of a new commodity culture that changed how public entertainments were produced and consumed.
Starting with the story of the Fox sisters, considered the first spiritualist mediums in history, Natale follows the trajectory of spiritualism in Great Britain and the United States from its foundation in 1848 to the beginning of the twentieth century. He demonstrates that spiritualist mediums and leaders adopted many of the promotional strategies and spectacular techniques that were being developed for the broader entertainment industry. Spiritualist mediums were indistinguishable from other professional performers, as they had managers and agents, advertised in the press, and used spectacularism to draw audiences.
Addressing the overlap between spiritualism's explosion and nineteenth-century show business, Natale provides an archaeology of how the supernatural became a powerful force in the media and popular culture of today.
"This is an ambitious, overdue book, steeped in the period's popular culture, and offering a fresh, insightful perspective on a topic familiar to its scholars."
"Natale's study offers a helpful corrective to approaches that ignore the entertainment value of spiritualism."
"An erudite, original examination of Victorian spiritualism and the rise of modern media. . . . This entertaining study fills a gap in the slighted investigation of spiritualism's rise as a religious and cultural phenomenon. Highly recommended."
"The key achievement of Natale's book is his thorough documentation of the ways the spiritualist movement was, in spite of its framing as a 'scientific religion,' indistinguishable from other kinds of performance, and a vigorous participant in mechanisms of the growing entertainment industry."
"An engaging and enlightening history of Spiritualism's growth from a unique perspective."
"Approaching Victorian supernaturalism as popular spectacle, Natale makes a compelling argument that nineteenth-century spiritualism made a significant contribution to what would become the dominant religion of the twentieth century: the entertainment industry. Rather than seeing the spiritualists and their energetic followers as gullible or deluded, Natale explores the more fascinating possibility that medium, circle, and audience helped redefine the possibilities of domestic leisure and public performance."
"We all know that the supernatural is entertaining. Just turn on your television set or go to the movies. But this entertaining? Supernatural Entertainments is one of the most original books I have read in a long time. Simone Natale's embrace of the history of technology, celebrity studies, material culture, popular culture, photography, and film studies to plumb the immediate historical background of the modern supernatural also makes it astonishingly capacious and interdisciplinary. Get ready for a ride. Or a show."
"Supernatural Entertainments will undoubtedly inspire new studies of Victorian Spiritualism and occultism to further probe the nature and consequences of otherworldly amusements."
"[This book] is a strong contribution to a burgeoning field of haunted technology and uncanny media history, has fantastic illustrations, and is always highly readable."
"An important addition to the growing body of rigorous scholarship on international spiritualism. Natale's argument, however, is fairly unexpected, even unique, inasmuch as it convincingly focuses on spiritualism as a form of show business."
Simone Natale is Lecturer in Communication and Media Studies at Loughborough University, UK.
Contents
List of Illustrations
Acknowledgments
Introduction
Part 1: Configurations of Séances
1 The Medium on the Stage: Theatricality and Performance in the Spirit Séance
2 Parlor Games: Play and Social Life in the Haunted House
Part 2: How to Sell a Spirit
3 Breaking the News: Controversy, Sensation, and the Popular Press
4 Mediums and Stars: Religion, Consumerism, and Celebrity Culture
Part 3: Spirit and Matter
5 Stranger than Fiction: Print Media, Automatic Writing, and Popular Culture
6 The Marvels of Superimposition: Spirit Photography and Spiritualism's Visual Culture
Afterward
Notes
Bibliography
Index
Mailing List
Subscribe to our mailing list and be notified about new titles, journals and catalogs.