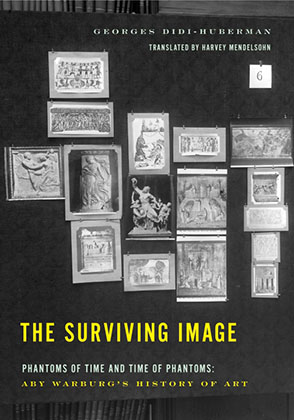 The Surviving Image
Phantoms of Time and Time of Phantoms: Aby Warburg's History of Art
Georges Didi-Huberman, and Translated by Harvey Mendelsohn
BUY
The Surviving Image
Phantoms of Time and Time of Phantoms: Aby Warburg's History of Art
Georges Didi-Huberman, and Translated by Harvey Mendelsohn
"A painstakingly detailed examination of Warburg's writing, showing its connection with works of Friedrich Nietzsche, Jakob Burckhardt, and other notable pioneers of a psychologically oriented analysis of culture. Didi-Huberman offers insightful readings and criticism of such scholars as Ernst Cassirer, Erwin Panofsky, and Ernst Gombrich, accused of trafficking in 'canons, ideal entities and transcendental notions,' not to mention a more general denunciation of unnamed practitioners of a 'positivist' art history."
Description

Reviews

Bio

Table of Contents

Sample Chapters

Subjects
The Surviving Image
, originally published in French in 2002, is the result of Georges Didi-Huberman's extensive research into the life and work of foundational art historian Aby Warburg. Warburg envisioned an art history that engaged with anthropology, psychoanalysis, and philosophy in order to understand the "life" of images. Drawing on a wide range of Warburg's unpublished letters and diaries, Didi-Huberman demonstrates unequivocally the complexity and importance of Warburg's ideas and the ways in which his legacy was both distorted and diffused as art history became a "humanistic" discipline.
The Surviving Image
takes Warburg as its main subject but also addresses broader questions regarding art historians' conceptions of time, memory, and symbols and the relationship between art and the rational and irrational forces of the psyche.
Faithfully and thoughtfully translated by Harvey Mendelsohn, this first English-language edition of Didi-Huberman's masterful study of Warburg is a stirring and significant treatise on the philosophical nature of art history.
"A painstakingly detailed examination of Warburg's writing, showing its connection with works of Friedrich Nietzsche, Jakob Burckhardt, and other notable pioneers of a psychologically oriented analysis of culture. Didi-Huberman offers insightful readings and criticism of such scholars as Ernst Cassirer, Erwin Panofsky, and Ernst Gombrich, accused of trafficking in 'canons, ideal entities and transcendental notions,' not to mention a more general denunciation of unnamed practitioners of a 'positivist' art history."
"For anyone interested in the intersections of art, material and visual culture, anthropology, and philosophy, The Surviving Image stands as essential reading, long overdue to any English-language reader familiar with Giorgio Agamben, Philippe-Alain Michaud, and Christopher Johnson's writings on Warburg. Didi-Huberman's book may itself feel 'untimely' in a risk-averse intellectual age; this fact only serves to recommend it, and Aby Warburg's original work, all the more."
"It is wonderful to have this book in English. Didi-Huberman's magnum opus is an impassioned, critical love letter to the discipline of art history, which he considers as ossified by 'systematic and reassuring' methodologies, 'territorialized,' and bound by institutional expectations, but since Warburg also potentially open to the numinous, unsystematic, undependable, inconstant moments in which representation and desire present themselves as art history. Of the many attempts to revive Warburg, this is the only one that takes the consequences of a full engagement seriously."
"Didi-Huberman argues that Warburg offers offers us a 'psycho-history' of culture: a model of historical understanding as a response to images possessed of vital power and emotional force. This book fills the need for a better understanding of Warburg's contribution to the discipline of art history, and will draw the attention of anyone who teaches its history and methods as well as that of students who seek to understand the intellectual life of their chosen field of study."
"When Georges Didi-Huberman's The Surviving Image was first published in French, it transformed the image of Warburg as the scholar immersed in the arcana of Renaissance magic, art, and philosophy, and he gained his place as a theorist, urgently questioning the nature of inquiry into art history and visual culture. Ostensibly about Warburg, the range and significance of this key work of art theory and historiography is far wider, for it deals with important philosophical questions to do with art, memory, time, and the construction of art-historical knowledge. Harvey Mendelsohn has created a lucid and elegant translation, an admirable accomplishment that will ensure that this book gains the wider readership it deserves."
Georges Didi-Huberman is on the faculty of the École des hautes études en sciences sociales in Paris. His books in English include Fra Angelico: Dissemblance and Figuration; Invention of Hysteria: Charcot and the Photographic Iconography of the Salpêtrière; and Confronting Images: Questioning the Ends of a Certain History of Art, the last also published by Penn State University Press.
Harvey Mendelsohn is a professional translator of French and German and the proprietor of H. L. Mendelsohn Fine European Books, an antiquarian book shop specializing in scarce and out-of-print books on the history of architecture, city planning, landscape, and the decorative arts.
Contents
List of Illustrations
Acknowledgements
Translator's Note
Chapter 1: The Image as Phantom: Survival of Forms and Impurities of Time
Chapter 2: The Image as Pathos: Lines of Fracture and Formulas of Intensity
Chapter 3: The Image as Symptom: Fossils in Motion and Montages of Memory
Notes
Bibliography
Index
Mailing List
Subscribe to our mailing list and be notified about new titles, journals and catalogs.