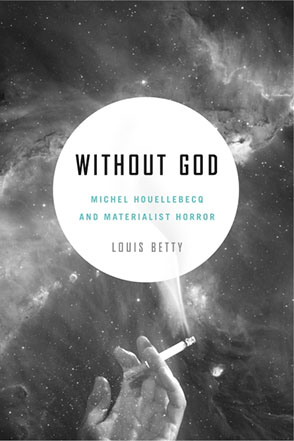 Without God
Michel Houellebecq and Materialist Horror
Louis Betty
BUY
Without God
Michel Houellebecq and Materialist Horror
Louis Betty
"A superb book that shows how Houellebecq—like Nietzsche before him—is the best diagnostician and therapist for the deepest ills that beset our culture. Another 'canary in the mineshaft', he 'sees the end in everything', and drags us—kicking and screaming—to face intelligently the social priorities we have been induced to commit to."
Description

Reviews

Bio

Table of Contents

Sample Chapters

Subjects
Michel Houellebecq is France's most famous and controversial living novelist. Since his first novel in 1994, Houellebecq's work has been called pornographic, racist, sexist, Islamophobic, and vulgar. His caricature appeared on the cover of the French satirical weekly
Charlie Hebdo
on January 7, 2015, the day that Islamist militants killed twelve people in an attack on their offices and also the day that his most recent novel,
Soumission
—the story of France in 2022 under a Muslim president—appeared in bookstores.
Without God
uses religion as a lens to examine how Houellebecq gives voice to the underside of the progressive ethos that has animated French and Western social, political, and religious thought since the 1960s.
Focusing on Houellebecq's complicated relationship with religion, Louis Betty shows that the novelist, who is at best agnostic, "is a deeply and unavoidably religious writer." In exploring the religious, theological, and philosophical aspects of Houellebecq's work, Betty situates the author within the broader context of a French and Anglo-American history of ideas—ideas such as utopian socialism, the sociology of secularization, and quantum physics. Materialism, Betty contends, is the true destroyer of human intimacy and spirituality in Houellebecq's work; the prevailing worldview it conveys is one of nihilism and hedonism in a postmodern, post-Christian Europe. In Betty's analysis, "materialist horror" emerges as a philosophical and aesthetic concept that describes and amplifies contemporary moral and social decadence in Houellebecq's fiction.
"A superb book that shows how Houellebecq—like Nietzsche before him—is the best diagnostician and therapist for the deepest ills that beset our culture. Another 'canary in the mineshaft', he 'sees the end in everything', and drags us—kicking and screaming—to face intelligently the social priorities we have been induced to commit to."
"A timely and valuable addition to the growing critical corpus."
"Betty's book is an admirable contribution to American literary criticism, as it is the first study of its kind to be produced by an American scholar, but more importantly, it will prove to be an invaluable contribution to the study of Houellebecq writ large. By recognising that Michel Houellebecq is a fundamentally post-secular thinker, Betty offers readers a key to unlocking his fiction, opening doors of understanding that had remained closed until now, and reveals that the author poses a robust challenge to the new materialisms gaining ascendency in the Western academy."
"Entirely brilliant from a methodological point of view, Without God sheds a great deal of light on the work of Michel Houellebecq. Given its very broad perspective and the importance of the issues at stake, this book will appeal to a wide range of readers."
"Michel Houellebecq is the most important novelist writing about religion today, and Louis Betty has written the first book to explore Houellebecq's views on religion. Betty guides the reader through Houellebecq's oeuvre, makes French discussions of Houellebecq accessible to English-speaking audiences, and situates Houellebecq's work in the context of recent scholarly discussions about the secular. This book should be of broad interest to scholars of religion and literature as well as to those interested in contemporary French thought."
Louis Betty is Assistant Professor of French at the University of Wisconsin–Whitewater.
CONTENTS
ACKNOWLEDGEMENTS
INTRODUCTION: THE HOUELLEBECQUIAN WORLDVIEW
Materialist Horror and the Question of Capitalism
Chapter Summaries
Houellebecq as Character: A Brief Consideration
CHAPTER ONE: MATERIALISM AND SECULARISM
Houellebecquian Materialism: A Qualified Case?
Quantum Uncertainties
Lifting the Sacred Canopy
Materialism and Suicide: Logical Consequences of the Death of God
Materialist Horror and Moral Secularization
CHAPTER TWO: THE FUTURE OF RELIGION
The Return of Religion
Can a Cloning Cult Be a Religion?
Elohimism, Islam, and the Question of Religious Discipline
CHAPTER THREE: RELIGION AND UTOPIA
The Fresh Ruins of France
Abandoned Utopias
CHAPTER FOUR: MATERIALIST HORROR
Dangerous Credibility
Lovecraft, Pascal, Houellebecq
CHAPTER FIVE: LIBERALISM IS GOD AND THE WEST IS ITS PROPHET
The Modern Western Woman: A 200-Year Disaster in the Making
As Goes France, So Goes François
A Conversion au conditionnel
Reaction, Romanticism, or Something Else?
NOTES
WORKS CITED
INDEX