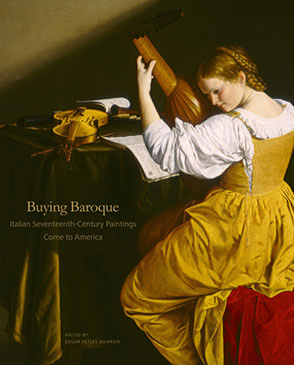 Buying Baroque
Italian Seventeenth-Century Paintings Come to America
Edited by Edgar Peters Bowron
BUY
Buying Baroque
Italian Seventeenth-Century Paintings Come to America
Edited by Edgar Peters Bowron
"Furthers understanding of dealers, critics, conservators, art historians, and others who contributed to this web of relationships and impacted aesthetic interests, collecting activities, exhibitions, and scholarship over the past century."
Description

Reviews

Bio

Table of Contents

Sample Chapters

Subjects
Although Americans have shown interest in Italian Baroque art since the eighteenth century—Thomas Jefferson bought copies of works by Salvator Rosa and Guido Reni for his art gallery at Monticello, and the seventeenth-century Bolognese school was admired by painters Benjamin West and John Singleton Copley—a widespread appetite for it only took hold in the early to mid-twentieth century.
Buying Baroque
tells this history through the personalities involved and the culture of collecting in the United States.
The distinguished contributors to this volume examine the dealers, auction houses, and commercial galleries that provided access to Baroque paintings, as well as the collectors, curators, and museum directors who acquired and shaped American perceptions about these works, including Charles Eliot Norton, John W. Ringling, A. Everett Austin Jr., and Samuel H. Kress. These essays explore aesthetic trends and influences to show why Americans developed an increasingly sophisticated taste for Baroque art between the late eighteenth century and the 1920s, and they trace the fervent peak of interest during the 1950s and 1960s.
A wide-ranging, in-depth look at the collecting of seventeenth- and eighteenth-century Italian paintings in America, this volume sheds new light on the cultural conditions that led collectors to value Baroque art and the significant effects of their efforts on America's greatest museums and galleries.
In addition to the editor, contributors include Andrea Bayer, Virginia Brilliant, Andria Derstine, Marco Grassi, Ian Kennedy, J. Patrice Marandel, Pablo Pérez d'Ors, Richard E. Spear, and Eric M. Zafran.
"Furthers understanding of dealers, critics, conservators, art historians, and others who contributed to this web of relationships and impacted aesthetic interests, collecting activities, exhibitions, and scholarship over the past century."
"It took the major museums in America a long time to realise how essential Baroque painting is to the history of European art, which is why the stories told in these ten essays have a broader lesson."
"This substantive and important contribution on the collecting of Italian Baroque paintings in this country provides insights into the vagaries of American taste and the exciting dynamics of museum politics, collecting, scholarship, and showmanship. The informative essays by ten eminent scholars suggest that despite a longstanding lack of interest in Italian Baroque paintings in the U.S., a few prescient individuals acquired key works that later provided the core collections for major American museums."
"The wealth of Italian Baroque paintings in America is the outcome of an extraordinary twentieth-century collecting phenomenon. But it was effected by a relatively small group of enthusiastic and inspired individuals—curators, museum directors, art historians, private collectors, and art dealers. Their efforts, often in the face of entrenched tastes colored by religious and critical biases, are treated in this volume of essays by both participants in and beneficiaries of this rich cultural legacy."
"Bursting at the seams with fascinating, otherwise unfindable information about this important chapter in the history of taste and collecting, this excellent group of essays is essential reading for anyone interested in the way in which networks of collectors, art dealers, museum curators, and academics collaborated to form America's rich bounty of Italian Baroque paintings in public and private collections."
"A set of ten informative and well-written essays that provide the reader with a sampling of personalities, acquisition strategies, and collections that many Europeans may not know."
Edgar Peters Bowron served as the Audrey Jones Beck Curator of European Art at the Museum of Fine Arts, Houston, from 1996 through 2014. Previously, he was senior curator of paintings at the National Gallery of Art in Washington, D.C., director of the Harvard University Art Museums, and director of the North Carolina Museum of Art. Now retired, he most recently published Pompeo Batoni: A Complete Catalogue of His Paintings.
Contents
List of Illustrations
Foreword
Acknowledgments
Introduction: The Critical Fortunes of Italian Baroque Painting in America
Edgar Peters Bowron
1 Italian Baroque Paintings at the Ringling Museum: The Legacy of John Ringling and Chick Austin
Virginia Brilliant
2 The Atheneum to the Fore: Hartford and the Italian Baroque
Eric Zafran
3 The American View of the "Forgotten Century" of Italian Painting: Reminiscences of an Art Dealer and Curator
Marco Grassi
4 An Invisible Web: Art Historians Behind the Collecting of Italian Baroque Art Richard Spear
5 Baroque in the Caribbean: Luis A. Ferré and the Museo de Arte de Ponce
Pablo Pérez d'Ors
6 Dealing and Scholarship: The Heim Gallery, London, 1966–1995
J. Patrice Marandel
7 The Detroit Institute of Arts and Italian Baroque Painting
Andria Derstine
8 The Bob Jones University Collection of Italian Baroque Paintings
Ian Kennedy
9 Walter P. Chrysler, Jr., and His Collection of Italian Baroque Paintings
Eric Zafran
10 Better Late than Never: Collecting Baroque Painting at The Metropolitan Museum of Art
Andrea Bayer
References
List of Contributors
List of Artists
Index
Mailing List
Subscribe to our mailing list and be notified about new titles, journals and catalogs.