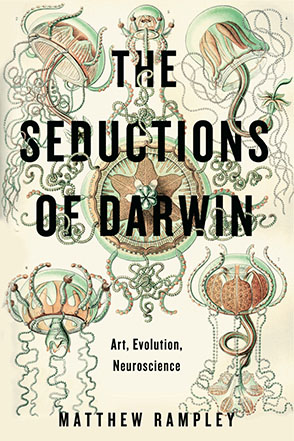 The Seductions of Darwin
Art, Evolution, Neuroscience
Matthew Rampley
BUY
The Seductions of Darwin
Art, Evolution, Neuroscience
Matthew Rampley
"A lucid historiography of the many manifestations, in art, of Darwin's theory of evolution. Summing Up: Recommended."
Description

Reviews

Bio

Table of Contents

Sample Chapters

Subjects
The surge of evolutionary and neurological analyses of art and its effects raises questions of how art, culture, and the biological sciences influence one another, and what we gain in applying scientific methods to the interpretation of artwork. In this insightful book, Matthew Rampley addresses these questions by exploring key areas where Darwinism, neuroscience, and art history intersect.
Taking a scientific approach to understanding art has led to novel and provocative ideas about its origins, the basis of aesthetic experience, and the nature of research into art and the humanities. Rampley's inquiry examines models of artistic development, the theories and development of aesthetic response, and ideas about brain processes underlying creative work. He considers the validity of the arguments put forward by advocates of evolutionary and neuroscientific analysis, as well as its value as a way of understanding art and culture. With the goal of bridging the divide between science and culture, Rampley advocates for wider recognition of the human motivations that drive inquiry of all types, and he argues that our engagement with art can never be encapsulated in a single notion of scientific knowledge.
Engaging and compelling, The Seductions of Darwin is a rewarding look at the identity and development of art history and its complicated ties to the world of scientific thought.
"A lucid historiography of the many manifestations, in art, of Darwin's theory of evolution. Summing Up: Recommended."
"For decades, neuroarthistory, neuroaesthetics, and other biological approaches have been assembling a version of art's history that is alien to the discipline of art history. Outlandish claims have been made about the significance of brain functioning to works of art, provoking defensive criticism about the pertinence of science to art history. Matthew Rampley advances and opens the discussion by taking up the same scientific criteria advocated by the writers he analyzes, including questions of evidence, hypothesis forming, and explanatory value. In that sense this book is not a polemic but an attempt to find ground for conversation. At its heart is a broad and widely informed concern with the sense of culture that art history might bring to bear in the coming decades."
"A thoughtful examination of the attempts to reduce aesthetics and art history to neurophysiology or evolutionary science. It provides a comprehensive survey and penetrating analysis of the efforts to impose biological models on the understanding of the arts that have proliferated in recent decades."
Matthew Rampley is Chair of Art History and Head of the School of Languages, Cultures, Art History, and Music at the University of Birmingham and the author of The Vienna School of Art History (Penn State, 2013).
Contents
Preface and Acknowledgments
Introduction
1 Art, Biology, and the Aesthetics of Selection
2 Memes and Trees: Art History as Evolution
3 Brains, Caves, and Phalanxes: Neuroaesthetics and Neuroarthistory
4 Self-Organizing Evolution: Art as a System
Conclusion: On the Multiple Cultures of Inquiry
Notes
Selected Bibliography
Index