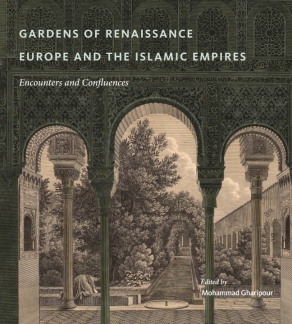 Gardens of Renaissance Europe and the Islamic Empires
Encounters and Confluences
Edited by Mohammad Gharipour
BUY
Gardens of Renaissance Europe and the Islamic Empires
Encounters and Confluences
Edited by Mohammad Gharipour
"In an age when "cultural appropriation" is au courant, this book begins to fill a void and is timely as well. The ten essays are all scholarly and magnificently documented. . . . Highly recommended."
Description

Reviews

Bio

Table of Contents

Subjects
The cross-cultural exchange of ideas that flourished in the Mediterranean during the sixteenth and seventeenth centuries profoundly affected European and Islamic society.
Gardens of Renaissance Europe and the Islamic Empires
considers the role and place of gardens and landscapes in the broader context of the information sharing that took place among Europeans and Islamic empires in Turkey, Persia, and India.
In illustrating commonalities in the design, development, and people's perceptions of gardens and nature in both regions, this volume substantiates important parallels in the revolutionary advancements in landscape architecture that took place during the era. The contributors explain how the exchange of gardeners as well as horticultural and irrigation techniques influenced design traditions in the two cultures; examine concurrent shifts in garden and urban landscape design, such as the move toward more public functionality; and explore the mutually influential effects of politics, economics, and culture on composed outdoor space. In doing so, they shed light on the complexity of cultures and politics during the Renaissance.
A thoughtfully composed look at the effects of cross-cultural exchange on garden design during a pivotal time in world history, this thought-provoking book points to new areas in inquiry about the influences, confluences, and connections between European and Islamic garden traditions.
In addition to the editor, the contributors include Cristina Castel-Branco, Paula Henderson, Simone M. Kaiser, Ebba Koch, Christopher Pastore, Laurent Paya, D. Fairchild Ruggles, Jill Sinclair, and Anatole Tchikine.
"In an age when "cultural appropriation" is au courant, this book begins to fill a void and is timely as well. The ten essays are all scholarly and magnificently documented. . . . Highly recommended."
"This volume offers a fine array of historical connections between European and Islamic gardens, critiquing those geographic constructs while exploring them in rich detail. It brings innovative lines of Islamic garden research into dialogue with larger and longer-term histories of European gardens. These essays address a major need in the field of garden and landscape history, with new findings and interpretations."
Mohammad Gharipour is Associate Professor, School of Architecture and Planning, at Morgan State University and Director and Founding Editor of the International Journal of Islamic Architecture. He has published eight other books, most recently Contemporary Urban Landscapes of the Middle East.
Contents
List of Illustrations
Preface: The Renaissance in the Global Context Mohammad Gharipour
Acknowledgments
1 Prologue: Paradigm Problems; Islamic Gardens in an Expanding Field D. Fairchild Ruggles
2 Embracing the Other: Venetian Garden Design, Early Modern Travelers, and the Islamic Landscape Christopher Pastore
3 Staging the Civilizing Elements in the Gardens of Rome and Istanbul Simone M. Kaiser
4 The Art of Garden Design in France: Ottoman Influences at the Time of the "Scandalous Alliance" Laurent Paya
5 "For Beauty, and Air, and View": Contemplating the Wider Surroundings of Sixteenth-Century Mughal and European Gardens Jill Sinclair
6 The Gardens of Safavid Isfahan and Renaissance Italy: A New Urban Landscape? Mohammad Gharipour
7 "Elysian Fields Such as the Poets Dreamed Of": The Mughal Garden in the Early Stuart Mind Paula Henderson
8 Garden Encounters: Portugal and India in the Sixteenth and Seventeenth Centuries Cristina Castel-Branco
9 Carved Pools, Rock-Cut Elephants, Inscriptions, and Tree Columns: Mughal Landscape Art as Imperial Expression and Its Analogies to the Renaissance Garden Ebba Koch
10 Epilogue: Italian Renaissance Gardens and the Middle East; Cultural Exchange in the Longue Durée Anatole Tchikine
Notes
List of Contributors
Index
Mailing List
Subscribe to our mailing list and be notified about new titles, journals and catalogs.