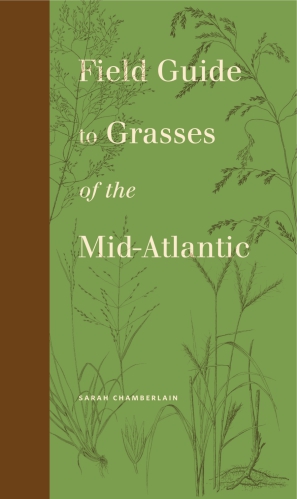 Field Guide to Grasses of the Mid-Atlantic
Sarah Chamberlain
BUY
Field Guide to Grasses of the Mid-Atlantic
Sarah Chamberlain
"For researchers and students of the region, this is a must-have text for any collection."
Description

Reviews

Bio

Table of Contents

Sample Chapters

Subjects
Grasses are among the most ubiquitous plants on the planet. They inhabit a wide geographic range and are found in a variety of natural habitats. The small parts of the grass flower and specialized terminology, however, can make identifying grasses a challenging endeavor. Sarah Chamberlain's
Field Guide to Grasses of the Mid-Atlantic
makes identification simpler for everyone—regardless of their
previous
botanical knowledge.
Featuring an easy-to-use dichotomous key, this is a user-friendly guide to more than 300 types of grasses found from the Blue Ridge Mountains and southern plains to the Appalachians and the Allegheny Plateau. Each major entry contains detailed species diagrams as well as common names, habitats, and distribution. The book's opening sections outline the parts of grass flowers and describe stem, leaf, and sheath characteristics.
With a wealth of illustrations, instructions on how to use the key, and a glossary of terms, Field Guide to Grasses of the Mid-Atlantic is an indispensable reference for naturalists and conservationists, botanists, land management professionals, and students and scholars of mid-Atlantic flora.
"For researchers and students of the region, this is a must-have text for any collection."
"Wide species coverage makes this a most useful guide on a topic rarely covered. It is appropriate for amateur plant enthusiasts; professionals will also find it appealing. The numerous excellent illustrations and icons for key couplets are very helpful."
Sarah Chamberlain is an Assistant Research Professor at Riparia, a research center in the Department of Geography and curator of the Penn State (PAC) Herbarium.
Contents
Preface
Acknowledgments
How to Use This Guide
General Suggestions
Deciphering a Grass Entry
Parts of the Grass
Disarticulation
Roots and Rhizomes (Perennial versus Annual)
Illustrated Characteristics of Grass Parts
Some Unusual Grasses
General Key
Genera Keys
Agrostis
Aira
Alopecurus
Andropogon
Anthoxanthum
Aristida
Avena
Brachyelytrum
Briza
Bromus
Calamagrostis
Calamovilfa
Cenchrus
Chasmanthium
Cinna
Cynosurus
Danthonia
Deschampsia
Diarrhena
Dichanthelium
Digitaria
Echinochloa
Elymus
Eragrostis
Festuca and Schedonorus
Glyceria
Gymnopogon
Holcus
Hordeum
Leersia
Leptochloa
Lolium
Melica
Muhlenbergia
Panicum
Paspalum
Phalaris
Piptatherum
Poa
Puccinellia
Saccharum
Setaria
Sorghum
Spartina
Sphenopholis
Sporobolus
Urochloa
Vulpia
Zizania
References
Plant Index
Photo Credits
Mailing List
Subscribe to our mailing list and be notified about new titles, journals and catalogs.