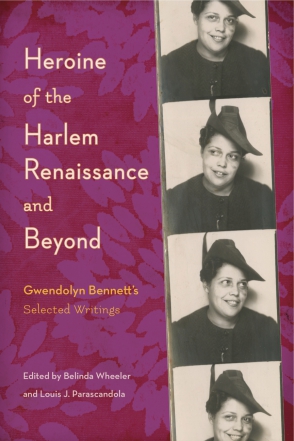 Heroine of the Harlem Renaissance and Beyond
Gwendolyn Bennett's Selected Writings
Edited by Belinda Wheeler and Louis J. Parascandola
Buy
Heroine of the Harlem Renaissance and Beyond
Gwendolyn Bennett's Selected Writings
Edited by Belinda Wheeler and Louis J. Parascandola
"This superbly edited collection will introduce many readers to a more versatile and accomplished Gwendolyn Bennett than they have known before. It includes the unpublished political poetry that extends her range and impact, making her a key figure of the 1930s."
Description

Reviews

Bio

Table of Contents

Sample Chapters

Subjects
Poet, columnist, artist, and fiction writer Gwendolyn Bennett is considered by many to have been one of the youngest leaders of the Harlem Renaissance and a strong advocate for racial pride and the rights of African American women.
Heroine of the Harlem Renaissance and Beyond
presents key selections of her published and unpublished writings and artwork in one volume.
From poems, short stories, and reviews to letters, journal entries, and art, this collection showcases Bennett's diverse and insightful body of work and rightfully places her alongside her contemporaries in the Harlem Renaissance—figures such as Zora Neale Hurston, Langston Hughes, and Countee Cullen. It includes selections from her monthly column "The Ebony Flute," published in Opportunity, the magazine of the National Urban League, as well as newly uncovered post-1928 work that proves definitively that Bennett continued writing throughout the following two decades. Bennett's correspondence with canonical figures from the period, her influence on Harlem arts institutions, and her political writings, reviews, and articles show her deep connection to and lasting influence on the movement that shaped her early career.
An indispensable introduction to one of the era's most prolific and passionate minds, this reevaluation of Bennett's life and work deepens our understanding of the Harlem Renaissance and enriches the world of American letters. It will be of special value to scholars and readers interested in African American literature and art and American history and cultural studies.
"This superbly edited collection will introduce many readers to a more versatile and accomplished Gwendolyn Bennett than they have known before. It includes the unpublished political poetry that extends her range and impact, making her a key figure of the 1930s."
"Wheeler and Parascandola have done a great service in finding and gathering work by Bennett, an important writer, editor, and artist who has received much less attention than she deserves."
Belinda Wheeler is Associate Professor of English at Claflin University and the editor of several books, most recently A Companion to Australian Aboriginal Literature.
Louis J. Parascandola is Professor of English at Long Island University, Brooklyn, and the editor of several books, most recently Amy Jacques Garvey: Selected Writings from the Negro World, 1923–1928.
Contents
Foreword by Maureen Honey
Acknowledgments
Note on the Text
Bennett Timeline
Introduction
Published Work
Poetry
Introduction
Nocturne (1923)
Heritage (1923)
To Usward (1924)
Song (1925)
Street Lamps in Early Spring (1926)
Hatred (1926)
Lines Written at the Grave of Alexander Dumas (1926)
Moon Tonight (1926)
Dear Things (1926)
Advice (1927)
Fantasy (1927)
Quatrains (1927)
Secret (1927)
To a Dark Girl (1927)
Epitaph (1934)
Art
Introduction
Painting
Untitled [River Landscape] (1931)
Magazine Covers
Pipes of Pan (March 1924)
Untitled (January 1926)
Untitled (July 1926)
Short Stories
Introduction
Wedding Day (1926)
Tokens (1927)
Editorials
Introduction
The Ebony Flute (August 1926)
The Ebony Flute (April 1927)
The Ebony Flute (July 1927)
The Ebony Flute (September 1927)
The Ebony Flute (April 1928)
Reviews
Introduction
Heartbreak and North Carolina Sunshine: The Lonesome Road— by Paul Green (1926)
Blue-Black Symphony: Home to Harlem, by Claude McKay (1928)
Banjo, by Claude McKay (1929)
Plum-Bun, by Jessie Redmon Fauset (1929)
The Emperors Jones (1930)
Cultural and Social Articles
Introduction
The Future of the Negro in Art (1924)
The American Negro Paints (1928)
The Plight of the Negro Is Tragic (1934)
I Go to Camp (1934)
The Harlem Artists Guild (1937)
Unpublished Work
Poetry
Introduction
Two Poems (1925)
Thin Laughter (1928)
Train Monotony (1928)
Dirge for a Free Spirit (1933)
Fulfillment (1935) 000
[Give me your hand, beloved] (1935)
I Build America (1938)
Sweat (1938)
Wise Guys (1938)
The Hungry Ones (1938)
Threnody for Spain (1939)
[Across a room when other ones are there] (n.d.)
[Rapacious women who sit on steps at night] (n.d.)
[So this is how it is] (n.d.)
Unfinished Novel
Introduction
Chapter Outline for the Unfinished Novel The Call (n.d.)
Excerpts from The Call (1928–1932)
Essays
Introduction
My Father's Story (n.d.)
[Ward Place] (1941)
Lancaster, Pa. (n.d.)
Let's Go: In Gay Paree! (n.d.)
25 (n.d.)
[Life as a Javanese] (n.d.)
[Ku Klux Klan Rides] (n.d.)
Last Night I Nearly Killed My Husband! (n.d.)
[Harlem Reflection] (n.d.)
Diaries
Introduction
France
June 26, 1925
July 26, 1925
August 2, [1925]
August 8, [1925]
September 27, [19]25
September 28, 1925
April 29, 1926
United States
[April 7,] 1936
April 8, 1936
April 9, 1936
April 18, 1936
May 7, 1936
January 3, 1937
June 19, 1985
January 3, 1937
June 19, 1958
Correspondence
Introduction
Literary Friends
To W. E. B. Du Bois (January 19, 1925)
To Countee Cullen (August 28, 1925)
To Langston Hughes (December 2, 1925)
To Countee Cullen (January 14, 1926)
To Harold Jackman (February 23, 1926)
To Langston Hughes (1926)
To Claude McKay (February 25, 1937)
To James Weldon Johnson (January 4, 1938)
To Alain Locke (May 11, 1939)
To Richard Wright (March 3, 1940)
To Alain Locke (November 30, 1941)
To Langston Hughes (May 13, 1942)
Family and Associates
To Joshua Bennett and Marechal Neil Bennett (January 5, 1925)
To Marechal Neil Bennett (March 24, 1925)
To Joshua Bennett (May 17, 1925)
To Marechal Neil Bennett (July 27, 1928)
To James Vernon Herring (September 9, 1937)
To Mayme (Abernathy) Pizarro (August 31, 1938)
To Flora Dugan (October 6, 1947)
To Everyone (September 27, 1968)
Notes
Bibliography
Index
From the Introduction
When considering the writers associated with the Harlem Renaissance, one usually thinks of Langston Hughes, Countee Cullen, Zora Neale Hurston, Nella Larsen, Dorothy West, and Claude McKay. While those names deserve their canonical position within that pivotal literary and arts movement, there remain a number of figures whose contribution is only recently being fully realized. One previously understudied figure from this period is Gwendolyn Bennett (1902–1981), a significant writer and artist during the early days of the Harlem Renaissance, and one who remained a powerful advocate for African Americans living in and around Harlem well into the 1930s and 1940s. Bennett's name is increasingly referenced in books that cover the Harlem Renaissance largely due to her brief, yet prolific, literary and artistic output from approximately 1923 to 1928. During that time Bennett published over forty poems, reviews, articles, and short stories in notable African American magazines and anthologies, including Alain Locke's The New Negro (1925), William Stanley Braithwaite's Anthology of Magazine Verse for 1927, and Countee Cullen's Caroling Dusk (1927); her artwork adorned several magazines, including Crisis: A Record of the Darker Races and Opportunity: Journal of Negro Life; her literary column, "The Ebony Flute," was published monthly in Opportunity; and she worked as an editor or assistant editor of several important periodicals, including Opportunity, Black Opals, and Fire!! Bennett's diverse talent in the fields of poetry, short story writing, journalism, art, and editorial work had previously made it difficult for scholars to pigeonhole this dynamic woman into one genre, arguably contributing to her marginalization. Bennett herself said, "I'd feel that if I'd been either an artist, a graphic and plastic artist, or a writer, I might have had a single mind" (qtd. in Govan, Gwendolyn Bennett 204). However, as Douglas Mao and Rebecca Walkowitz state in Bad Modernisms (2006), new modernism studies have "extended the designation 'modernist' beyond" canonical authors, expanded the modernist time period beyond the 1920s, and "embraced less widely known women writers, authors of mass cultural fiction, makers of the Harlem Renaissance, artists from outside Great Britain and the United States, and other cultural producers hitherto seen as neglecting or resisting modernist innovation" (1). These developments have been achieved through "two significant enterprises": reconsidering the "definitions, locations, and producers of 'modernism'" and applying "new approaches and methodologies to 'modernist' works" (1). The Harlem Renaissance is now regarded as an artistic movement that was heterodox in its multiple interests, including its many definitions of art. Bennett's ability to maneuver successfully between a "constellation of ideas, movements, publishing venues, and artistic communities" at the beginning of the Renaissance makes her one of the youngest leaders of this movement (Sanders 129).
Much of the scholarship about Bennett has focused on her literary output from 1923 to 1928. This is not surprising given that most published pieces by Bennett cease after she moved to Florida with her first husband, Alfred J. Jackson, in the late 1920s. As more archival research has been conducted, however, we are starting to see Bennett's significance move well beyond 1928. The recovery of over fifty unpublished poems, many of which were written in the 1930s; numerous diary entries throughout different parts of her career; several autobiographical essays; correspondence between Bennett and canonical figures from the Harlem Renaissance from the 1920s to the 1940s; reviews and newspaper articles Bennett wrote in the 1930s; the first recovered painting by Bennett created in the early 1930s; and a book project initiated in the 1930s, illustrate that Bennett continued to be highly productive well after the 1920s. Recently, Cary Nelson (2015) chose to highlight three of Bennett's previously unpublished poems that Belinda Wheeler recovered in the recently published second edition of Anthology of Modern American Poetry: "Dirge for a Free Spirit," "I Build America," and "[Rapacious women who sit on steps at night]." Nelson claimed that taken together "this group of three poems alone mandates a revised understanding of Bennett's career" (629). Sandra Govan, Michel Fabre, and Maureen Honey have also used some archival material to push Bennett's artistic timeline beyond 1928. The comprehensive material provided in this collection, including some never-before published and analyzed material, further highlight Bennett's significant contribution to the Harlem Renaissance and beyond.
This volume seeks to claim Bennett's spot beside the names of Hurston, Hughes, McKay, Cullen, Larsen, and West, among others. Bennett's diverse literary output; the social circles in which she played a central role; her critiques of Harlem and elsewhere in her correspondence, reviews, articles, and "The Ebony Flute" during the 1920s; and her staunch radical political voice (particularly in her 1930s work), make her an important figure who deserves more attention.
Rationale for Our Editorial Selections
At first glance, the body of Gwendolyn Bennett's work appears slim. She never published a volume of her own work, so her writings have been spread over numerous periodicals and literary anthologies. She is known mostly for her short lyrics published between 1923 and 1928, two short stories, and the highly entertaining literary column "The Ebony Flute" that she wrote for Opportunity. Even this relatively small corpus has earned her a place within the Harlem Renaissance. However, what she wrote during her lifetime comprises a much larger body of work. For this reason, we have divided Bennett's works by genre, since she worked in many forms, and broken the work into two sections: works published and unpublished writings. It is necessary to understand both sections in order to appreciate fully this multifaceted artist.
After she fell out of the Harlem Renaissance spotlight, Bennett continued to write voluminously. This anthology is designed to extend our understanding of Bennett and her work beyond the six-year window in which she is often considered. She published many reviews as well as literary and political essays, commenting on significant cultural and social events within the African American community. Unfortunately, many of these works have been lost to modern readers, as they were published in obscure periodicals housed only in research institutions. More important, she did not publish the bulk of her writings, so the works remain locked away in library archives. Her diary entries during her early years in Paris and in Harlem during the post-Depression era provide key firsthand perspectives that add insight into the author's own life, and into what it was like for African Americans living in those exciting, turbulent places and times. In addition, she penned poignant material about such subjects as her troubled marriage, life in the Jim Crow South, and her being forcibly separated from her mother at an early age. These pieces, arguably wrenching to write and read, add greatly to our understanding of this highly talented, but largely overlooked, woman. A sampling of Bennett's correspondence, all previously unpublished, helps explain her troubled family dynamics, and letters to literary luminaries such as Alain Locke, Countee Cullen, Claude McKay, Richard Wright, W. E. B. Du Bois, and Langston Hughes situate her within the Harlem Renaissance and beyond. We also include a chapter from an unfinished novel begun during her Harlem Renaissance years, which sheds light on a little-known aspect of her writing. Finally, we have added several poems from her oeuvre. It was for poetry that Bennett was best known during the Harlem Renaissance, and she continued writing in this medium throughout her life. Many of these poems continue the lyric tradition begun in her younger age, but her later work also added an overt, socially conscious perspective generally lacking in her earlier writings. We include a representative sampling of both published and unpublished work, fiction, nonfiction, and poetry on a range of subjects. We offer a generous array of the earlier works for which her reputation has been established, we include many of her now obscure published reviews and essays, and we provide access to her other unpublished writings now contained only in research libraries.
Together these works compose the single volume that Bennett never completed in her lifetime. Collectively, these writings will add depth of appreciation to those admirers of Bennett's work during the Harlem Renaissance as well as those interested in the period in general. They also will aid our understanding of radical politics within the African American community in the 1930s. In addition, they will serve to introduce Bennett to a new generation of readers and scholars.
Early Life
In order to appreciate fully Bennett's overall contribution to the Harlem Renaissance, one must first understand her roots. The road from Texas to New York, and the center of the Harlem Renaissance, was not without incident for Gwendolyn Bennetta Bennett, who was born to Joshua Robin Bennett and Mayme Abernathy Bennett on July 8, 1902, in Giddings, a small (1,200 people in 1900) cotton-growing community about sixty miles east of Austin. Her father, Bennett recalled years later, had a "sensitive mouth," "innocent eyes," "clear laughter," and "quick brain," and he worked hard as the youngest of eight children and son of a Texas barber to become a teacher and later a lawyer ("My Father's Story"). Also a teacher, Mayme, in Bennett's words, had beautiful skin that was "the color of ivory," and her "straight and black [hair was] like her grandmother's, a thorough-bred Indian." When Bennett was still an infant, the family moved to Nevada and her parents taught on an Indian reservation. Although Bennett was very young when she lived on the reservation, she fondly remembered "from some where in the dim recesses of my baby subconscious mind the nights when the Indians reached back into their past and donned their war paint and danced the dances of the tribes." To Bennett, "nothing but beauty had touched their [her parents'] lives and mine in those days" ("My Father's Story").
A few years later Bennett's parents moved to Washington, DC, and the beauty Bennett had recalled earlier ended. In Washington, Bennett's father worked as a government clerk while also completing a law degree at night from Howard University. The harder Bennett's father worked to juggle multiple responsibilities, the further apart he grew from his wife. "His bright spirit had been toughened with the endless struggle to get ahead. I don't know what had happened to him," recalled Bennett, "but something hard began to creep into his nature" ("My Father's Story"). Before long Bennett's father began an affair with a fellow night school student. Bennett vividly recalls witnessing her parents' querulous relationship as one of her first memories: "I don't know how I came to know or understand that my father had what was called in those days, an affinity. And yet know it I did and well enough to inject myself into their bitter argument" ("[Ward Place]"). The hostility between Bennett's parents grew and the two divorced when Bennett was approximately six years old. For a time, Bennett lived with her mother and saw her father during regular Sunday visits. Bennett alluded to feelings of great hurt toward her father years later when she wrote about her time with him, "There are still places that have not healed with time." However, when she talked about her earliest memories living with him they were generally pleasant. Recalling her Sunday visits with her father, Bennett said that "we did all the things that were fondest to my heart. [. . .] We went to the theatre, to restaurants for dinner [. . .] we went for long car rides and to all sorts of places for amusement, we laughed and played together." Life between two households continued for Bennett until her father, as Bennett put it, "found himself fed up with his freedom and wishing that he too might have a part in the fashioning of my life." In 1910, when Bennett was still very young, her father "hit upon a plan to have me all for himself " and on one of their Sunday visits took his daughter and never returned. Bennett would not see her mother "until some sixteen years later" ("My Father's Story"). Bennett and her father—along with his new wife, Marechal Neil—lived on the run, regularly moving between the District of Columbia, Pennsylvania, and New York to avoid detection. This dislocation is at the center of much of Bennett's writing, creating a lifelong search for stability and a deep-seated desire for a sense of home and family.
(Excerpt ends here)
Mailing List
Subscribe to our mailing list and be notified about new titles, journals and catalogs.