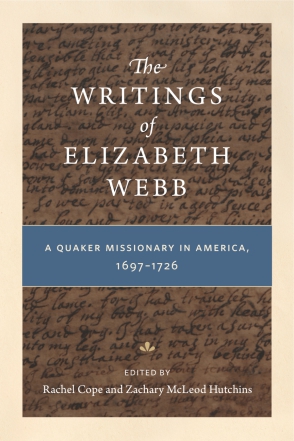 The Writings of Elizabeth Webb
A Quaker Missionary in America, 1697–1726
Edited by Rachel Cope and Zachary McLeod Hutchins
Buy
The Writings of Elizabeth Webb
A Quaker Missionary in America, 1697–1726
Edited by Rachel Cope and Zachary McLeod Hutchins
"A very important volume, bringing to light a forgotten Quaker minister, adding to the new and necessary scholarship on Quaker women's writings, and helping rewrite our understanding of apocalyptic thought within eighteenth-century Quakerism. It is required reading for all Quaker studies scholars."
Description

Reviews

Bio

Table of Contents

Subjects
This comprehensive collection brings together every extant text known to have been penned by Elizabeth Webb, a missionary for the Society of Friends who traveled and taught in England and America during the seventeenth and eighteenth centuries.
Webb's work circulated widely in manuscript form during her lifetime, but has since become scarce. This annotated collection reintroduces her as a major contributor to women's writing and religious thought in early America. Her autobiographical works highlight the importance of ecstatic or visionary experiences in the construction of Quaker identity and illustrate the role that women played in creating religious and social networks. Webb used the book of Revelation as a lens through which to comprehend episodes from American history, and her commentary on the book characterized the colonization of New England as a sign of the end times. Eighteenth-century readers looked to her commentary for guidance during the American War of Independence. Her unique take on Revelation was not only impactful in its own day, but puts contemporary understanding of eighteenth-century Quaker quietism into new perspective.
Collecting the earliest known writings by an American Quaker, and one of the earliest by an American woman, this annotated volume rightly places Webb in the company of colonial women writers such as Anne Bradstreet, Mary Rowlandson, and Sarah Kemble Knight. It will be an invaluable resource for scholars of early America, women's history, religious history, and American literature.
"A very important volume, bringing to light a forgotten Quaker minister, adding to the new and necessary scholarship on Quaker women's writings, and helping rewrite our understanding of apocalyptic thought within eighteenth-century Quakerism. It is required reading for all Quaker studies scholars."
"This extraordinary collection of mostly unpublished Quaker documents fills a major gap in early American writings by women and is a major contribution to early American archival scholarship. Webb's keen observations range from personal narratives, letters, and travelogues to a unique commentary on the book of Revelation, and the introduction beautifully situates these documents in their historical and intellectual contexts."
"Rachel Cope and Zachary McLeod Hutchins have done a major service to scholars of early American history, women's history, and Quakerism in reclaiming for us Quaker minister Elizabeth Webb. Her writings provide us with a marvelous view into the spiritual and interior life of a remarkable woman equally at home on both sides of the colonial Atlantic."
"Cope and Hutchins's collection and annotation of Webb's works is an important contribution to Quaker literature. This publication will offer scholars and others a rare glimpse into a female eighteenth-century Quaker preacher."
"Scholars of Quaker and religious studies, early modern transatlantic history, colonial American literature, and women's life writing and literary history will welcome The Writings of Elizabeth Webb: A Quaker Missionary in America, 1697–1726, the first volume to collect this once well-known Quaker minister's published and unpublished works."
"The Writings of Elizabeth Webb is a fascinating addition to early American and transatlantic literature and will enhance classroom discussions and scholarship on early American history and literature, women's studies, and religious studies."
"Cope and Hutchins have produced a timely and valuable compilation of one woman's writings, sure to be of interest to specialists but also readily accessible and useful to those in the larger fields of American religion and early American history."
Rachel Cope is Associate Professor of Church History at Brigham Young University and coeditor of Family Life in Britain and America, 1690–1820.
Zachary McLeod Hutchins is Assistant Professor of English at Colorado State University and author of Inventing Eden: Primitivism, Millennialism, and the Making of New England.
Contents
Acknowledgments
Note on the TextWebb and Her World: An IntroductionWorks Prepared for Publication
A Letter from Elizabeth Webb to Anthony William Boehm, with His Answer
Some Meditations with Some Observations upon the Revelations of Jesus Christ
Personal Writings
A Short Account of My Voyage into America with Mary Rogers, My Companion
Short Memorial
Letter to Her Children, August 24, 1724Suggestions for Further ReadingIndex