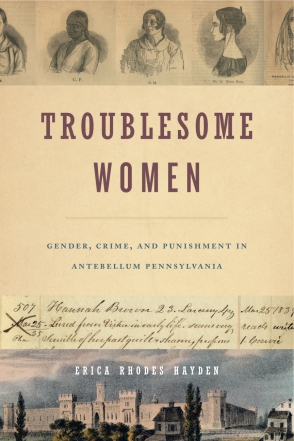 Troublesome Women
Gender, Crime, and Punishment in Antebellum Pennsylvania
Erica Rhodes Hayden
Buy
Troublesome Women
Gender, Crime, and Punishment in Antebellum Pennsylvania
Erica Rhodes Hayden
"This comprehensive investigation of criminal women restores their agency and recovers the choices and strategies that were often hidden beneath official accounts of their deeds."
Description

Reviews

Bio

Table of Contents

Subjects
This book traces the lived experiences of women lawbreakers in the state of Pennsylvania from 1820 to 1860 through the records of more than six thousand criminal court cases. By following these women from the perpetration of their crimes through the state's efforts to punish and reform them, Erica Rhodes Hayden places them at the center of their own stories.
Women constituted a small percentage of those tried in courtrooms and sentenced to prison terms during the nineteenth century, yet their experiences offer valuable insight into the era's criminal justice system. Hayden illuminates how criminal punishment and reform intersected with larger social issues of the time, including questions of race, class, and gender, and reveals how women prisoners actively influenced their situation despite class disparities. Hayden's focus on recovering the individual experiences of women in the criminal justice system across the state of Pennsylvania marks a significant shift from studies that focus on the structure and leadership of penal institutions and reform organizations in urban centers.
Troublesome Women advances our understanding of female crime and punishment in the antebellum period and challenges preconceived notions of nineteenth-century womanhood. Scholars of women's history and the history of crime and punishment, as well as those interested in Pennsylvania history, will benefit greatly from Hayden's thorough and fascinating research.
"This comprehensive investigation of criminal women restores their agency and recovers the choices and strategies that were often hidden beneath official accounts of their deeds."
"By focusing on the lived experience of women in the carceral system, Troublesome Women provides an important intervention in scholarship that emphasizes the power of the carceral system and universal ideas of womanhood."
Erica Rhodes Hayden is Associate Professor of History at Trevecca Nazarene University.
Acknowledgments
Introduction
Part 1 The Crimes
1 "With a World of Tears": Women Criminals and the Use of Mercy and Femininity
2 "She Would Have a Divorce at the Risk of Her Life": Women and Crimes That Challenged Social Limitations
3 "Amazonian Outbreak": Antebellum Women and Political
Crime
Part 2 In Prison
4 "Disturbing the Other Prisoners": Female Inmates in Pennsylvania Penitentiaries
5 "No Kind Treatment Can Subdue the Prisoner": Chaos and Female Resistance in the County Jails
6 "Restoration to the Path of Virtue": The Difficult Task of Reform
Conclusion
Appendixes
A County Crime Statistics
B Eastern State Penitentiary Female Demographics
C Western State Penitentiary Female Demographics
D Gender and Race of Moyamensing Admissions
Notes
Bibliography
Index
Mailing List
Subscribe to our mailing list and be notified about new titles, journals and catalogs.