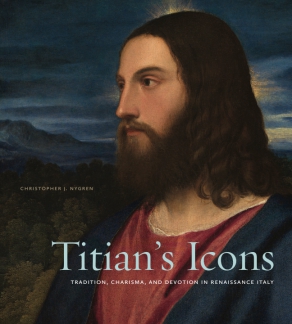 Titian's Icons
Tradition, Charisma, and Devotion in Renaissance Italy
Christopher J. Nygren
Buy
Titian's Icons
Tradition, Charisma, and Devotion in Renaissance Italy
Christopher J. Nygren
Winner of the Phyllis Goodhart Gordan Book Prize from the Renaissance Society of America
"An erudite study of Titian's small-format paintings of biblical subjects. Through a careful analysis of this group of paintings, and with particular attention to the early modern conflicts between the traditions of devotional images and theorizations of art, Nygren's book revises our understanding of Titian's position in the history of early modern sacred art."
Description

Reviews

Bio

Table of Contents

Subjects
Winner of the Phyllis Goodhart Gordan Book Prize from the Renaissance Society of America
Titian, one of the most successful painters of the Italian Renaissance, was credited by his contemporaries with painting a miracle-working image, the San Rocco
Christ Carrying the Cross
. Taking this unusual circumstance as a point of departure, Christopher J. Nygren revisits the scope and impact of Titian's life's work. Nygren shows how, motivated by his status as the creator of a miracle-working object, Titian played an active and essential role in reorienting the long tradition of Christian icons over the course of the sixteenth century.
Drawing attention to Titian's unique status as a painter whose work was viewed as a conduit of divine grace, Nygren shows clearly how the artist appropriated, deployed, and reconfigured Christian icon painting. Specifically, he tracks how Titian continually readjusted his art to fit the shifting contours of religious and political reformations, and how these changes shaped Titian's conception of what made a devotionally efficacious image. The strategies that were successful in, say, 1516 were discarded by the 1540s, when his approach to icon painting underwent a radical revision. Therefore, this book not only tracks the career of one of the most important artists in the tradition of Western painting but also brings to light new information about how divergent agendas of religious, political, and artistic reform interacted over the long arc of the sixteenth century.
Original and erudite, this book represents an important reassessment of Titan's approach to devotional subject matter. It will appeal to students and specialists as well as art aficionados interested in Titian and in religious painting.
"An erudite study of Titian's small-format paintings of biblical subjects. Through a careful analysis of this group of paintings, and with particular attention to the early modern conflicts between the traditions of devotional images and theorizations of art, Nygren's book revises our understanding of Titian's position in the history of early modern sacred art."
"This searching and lucid study tactfully sets Titian's art into contexts of Christian devotional traditions and reform thought, not to dress the artist in pious robes but to reveal Titian's blazing pictorial intelligence at work at the very foundations of religious art."
"In this groundbreaking investigation of Titian's understudied small-scale religious paintings, Christopher Nygren convincingly demonstrates in his rich and erudite analysis that these were high-stakes painterly performances that prompted—even scripted—certain devotional responses from their sophisticated beholders. Provocatively referring to these polyvalent paintings as 'icons,' Nygren aligns Titian's art with early modern understandings about miraculous agency, votive petition, vibrant matter, and spiritual comportment."
"This book deserves careful attention. It is as much a history of religion in Titian's time as it is a history of his paintings—specifically those that Nygren . . . calls icons, i.e., small, devotional, nontheatrical paintings with a tight focus on one or very few figures."
"With its penetrating visual analysis and carefully conceived theoretical structure, this book makes a significant and innovative contribution not only to the field of Titian studies, but more broadly to the study of premodern visual culture."
Christopher J. Nygren is Assistant Professor of History of Art and Architecture at the University of Pittsburgh.
List of Illustrations
Preface
Acknowledgments
List of Abbreviations
Introduction: Titian, Charismatic Painter
1. Icons and Agency: The San Rocco Christ Carrying the Cross
2. Icons and Exegesis in Ferrara: Christ with the Coin and Judith/Salome
3. Erasmian Icons: Visualizing the Philosophia Christi
4. Icons and Community: Rome and the Network of Ecce Homos
5. Rupestrian Icons: Ecce Homo on Slate, Mater Dolorosa on Marble, and the Matter of Devotion
6. Explicit Icons: Historicity Between Tradition and Self
7. The Twilight of the Icon? Titian's Pietà in the Gallerie dell'Accademia
Epilogue
Notes
Bibliograph
Index
Mailing List
Subscribe to our mailing list and be notified about new titles, journals and catalogs.