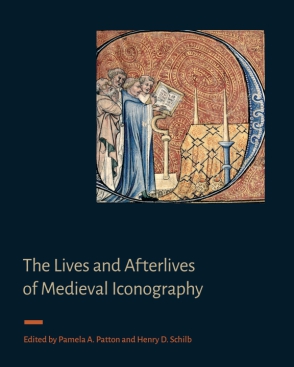 The Lives and Afterlives of Medieval Iconography
Edited by Pamela A. Patton and Henry D. Schilb
Buy
The Lives and Afterlives of Medieval Iconography
Edited by Pamela A. Patton and Henry D. Schilb
"This collection offers a stimulating overview of current methods of iconographic research. The authors offer focused and rewarding case studies that address broadly varied material and periods, and they productively situate their work in dialogue with traditional and innovative approaches."
Description

Reviews

Bio

Table of Contents

Sample Chapters

Subjects
What does the study of iconography entail for scholars active today? How does it intersect with the broad array of methodological and theoretical approaches now at the disposal of art historians? Should we still dare to use the term "iconography" to describe such work?

The seven essays collected here argue that we should. Their authors set out to evaluate the continuing relevance of iconographic studies to current art-historical scholarship by exploring the fluidity of iconography itself over broad spans of time, place, and culture. These wide-ranging case studies take a diverse set of approaches as they track the transformation of medieval images and their meanings along their respective paths, exploring how medieval iconographies remained stable or changed; how images were reconceived in response to new contexts, ideas, or viewerships; and how modern thinking about medieval images—including the application or rejection of traditional methodologies—has shaped our understanding of what they signify. These essays demonstrate that iconographic work still holds a critical place within the rapidly evolving discipline of art history as well as within the many other disciplines that increasingly prioritize the study of images.
This inaugural volume in the series Signa: Papers of the Index of Medieval Art at Princeton University demonstrates the importance of keeping matters of image and meaning—regardless of whether we use the word "iconography"—at the center of modern inquiry into medieval visual culture.
In addition to the editors, the contributors to this volume are Kirk Ambrose, Charles Barber, Catherine Fernandez, Elina Gertsman, Jacqueline E. Jung, Dale Kinney, and D. Fairchild Ruggles.
"This collection offers a stimulating overview of current methods of iconographic research. The authors offer focused and rewarding case studies that address broadly varied material and periods, and they productively situate their work in dialogue with traditional and innovative approaches."
"This is an essential element in the scholarship that recognizes the significance of images for historical and cultural studies beyond the traditional borders of art history to the larger arena of visual culture inclusive of gender, race, ethnicity, and popular/material culture."
"This excellent collection of essays—well organized, carefully edited, and generously illustrated—is a welcome and salutary reminder that iconographic studies, allied with other methodologies and buttressed by meticulous research, can achieve genuinely fresh and even brilliant insights into a wide variety of medieval images and their multiple meanings."
Pamela A. Patton is Director of the Index of Medieval Art at Princeton University. She is the author of several books, including Art of Estrangement: Redefining Jews in Reconquest Spain, also published by Penn State University Press.
Henry D. Schilb is Art History Specialist in Byzantine Art at Princeton University's Index of Medieval Art.
1. Introduction: Plus ça change...? The Lives and Afterlives of Medieval Iconography
Pamela A. Patton and Henry D. Schilb, Index of Medieval Art, Princeton University
2. Afterlife and Improvisation at Santa Maria in Trastevere
Dale Kinney, Bryn Mawr College
3. The Archaeology of Carolingian Memory at Saint-Sernin of Toulouse
Catherine Fernandez, Index of Medieval Art, Princeton University
4. Representation, Signature and Trace in Islamic Art
D. Fairchild Ruggles, University of Illinois, Urbana-Champaign
5. A Matter of Perception: An Hesychastic Understanding of the Work of Art
Charles Barber, Princeton University
6. Spectacles and Prosthetic Visions in Fourteenth- and Fifteenth-Century Art
Kirk Ambrose, University of Colorado Boulder
7. Iconography and the Loss of Representation
Elina Gertsman, The Case Western Reserve University
8. The Work of Gothic Sculpture in the Age of Photographic Reproduction
Jacqueline E. Jung, Yale University
Mailing List
Subscribe to our mailing list and be notified about new titles, journals and catalogs.