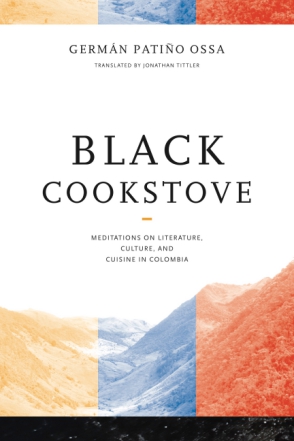 Black Cookstove
Meditations on Literature, Culture, and Cuisine in Colombia
Germán Patiño Ossa, translated by Jonathan Tittler
Buy
Black Cookstove
Meditations on Literature, Culture, and Cuisine in Colombia
Germán Patiño Ossa, translated by Jonathan Tittler
"A highly original and fascinating book. Black Cookstove engages with a vast repertory of interdisciplinary studies: literary, historical, anthropological, botanical, and cultural-studies works on cuisine, culture, and food consumption in Latin America, Europe, and the United States. Germán Patiño Ossa's work is part of a larger project—a history of the culture of Colombian society that reevaluates the presence and relevance of African descendants as cultural agents."
Description

Reviews

Bio

Table of Contents

Sample Chapters

Subjects
Winner of the 2006 Andrés Bello Award for Memory and Ibero-American Thought

In this evocatively written book,
Germán Patiño Ossa presents the cultural universe and national identities of Colombia through the lens of traditional cuisine. Focusing on the Cauca Valley, a fertile area in southwestern Colombia where Spanish, Native American, and African communities converged over the centuries, Patiño Ossa studies the food of these communities and its place in the region's culture.
Using Jorge Isaacs's nineteenth-century Romantic novel
María
as a realistic source for cultural practices among Colombia's slaveholding elite, Patiño Ossa examines cooking, kitchens, and the division of labor; flora and fauna; agriculture, hunting, and fishing; hospitality; slavery; and literature. Through the community of Afro-descendants who appear in Isaacs's novel,
Patiño Ossa shows how this culinary culture, originating in the cookstoves used by female black slaves, resulted in the Creole fusions that characterize this geographical region of Latin America.
Cooking and food, as Patiño Ossa eloquently demonstrates, are essential for us to understand the process of the formation of culture and the origins, evolution, and effects of transculturation.
Innovative, engaging, and accompanied by an introductory preface by the author, this English-language edition of Patiño Ossa's prizewinning book is a model for food and cultural studies that will appeal to scholars, students, and the intellectually curious.
"A highly original and fascinating book. Black Cookstove engages with a vast repertory of interdisciplinary studies: literary, historical, anthropological, botanical, and cultural-studies works on cuisine, culture, and food consumption in Latin America, Europe, and the United States. Germán Patiño Ossa's work is part of a larger project—a history of the culture of Colombian society that reevaluates the presence and relevance of African descendants as cultural agents."
"The book nevertheless remains a literary gem for aficionados of the Cauca Valley and its abundant cultural manifestations."
Born and raised in Colombia's coastal region, Germán Patiño Ossa was a newspaper columnist, novelist, university professor, and cultural activist. Along with Fogón de negros, Patiño Ossa was the author of the prizewinning Herr Simmonds y otras historias del Valle del Cauca. Jonathan Tittler is Professor Emeritus of Hispanic Studies at Rutgers University. He has translated nine Spanish American novels, including Manuel Zapata Olivella's Changó, the Biggest Badass, which was awarded honorable mention for the best translation of a literary work by the MLA in 2011.
Illustrations
Translator's Foreword
Translator's Note
Presentation
Author's Foreword
Maps of "Cauca Country" in Southwest Colombia
Author's Preface for North American Readers
Preamble: Tale of a Voyage
1. Introduction
2. Then Came Pigs and Cattle
3. Things from Hither and Yon
4. Maria
5. Cooking and the Division of Labor
6. Sweets and Sexuality
7. Cooking, Geography, and Region
8. Food, Hunting, and Society
9. Traditional Cooking and Hunger
Epilogue: Cooking and Culture
Notes to Black Cook Stove
Bibliography
Glossary
Index
Download a PDF sample chapter here: Preamble
Mailing List
Subscribe to our mailing list and be notified about new titles, journals and catalogs.