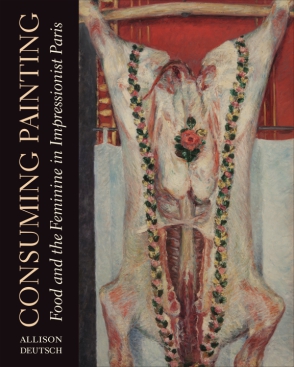 Consuming Painting
Food and the Feminine in Impressionist Paris
Allison Deutsch
Buy
Consuming Painting
Food and the Feminine in Impressionist Paris
Allison Deutsch
"Consuming Painting offers an impressive new take on the history of late nineteenth-century French art, one that makes clear for the first time the sensorial range in the historical reception of modern painting. In her reevaluation and retranslation of art criticism, combined with her highly persuasive descriptions of a range of paintings, Deutsch shows the sustained discourse of desire and disgust built into the deeply gendered metaphorics of painting as culinary consumption."
Description

Reviews

Bio

Table of Contents

Sample Chapters

Subjects
In
Consuming Painting
, Allison Deutsch challenges the pervasive view that Impressionism was above all about visual experience. Focusing on the language of food and consumption as they were used by such prominent critics as Baudelaire and Zola, she writes new histories for familiar works by Manet, Monet, Caillebotte, and Pissarro and creates fresh possibilities for experiencing and interpreting them.
Examining the culinary metaphors that the most influential critics used to express their attraction or disgust toward painting, Deutsch rethinks French modern-life painting in relation to the visceral reactions that these works evoked in their earliest publics. Writers posed viewing as analogous to ingestion and used comparisons to food to describe the appearance of paint and the painter's process. The food metaphors they chose were aligned with specific female types, such as red meat for sexualized female flesh, confections for fashionably made-up women, and hearty vegetables for agricultural laborers. These culinary figures of speech, Deutsch argues, provide important insights into both the fabrication of the feminine and the construction of masculinity in nineteenth-century France. Consuming Painting exposes the social politics at stake in the deeply gendered metaphors of sense and sensation.
Original and convincing, Consuming Painting upends traditional narratives of the sensory reception of modern painting. This trailblazing book is essential reading for specialists in nineteenth-century art and criticism, gender studies, and modernism.
"Consuming Painting offers an impressive new take on the history of late nineteenth-century French art, one that makes clear for the first time the sensorial range in the historical reception of modern painting. In her reevaluation and retranslation of art criticism, combined with her highly persuasive descriptions of a range of paintings, Deutsch shows the sustained discourse of desire and disgust built into the deeply gendered metaphorics of painting as culinary consumption."
"While some of the art criticism addressed in Consuming Painting is well known to scholars of Impressionism, Deutsch presents it in a completely new way, showing how art criticism addressed—and often highlighted—the haptic, gustatory, and olfactory aspects of paintings. A smart and promising book."
"Contributing to the existing scholarship on the feminization of Impressionism, Deutsch reconstructs the gendering of these food-based references as female for being rooted in bodily experience, fashion, and consumption."
Allison Deutsch is Leverhulme Early Career Fellow in the Department of History of Art at Birkbeck, University of London.
Illustrations
Acknowledgements
Introduction
Chapter 1. Metaphor and Materiality in Nineteenth-Century Art Criticism
Chapter 2. The Flesh of Painting
Chapter 3. The Confected Canvas
Chapter 4. Impressionist Market Gardener
Conclusion
Notes
Bibliography
Index
Mailing List
Subscribe to our mailing list and be notified about new titles, journals and catalogs.