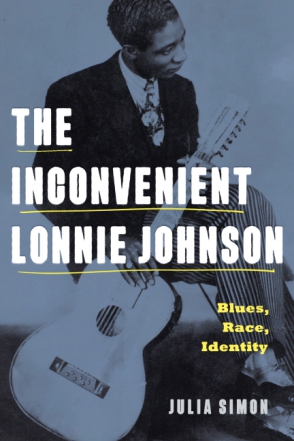 The Inconvenient Lonnie Johnson
Blues, Race, Identity
Julia Simon
Buy
The Inconvenient Lonnie Johnson
Blues, Race, Identity
Julia Simon
Recipient of a Certificate of Merit in the 2023 Association for Recorded Sound Collections Awards for Excellence in the category Best Historical Research in Recorded Blues, R&B, Soul, Gospel, or Hip-Hop (ARSTM) Book Award
"With an impressive command of primary and secondary literature, including archival materials, The Inconvenient Lonnie Johnson makes an original contribution to the growing body of interdisciplinary scholarly work that seeks to understand music's connection to politics, society, and ethnicity. Simon's work is subtle and sophisticated."
Description

Reviews

Bio

Table of Contents

Sample Chapters

Subjects
Lonnie Johnson is a blues legend. His virtuosity on the blues guitar is second to none, and his influence on artists from T-Bone Walker and B. B. King to Eric Clapton is well established. Yet Johnson mastered multiple instruments. He recorded with jazz icons such as Duke Ellington and Louis Armstrong, and he played vaudeville music, ballads, and popular songs.
In this book, Julia Simon takes a closer look at Johnson's musical legacy. Considering the full body of his work, Simon presents detailed analyses of Johnson's music—his lyrics, technique, and styles—with particular attention to its sociohistorical context. Born in 1894 in New Orleans, Johnson's early experiences were shaped by French colonial understandings of race that challenge the Black-white binary. His performances call into question not only conventional understandings of race but also fixed notions of identity. Johnson was able to cross generic, stylistic, and other boundaries almost effortlessly, displaying astonishing adaptability across a corpus of music produced over six decades. Simon introduces us to a musical innovator and a performer keenly aware of his audience and the social categories of race, class, and gender that conditioned the music of his time.
Lonnie Johnson's music challenges us to think about not only what we recognize and value in "the blues" but also what we leave unexamined, cannot account for, or choose not to hear. The Inconvenient Lonnie Johnson provides a reassessment of Johnson's musical legacy and complicates basic assumptions about the blues, its production, and its reception.
"With an impressive command of primary and secondary literature, including archival materials, The Inconvenient Lonnie Johnson makes an original contribution to the growing body of interdisciplinary scholarly work that seeks to understand music's connection to politics, society, and ethnicity. Simon's work is subtle and sophisticated."
"A scrupulously researched, exceedingly well-written, and deeply insightful work of original scholarship. Surprisingly, there is very little written about Johnson; Simon's book thus fills a giant hole in the literature on American jazz, blues, and popular music from the first part of the twentieth century."
"[A]n engaging and informative read for the hobbyist and novices to the history of blues music."
Julia Simon is Professor of French and is on the faculty of the Cultural Studies Graduate Group at the University of California, Davis. She is the author of Time in the Blues and Rousseau Among the Moderns: Music, Aesthetics, Politics, the latter also published by Penn State University Press. She hosts the podcast Blues on My Mind.
List of Illustrations
Acknowledgements
Introduction: Lonnie Johnson, Professional Musician
1. Musical Practice and Place: The Cultural History of New Orleans and St. Louis
2. Self-Construction and Self-Awareness: Lonnie Johnson's Persona
3. Social Relations: Race, Gender, and the Perception of Systemic Complexity
4. The Suffering Self: Isolation and Loneliness
Conclusion: Performance and the Socially Embedded Self
Notes
Discography
Bibliography
Index
Mailing List
Subscribe to our mailing list and be notified about new titles, journals and catalogs.