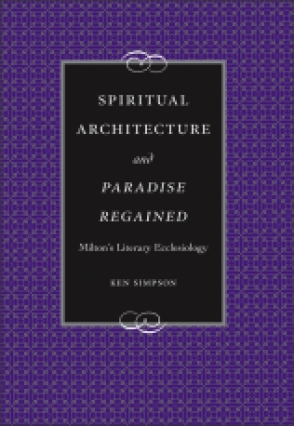 Spiritual Architecture and Paradise Regained
Milton's Literary Ecclesiology
Ken Simpson
Buy
Spiritual Architecture and Paradise Regained
Milton's Literary Ecclesiology
Ken Simpson
Ken Simpson's study, focusing on John Milton's
Paradise Regained
, examines the literary ecclesiology of this most subtle and elusive of Milton's works. While far less critical attention has been given to
Paradise Regained
over the years as compared to
Paradise Lost
and others of Milton's canon, it might be argued that
Paradise Regained
may be read as a full and culminating expression of Milton's views on the doctrine of the church, the nature of the Word, prophecy and vocation, and apocalypticism. As Simpson asserts, in
Paradise Regained
Milton not only continues his critique of the English Reformation by confronting the failures of the Restoration settlement, but he also continues to develop the consistent theology of the church that preoccupied him in his prose during the civil war and Interregnum. Theology, polemics, and poetry were not backgrounds of one another in Milton's work, nor was theology a set of abstract propositions to which all discourses referred; rather, these were overlapping fields of discourse that offered different opportunities to fulfill the religious imperative to build the church. Simpson examines Milton's view of the church as a textual community—a group of participants in the church who are each guided by the Holy Spirit in their reading of the Word. The interplay of silence and the Word, then, in
Paradise Regained
demonstrates that interpretive authority must always defer to the Spirit rather than tradition. This approach also shapes Milton's construction of ministry, liturgy, and church militancy in the poem. Simpson's provocative and unique examination of Milton and
Paradise Regained
will become an indispensable study, offering new views of this somewhat neglected poem.
Description

Bio

Subjects
Ken Simpson's study, focusing on John Milton's Paradise Regained, examines the literary ecclesiology of this most subtle and elusive of Milton's works. While far less critical attention has been given to Paradise Regained over the years as compared to Paradise Lost and others of Milton's canon, it might be argued that Paradise Regained may be read as a full and culminating expression of Milton's views on the doctrine of the church, the nature of the Word, prophecy and vocation, and apocalypticism. As Simpson asserts, in Paradise Regained Milton not only continues his critique of the English Reformation by confronting the failures of the Restoration settlement, but he also continues to develop the consistent theology of the church that preoccupied him in his prose during the civil war and Interregnum. Theology, polemics, and poetry were not backgrounds of one another in Milton's work, nor was theology a set of abstract propositions to which all discourses referred; rather, these were overlapping fields of discourse that offered different opportunities to fulfill the religious imperative to build the church. Simpson examines Milton's view of the church as a textual community—a group of participants in the church who are each guided by the Holy Spirit in their reading of the Word. The interplay of silence and the Word, then, in Paradise Regained demonstrates that interpretive authority must always defer to the Spirit rather than tradition. This approach also shapes Milton's construction of ministry, liturgy, and church militancy in the poem. Simpson's provocative and unique examination of Milton and Paradise Regained will become an indispensable study, offering new views of this somewhat neglected poem.
Ken Simpson is assistant professor of English at Thompson Rivers University in British Columbia. He has published articles on seventeenth century British Literary Studies and contemporary science fiction.