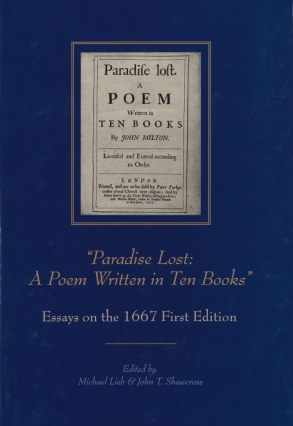 "Paradise Lost: A Poem Written in Ten Books"
Essays on the 1667 First Edition
Edited by Michael Lieb and John T. Shawcross
BUY
"Paradise Lost: A Poem Written in Ten Books"
Essays on the 1667 First Edition
Edited by Michael Lieb and John T. Shawcross
Appearing in tandem with the first publication of an authoritative text of the 1667 first edition of John Milton's
Paradise Lost
, these insightful essays by ten Miltonists establish the significant differences in the text, context, and effect of the first edition of
Paradise Lost
from those of the now-standard second edition of 1674. In bringing together essays by various hands, editors Lieb and Shawcross seek to map what may be termed a new frontier in Milton studies, that which acknowledges the importance of what Milton himself considered to be the work of a lifetime when he offered
Paradise Lost
to the world in 1667.
Description

Bio

Subjects
Appearing in tandem with the first publication of an authoritative text of the 1667 first edition of John Milton's
Paradise Lost
, these insightful essays by ten Miltonists establish the significant differences in the text, context, and effect of the first edition of
Paradise Lost
from those of the now-standard second edition of 1674. In bringing together essays by various hands, editors Lieb and Shawcross seek to map what may be termed a new frontier in Milton studies, that which acknowledges the importance of what Milton himself considered to be the work of a lifetime when he offered
Paradise Lost
to the world in 1667.
While the scholars writing here do not claim that the first edition of Milton's epic is to be viewed as supplanting the second and later editions, they do seek to demonstrate the importance of coming to terms with the original 10-book edition both as an epic with its own identity and value and as a work that provides fundamental insight into the nature of the editions that would follow in its wake. As these scholars demonstrate, Paradise Lost is a work that cannot be fully understood without an awareness of the dynamic and ever-changing nature of the forces through which it made its first and subsequent appearances in the world at large.
Michael Lieb is professor of English and Research Professor of Humanities Emeritus at the University of Illinois at Chicago and is coeditor of The Miltonic Samson, which won the 1996 Irene Samuel Award of the Milton Society of America.
John T. Shawcross was professor emeritus of English at the University of Kentucky. He is the author of numerous books, including With Mortal Voice: The Creation of Paradise Lost. He is coeditor of Milton and the Grounds of Contention, and is a two-time winner of the James Holly Hanford Award for the most distinguished book on Milton.