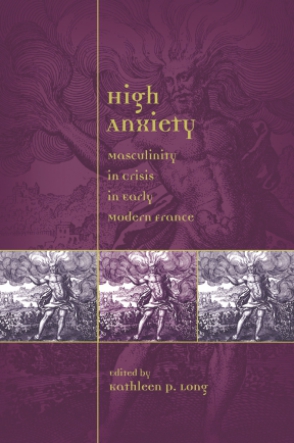 High Anxiety
Masculinity in Crisis in Early Modern France
Edited by Kathleen Perry Long
Buy
High Anxiety
Masculinity in Crisis in Early Modern France
Edited by Kathleen Perry Long
"High Anxiety is an invaluable and seminal contribution to French literary and cultural history supplemental reading lists and academic reference collections."
Description

Reviews

Bio

Table of Contents
This collection explores the evolution of notions about masculinity during the intense crisis of Renaissance and early modern France. Authors of the period reflect the anxieties about masculinity that became more pronounced against the backdrop of major events and innovations of the period: the religious conflict in France, the repeated questioning of religious and royal authority, the revival of Greek skepticism, the discovery of the New World, and the rise of clinical medicine. These events in turn fueled growing doubt concerning the fixed and hierarchical nature of gender distinction, a distinction upon which many felt French culture was dependent for its very survival.
"High Anxiety is an invaluable and seminal contribution to French literary and cultural history supplemental reading lists and academic reference collections."
"These authors attempt to tease out the developments of masculinity and the male norm in sixteenth- and seventeenth-century France that would eventually result in the transformation of such institutions such as marriage, monarchy, the market, and the church, in the period leading up to and after the Revolution. The authors...examine a wide range of sources from pamphlets, fairy tales, jokes, poetry, and medical works to the works of such authors as Montaigne and Labé."
Kathleen Long is professor of French at Cornell University and author of articles and books on Renaissance literature and culture, including Another Reality: Poetry and the Imagination in the Works of Ovid, Petrarch, and Ronsard; High Anxiety: Masculinity in Crisis in Early Modern France (edited volume); and Hermaphrodites in Renaissance Europe.
Louise Labé's Transgressions.....Cathy Yandell
Masculine Rhetoric and the French Blason anatomique.....Jeffery Persels
Primal Scenes/Primal Screens: The Homosocial Economy of Dirty Jokes.....Amy Staples
Catherine, Cybele, and Ronsard's Witnesses.....Stephen Murphy
Mother's Milk from Father's Breast: Maternity without Women in Male French Renaissance Lyric.....Kirk Read
Montaigne moqueur: "Virgile" and Its Geographies of Gender.....Tom Conley
Jacques Duval on Hermaphrodites.....Kathleen Long
Molière's Body Politic.....Mitchell Greenberg
A Curious Study in "Parallel Lives": Louis XIV and the Abbé de Choisy.....Virginia M. Marino
Pig or Prince?: Murat, d'Aulnoy, and the Limits of Civilized Masculinity.....Lewis C. Seifert
Masculinity, Monarchy, and Metaphysics: A Crisis of Authority in Early Modern France....Catharine Randall