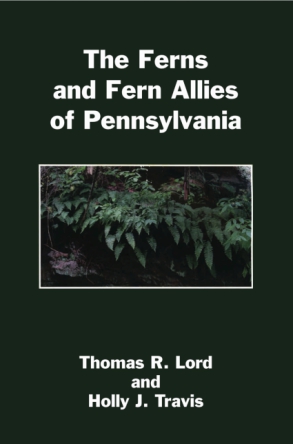 The Ferns and Fern Allies of Pennsylvania
Thomas R. Lord
BUY
The Ferns and Fern Allies of Pennsylvania
Thomas R. Lord
Three hundred million years ago, ferns dominated the earth's surface, forming extensive marshes and forests with heights of over twenty-five meters. Today, ferns and their allies are still abundantly represented in the plant world, with somewhere between 10,000 and 12,000 species identified and recognized. These nonflowering, nonseeding, highly vascular plants make up a major and ancient division in the plant kingdom called
Pteridophytes
.
Description

Bio

Subjects
Three hundred million years ago, ferns dominated the earth's surface, forming extensive marshes and forests with heights of over twenty-five meters. Today, ferns and their allies are still abundantly represented in the plant world, with somewhere between 10,000 and 12,000 species identified and recognized. These nonflowering, nonseeding, highly vascular plants make up a major and ancient division in the plant kingdom called
Pteridophytes
.
In the state of Pennsylvania, one can find more than 100 species of these highly specialized plants. While ferns are by far the largest division of the Pteridophyte group in the state, horsetails, clubmosses, spikemosses, and quillworts are the lesser-known members, frequently misidentified as relatives of more modern flowering plants.
With more than 190 color photographs and descriptions of 96 different plants, recognizing each Pteridophyte is a relatively easy matter. The photos of the plants show them growing in their natural settings, which helps to establish a clearer picture of the common characteristics of the families and their likely habitats. Maps illustrate the distribution of the various species throughout the counties of Pennsylvania and across the United States. Taxonomic keys are also included for each of the groups to assist in identifying the plants based on their biology. Finally, the book provides the most common local names for the plants, making it useful for both the amateur naturalist and the professional botanist.
Thomas R. Lord is Professor of Biology at Indiana University of Pennsylvania.
Holly J. Travis is Assistant Professor of Biology at Indiana University of Pennsylvania.