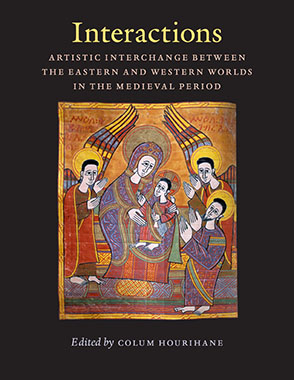 Interactions
Artistic Interchange Between the Eastern and Western Worlds in the Medieval Period
Edited by Colum Hourihane
Buy
Interactions
Artistic Interchange Between the Eastern and Western Worlds in the Medieval Period
Edited by Colum Hourihane
"As all the 'Occasional Papers' edited by Hourihane, the present volume is expertly produced and includes illustrations of good quality. All art libraries must have this valuable scholarly resource."
Description

Reviews

Bio

Subjects
The medieval world does not end in Western Europe, and within the last twenty or so years some of the most stimulating art-historical discoveries have been made in the Near East. Moving beyond the confines of Jerusalem and Carthage, this volume considers the art of Armenia, Ethiopia, Coptic Egypt, Georgia, Jordan, Lebanon, Syria, and the Mongol East in relation to Byzantium, Cyprus, Italy, and the West. The Christian arts of the Near East, long considered naïve and provincial, are now being reconsidered for their complex liturgical and theological significance.
The essays in this essential reference volume cover topics ranging from the classically inspired Christian iconography of Jordan's mosaics, sources and influences of style in Jerusalem and the West, and stylistic interaction between Ethiopia and Egypt to wooden carvings from Coptic Egypt and manuscripts from Antioch as well as icon painting in Lebanon and Cairo. Specific case studies on ivories from the Eastern Mediterranean, the Red Monastery Conservation Project, the Edessan Image of Christ, and the Marriage Charter of Otto II and Theophanu are accompanied by iconographical exposés of the Abgar Legend, the Biblical Sarah, and the Çintamani motif.
The contributors are Susan H. Auth, Elizabeth S. Bolman, Erica Cruikshank Dodd, Anthony Cutler, Jaroslav Folda, Marilyn E. Heldman, Lucy-Anne Hunt, Mat Immerzeel, Adeline Jeudy, Catherine Jolivet-Lévy, Irma Karaulashvili, Hugo Meyer, Mati Meyer, William North, Michele Piccirillo, and Alexander Saminsky.
"As all the 'Occasional Papers' edited by Hourihane, the present volume is expertly produced and includes illustrations of good quality. All art libraries must have this valuable scholarly resource."
Colum Hourihane is Director of the Index of Christian Art at Princeton University.
Mailing List
Subscribe to our mailing list and be notified about new titles, journals and catalogs.