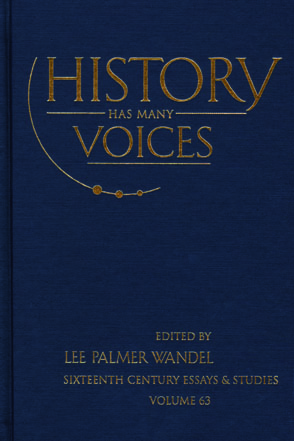 History Has Many Voices
Edited by Lee Palmer Wandel
Buy
History Has Many Voices
Edited by Lee Palmer Wandel
"There is probably no better gift that can be made to a teacher than to document the flourishing of the seeds he planted.… Every single contribution in History Has Many Voices is eminently readable, and thus conveys also to nonspecialists a good insight into various matters. Within the particular genre of the Festschrift, this is a distinctive quality that merits attention."
Description

Reviews

Bio

Table of Contents
This volume presents essays from eight scholars who trained with Robert Kingdon, a vanguard of early modern studies. He required students to go to primary sources, yet they were free to pursue their own curiosity. No matter what their approach to the sources, students were held to a high standard of thoroughness, precision, and attention to detail. This festschrift displays something of the diversity of language, source materials, methods, and visions that Kingdon encouraged in his students during his forty-year career in graduate education.
"There is probably no better gift that can be made to a teacher than to document the flourishing of the seeds he planted.… Every single contribution in History Has Many Voices is eminently readable, and thus conveys also to nonspecialists a good insight into various matters. Within the particular genre of the Festschrift, this is a distinctive quality that merits attention."
Lee Palmer Wandel is professor of history and religious studies at the University of Wisconsin–Madison. Her works include Always Among Us: Images of the Poor in Zwingli's Zurich (1990) and Voracious Idols and Violent Hands: Iconoclasm in Reformation Zurich, Strasbourg, and Basel (1995), and (with Robin W. Winks) Europe in a Wider World, 1350–1650 (2003). She is currently completing a book on the Eucharist in the early modern world.
Introduction: The Past Has Many Voices....Lee Palmer Wandel
Doubts about "Witches" and "Magicians" in Reginald Scot and Gabriel Naudé....Maryanne Cline Horowitz
Alcohol and the Clergy in Traditional Europe....A. Lynn Martin
Popes, Astrologers, and Early Modern Calendar Reform....Frederic J. Baumgartner
Planning Jesuit Education from Loyola to the 1599 Ratio Studiorum....John Patrick Donnelly, S.J.
Laity and Liturgy in the French Reformed Tradition....Raymond A. Mentzer
Reflections on a Quarter Century of Research on Women and the Reformation.....Merry Wiesner-Hanks
Rethinking the Social History of the Poor....Thomas Max Safley
Preparing the Pastors: Theological Education and Pastoral Training in Basel....Amy Nelson Burnett