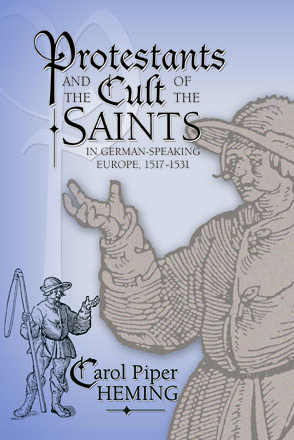 Protestants and the Cult of the Saints
in German-Speaking Europe, 1517–1531
Carol Piper Heming
Buy
Protestants and the Cult of the Saints
in German-Speaking Europe, 1517–1531
Carol Piper Heming
"I know of no other study that focuses so thoroughly and clearly on this crucial issue of the early Reformation. Heming's book goes behind the outbreaks of iconoclasm to explain how the cult of the saints violated Protestant theology, piety, and social concerns. The author challenges the assumption that Protestants quickly rejected the saints and shows how they had to wrest themselves from the centerpiece of medieval devotion."
Description

Reviews

Bio

Table of Contents
The role of the saints became a theological dilemma for scholars and laity alike throughout the Reformation era. As Protestants tried to remove themselves from the hold of the Catholic Church, the cult of the saints remained a formidable presence. Through the analysis of 180 pamphlets published by reformers in German-speaking Europe, Carol Heming shows the struggle Protestants faced in purging the cult of the saints from their culture and religion. Heming examines why Reformation leaders so strongly and universally denounced the cult of the saints and whether the holy patrons disappeared from Protestant areas without benefit of champion or defender. Complete scriptural references used in the pamphlets against the saints and images are included.
"I know of no other study that focuses so thoroughly and clearly on this crucial issue of the early Reformation. Heming's book goes behind the outbreaks of iconoclasm to explain how the cult of the saints violated Protestant theology, piety, and social concerns. The author challenges the assumption that Protestants quickly rejected the saints and shows how they had to wrest themselves from the centerpiece of medieval devotion."
"Heming provides an important glimpse into this contested arena of historical scholarship. ...a great deal of useful information is included."
"This concise book fills a gap in the English-language literature on the early Reformation. It is distinguished by a succinct, elegant prose style accessible to the lay reader without condescending to the academic....The sections of the book dealing with the pamphlet discourse on the cult of saints fulfill a long-term desideratum. Its well-written style and subtle conclusions should ensure its usefulness to a variety of audiences including researchers, undergraduates, congregations, and churches."
""This excellent survey is more of a synthesis than a revisionist thesis, and it focuses most intensely on the early years of the Protestant Reformation, and on the theological questions raised in the texts of major Reformers, in public disputations, and in popular pamphlet literature. Its command of the printed texts and of the scholarship is excellent, making the book a wonderfully thorough introduction to the subject.""
Carol Piper Heming is assistant professor of history at Central Missouri State University. She received her PhD from the University of Missouri.
Preface
Abbreviations
Presence of the Saints
Religion and the Saints
Society and the Saints
Reformers and the Saints
Virgin Mary among the Saints
Ubiquity of the Saints
Persistence of the Saints
Appendix 1
Disputations, Diets, and Colloquies
Appendix 2
Appendix 3
Key to Works Cited in this Appendix
Scriptural References Used against the Saints and Images
Bibliography
Index