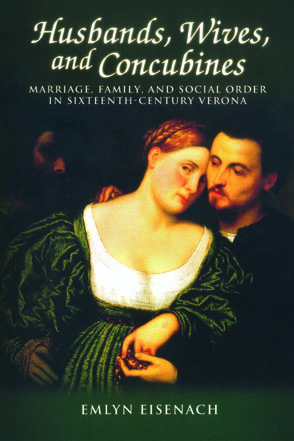 Husbands, Wives, and Concubines
Marriage, Family, and Social Order in Sixteenth-Century Verona
Emlyn Eisenach
Buy
Husbands, Wives, and Concubines
Marriage, Family, and Social Order in Sixteenth-Century Verona
Emlyn Eisenach
"This important work joins a growing body of literature on the formation and dissolution of marriage in early modern Italy. Eisenach offers a pioneering study of the interaction of sixteenth-century Veronese families from a variety of social levels. Mining interesting evidence from the ecclesiastical archives, the author sheds significant light on women's responses to male claims of authority and exposes the conflicts and ambiguities of patriarchal ideals. It was not necessarily the authority of church and state that made or broke marriage ties in sixteenth-century Verona, but rather the actions and strategies of individuals."
Description

Reviews

Bio

Table of Contents
Emlyn Eisenach uses a wide range of sources, including the richly detailed and previously unexplored records of nearly two hundred marriage-related disputes from the bishop's court of Verona, to illuminate family and social relations in early modern northern Italy. Arguing against the common emphasis on the growth of law and government in this period, her study emphasizes the fluidity of the principles that governed marriage and its dissolution, and deepens our understanding of the patriarchal family and its complex relationship with gender and status during the sixteenth century.
Peopled by characters from across the social spectrum of the city of Verona and its contado, Eisenach's study moves between stories about specific individuals—serving girls seeking honorable marriage through the unlikely route of concubinage, peasant men in search of independence from their fathers, and aristocratic wives seeking revenge against adulterous husbands—and broader analyses of social, economic, and geographical patterns of behavior. She shows how the Veronese at all social levels attempted to better their familial and personal fortunes by creatively molding wedding rituals to fit their particular circumstances, or engaging in the significant but until now little understood practices of concubinage, clandestine marriage, or informal marriage dissolution.
Eisenach also evaluates the first half-century of religious reforms in Verona as the leading pre-Tridentine bishop Gian Matteo Giberti and his successors challenged common practices and understandings in sermons, treatises, confessionals, and court. Emphasizing the limitations of what the religious authorities could impose on the people, she explores how learned and popular notions of marriage, family, and gender shaped each other as they were put into action in the strategies of individual Veronese.
"This important work joins a growing body of literature on the formation and dissolution of marriage in early modern Italy. Eisenach offers a pioneering study of the interaction of sixteenth-century Veronese families from a variety of social levels. Mining interesting evidence from the ecclesiastical archives, the author sheds significant light on women's responses to male claims of authority and exposes the conflicts and ambiguities of patriarchal ideals. It was not necessarily the authority of church and state that made or broke marriage ties in sixteenth-century Verona, but rather the actions and strategies of individuals."
"A short review cannot convey how rich this book is.… Eisenach is a careful reader of her sources. She makes clear that there were strategies, interests, and procedural logics at work in shaping them. The considerable strength of her book lies in this close interpretation, and in the clear prose by which she places it before her readers."
"Creatively blends social history, the history of political culture, and the history of gender. It contributes to a growing body of regional studies that suggests that the early modern world was regionally diverse and that conclusions drawn from metropolitan models are often inaccurate. Looking at records in cities outside the urban centers of Venice, Rome, and Florence reveals that things are not always as they might seem, and patriarchy, as she argues, was not as totalizing as we might imagine."
"Emlyn Eisenach has produced an important work that adds to the growing literature on both the formation and the dissolution of marriage in northern Italy during the early modern period. Using records of the ecclesiastical courts, theological treatises written by several of Verona's reforming bishops, and visitation records of various parishes, Eisenach has created a rich portrait of the lives of men and women across class lines in Verona and its outlying territory.… Her book is a valuable contribution to the discussion of marriage in early modern Italy."
Emlyn Eisenach received her Ph.D. from the University of Virginia. She lives in Chicago, Illinois.
Abbreviations
Acknowledgments
Introduction: Family Order and Patriarchal Order
Patriarchal Ideology and the Domestication of Authority
Two Styles of Wedding Ritual:
Brides With Fathers and Brides Without Fathers
Strategic Uses of Clandestine Marriage
Tenere a Sua Posta:
Concubinage in Verona
Marriage Dissolution and Honor
Conclusions
Bibliography
Index