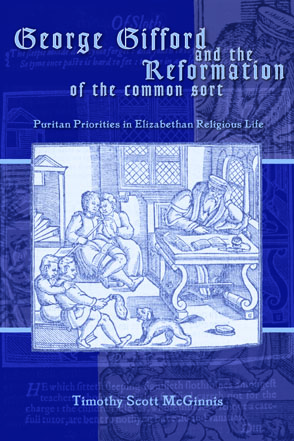 George Gifford and the Reformation of the Common Sort
Puritan Priorities in Elizabethan Religious Life
Timothy Scott McGinnis
Buy
George Gifford and the Reformation of the Common Sort
Puritan Priorities in Elizabethan Religious Life
Timothy Scott McGinnis
"For students of Elizabethan religion and society, George Gifford is a name to conjure with. Preacher, puritan, and polemicist, his eminently quotable dialogues have been selectively mined for their views on witchcraft and popular beliefs. In this superb study, McGinnis provides the comprehensive analysis that has been needed for so long. Focused on the problem of the "common sort of Christian," his lively and persuasive treatment of Gifford's works places Gifford in context and convincingly dissects his views. The result is a fluent, keenly argued, and enormously welcome contribution to our understanding of puritanism and popular religion in early modern England."
Description

Reviews

Bio

Table of Contents
This careful study explores puritan attitudes through the life and works of Elizabethan minister George Gifford. He was on the front lines of religious controversies in a time when the English church was being shaped by Protestant evangelicals who felt compelled to carry their understanding of "true religion" to all corners of England. Known among themselves as "the godly" or "gospellers" and to their enemies as "puritans" or "precisionists," these ministers believed the Church of England was only partially reformed. Gifford tried to convert the many parishioners whom he believed to be Protestant in name only, or "men indifferent" due to their acceptance of whatever religion was thrust upon them.
Using archival records and Gifford's large corpus of published treatises, dialogues, and sermons, McGinnis looks at Gifford's support and opposition in his ministry at Maldon, and his recurring conflicts with ecclesiastical authorities. He explores Gifford's writings on Catholicism, separatism, and witchcraft, and considers how Gifford's attention to practical ministry interacted with national debates. McGinnis also analyzes Gifford's attempt to translate Protestant doctrines into a language accessible to the average layperson in his sermons and catechism.
Those interested in popular religion and culture, pastoral ministry, and puritanism on both sides of the Atlantic will benefit from this study of one on the front lines of religious controversies during the turbulent years of Elizabeth's reign.
"For students of Elizabethan religion and society, George Gifford is a name to conjure with. Preacher, puritan, and polemicist, his eminently quotable dialogues have been selectively mined for their views on witchcraft and popular beliefs. In this superb study, McGinnis provides the comprehensive analysis that has been needed for so long. Focused on the problem of the "common sort of Christian," his lively and persuasive treatment of Gifford's works places Gifford in context and convincingly dissects his views. The result is a fluent, keenly argued, and enormously welcome contribution to our understanding of puritanism and popular religion in early modern England."
"[McGinnis] grapples with current and classical historiography and draws reasonable and grounded conclusions in a tight though lucid text of 191 pages. And like any good work of history, McGinnis tells an engaging story."
"For decades revisionist interpreters of the Elizabethan Church Settlement have engaged a Sisyphean struggle: Did reform come from above (crown/episcopate) or below (laity)? Did it proceed quickly or slowly? What is a "Puritan" and where do Puritans fit? Despite a plethora of words, not much lasting illumination has resulted. The compass and clarity of the introduction by McGinnis (Samford Univ.) to this study of George Gifford—Cambridge graduate; priest; controversial vicar at Maldon, Essex; zealous reformer; prolific author—provides a sound base for this well-written and well-documented, closely examined, empathetic, but balanced and nuanced book...This volume offers a revealing look at one part of the religious life of the times. Useful appendixes and bibliography. Highly recommended."
"This sensible and sensitive little book relocates Gifford in his historical context: not as a folklorist but as an activist pastor concerned with the redemption of souls and the reformation of society."
"A fine and efficient study that places Gifford and his writings solidly in their context.… Although this fine book deserves to be widely read by scholars, it is not for them alone. Students will find it accessible thanks to the author's care in explaining events and debates with which specialists will be all too familiar."
"McGinnis's study provides an insightful window into the soul of English Puritanism…while adding to the growing body of postrevisionist scholarship."
"Timothy Scott McGinnis has written a readable and thoroughly consuming portrait of both a concerned pastor, George Gifford (1548-1600), and indeed the whole sweep of the religious situation in England in the second half of the sixteenth century. . . This book, a revision and expansion of McGinnis' Ph.D. dissertation (University of North Carolina) is useful for two reasons: it is accessible in language, style, and explication, and it covers all the bases. In other words, McGinnis presents a convincing portrait of the Elizabethan religious situation. . . . He grapples with current and classical historiography and draws reasonable and grounded conclusions in a tight though lucid text of 191 pages. And like any good work of history, McGinnis tells and engaging story."
Timothy Scott McGinnis teaches at Samford Univesity in Birmingham, Alabama. He received his doctorate in religious studies at the University of North Carolina at Chapel Hill.
Figures
Acknowledgments
George Gifford
Introduction
Puritans and the Common Sort
The Politics of Godliness
The Errors of Rome
Fraterne Dissentire
"Subtiltie" Exposed
Creating Godliness
Conclusion
Commending and Confuting the Common Sort
Appendices
Gifford's Works
Dedicatees of Gifford's Works
The Will of George Gifford
Bibliography
Index