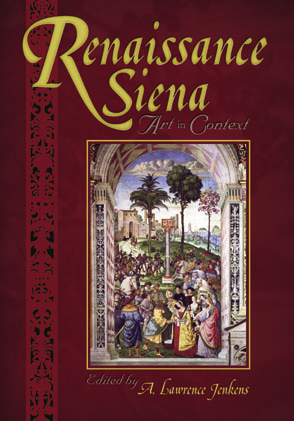 Renaissance Siena
Art in Context
Edited by A. Lawrence Jenkens
Buy
Renaissance Siena
Art in Context
Edited by A. Lawrence Jenkens
"Defining the city's artistic history after its "golden age" as one of change and assimilation rather than withering decline, Renaissance Siena stands as a welcome contribution, responding to Siena's visual language on its own terms, in its native yet undeniably eclectic accents."
Description

Reviews

Bio

Table of Contents
The art of Renaissance Siena is usually viewed in the light of developments and accomplishments achieved elsewhere, but Sienese artists were part of a dynamic dialogue that was shaped by their city's internal political turmoil, diplomatic relationships with its neighbors, internal social hierarchies, and struggle for self-definition. These essays lead scholars in a new and exciting direction in the study of the art of Renaissance Siena, exploring the cultural dynamics of the city and its art in a specifically Sienese context. This volume shapes a new understanding of Sienese culture in the early modern period and defines the questions scholars will continue to ask for years to come. What emerges is a picture of Renaissance Siena as a city focused on meeting the challenges of the time while formulating changes to shape its future. Central to these changes are the city's efforts to fashion a civic identity through the visual arts.
"Defining the city's artistic history after its "golden age" as one of change and assimilation rather than withering decline, Renaissance Siena stands as a welcome contribution, responding to Siena's visual language on its own terms, in its native yet undeniably eclectic accents."
"The volume stands as testament to the recent revival of Sienese studies, one with a focus on the fifteenth and sixteenth centuries rather than the much-considered Trecento Golden Age. What is new in this collection is an attempt to consider Sienese art entirely within a local context, free from the traditional negative assessment engendered by comparison with Renaissance Florence, and in many cases within a social-political framework that contrasts with earlier, more conservative methodological approaches… Renaissance Siena represents an important contribution to the field and one that will rightly challenge lingering misconceptions about the city and its art beyond the Black Death."
"The essays represent a variety of visual arts, including paintings, architecture, and cassoni panels. The breadth of media, along with the clearly evident depth of the research, advances the very notion of a Renaissance in Siena, with artistic achievements that compare favorably to the cities, such as Florence and Rome, usually glorified for their contributions."
A. Lawrence Jenkens is associate professor of art history at the University of New Orleans. He received his PhD in art history from the Institute of Fine Arts, New York University. Jenkens has also received postdoctoral fellowships from the National Endowment for the Humanities and the Harvard Center for Italian Renaissance Studies, Villa I Tatti, Florence.
Figures
Abbreviations
Acknowledgments
Introduction: Renaissance Siena, the State of Research.....A. Lawrence Jenkens
Reality and Ideality in Sienese Renaissance Cityscapes.....Judith Steinhoff
Palace Façades in Late Medieval and Renaissance Siena: Continuity and Change in the Aspect of the City.....Matthias Quast
The Rebuilding of Siena's Church of Santo Spirito in the Late Fifteenth Century.....Mauro Mussolin
Narrative in Context: The Cassoni of Francesco di Giorgio.....Benjamin David
Ambrogio Spannocchi's "Bella Casa": Creating Site and Setting in Quattrocento Sienese Architecture.....Fabrizio J. D. Nevola
A Fifteenth-Century Sienese Fabula: The Dynastic and Patriotic Significance of the Piccolomini Library.....Stratton D. Green
The Rise of Saint Catherine of Siena as an Intercessor for the Sienesse.....Susan E. Wegner
Selected Bibliography
Contributors
Index