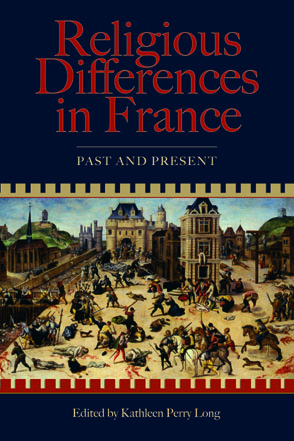 Religious Differences in France
Past and Present
Edited by Kathleen Perry Long
Buy
Religious Differences in France
Past and Present
Edited by Kathleen Perry Long
"Along with a comprehensive bibliography and index, several of the essays in this collection will be important resources for graduate students news to the field. Other essays will interest very specialized scholars who focus on Jansenist history."
Description

Reviews

Bio

Table of Contents
This volume examines the history of religious dissent and discord in France from the time of the Wars of Religion to the present day. Contributors analyze the various solutions elaborated by the government, by religious institutions, and by private groups in response to the serious problems raised by religious differences. This collection of essays also explores the impact these problems and solutions have on religious and national identity, and how these issues play out in political and religious life today.
"Along with a comprehensive bibliography and index, several of the essays in this collection will be important resources for graduate students news to the field. Other essays will interest very specialized scholars who focus on Jansenist history."
Kathleen Long is professor of French at Cornell University and author of articles and books on Renaissance literature and culture, including Another Reality: Poetry and the Imagination in the Works of Ovid, Petrarch, and Ronsard; High Anxiety: Masculinity in Crisis in Early Modern France (edited volume); and Hermaphrodites in Renaissance Europe.
Illustrations
Abbreviations
Acknowledgments
Introduction.....Kathleen Perry Long
A Law of Difference in the History of Difference: The First Edict of "Tolerance".....Denis Crouzet
Waging Peace: Memory, Identity, and the Edict of Nantes.....Barbara B. Diefendorf
Sharing Sacred Space: Protestant Temples and Religious Coexistence in the Seventeenth Century.....Keith P. Luria
Religion and Politics in France during the Period of the Edict of Nantes (1598–1685).....Christian Jouhaud
Catholic Conciliar Reform in an Age of Anti-Catholic Revolution.....Dale K. Van Kley
French Protestants, Laicization, and the Separation of the Churches and the State, 1802–1905.....Steven C. Hause
Totems, Taboos, and Jews: Salomon Reinach and the Politics of Scholarship in Fin-de-Siècle France.....Aron Rodrigue
Catholic Culture in Interwar France.....Philip Nord
The Right to be Different: Some Questions About the "French Exception".....Carmen Bernand
Islam in a Secular Context: Catalyst of the French Exception.....Jocelyne Césari
Bibliography
Index
Contributors