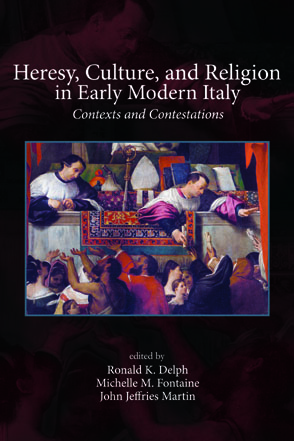 Heresy, Culture, and Religion in Early Modern Italy
Contexts and Contestations
Edited by Ronald K. Delph, Michelle M. Fontaine, and John Jeffries Martin
Buy
Heresy, Culture, and Religion in Early Modern Italy
Contexts and Contestations
Edited by Ronald K. Delph, Michelle M. Fontaine, and John Jeffries Martin
"This volume highlights the newly-discovered complexity of the early modern Italian religious landscape and includes essays by both Italian and North American scholars.… The twelve essays published here demonstrate the range and growing maturity of scholarship on early modern Italian religious culture."
Description

Reviews

Bio

Table of Contents
Leading scholars from Italy and the United States offer a fresh and nuanced image of the religious reform movements on the Italian peninsula in the sixteenth and seventeenth centuries. United in their conviction that religious ideas can only be fully understood in relation to the particular social, cultural, and political contexts in which they develop, these scholars explore a wide range of protagonists from popes, bishops, and inquisitors to humanists and merchants, to artists, jewelers, and nuns. What emerges is a story of negotiations, mediations, compromises, and of shifting boundaries between heresy and orthodoxy. This book is essential reading for all students of the history of Christianity in early modern Europe.
"This volume highlights the newly-discovered complexity of the early modern Italian religious landscape and includes essays by both Italian and North American scholars.… The twelve essays published here demonstrate the range and growing maturity of scholarship on early modern Italian religious culture."
"The essays in this book are so effective at complicating the middle decades of the sixteenth century and avoiding overly rigid generalizations that one is left wondering if this subsequent shift away from conciliation toward more militant forms of inquisitorial activity was quite so straightforward and uniform in every location. Although Heresy, Culture, and Religion in Early Modern Italy touches on both the sixteenth and seventeenth centuries, its essays are at their most effective when rehabilitating the mid-sixteenth century from the limitations of the traditional "Reformation" and "Counter-Reformation" framework. Perhaps with further scrutiny, the late sixteenth and seventeenth centuries will prove to be an era of similar contestation and compromise in early modern Italy, rather than of naked repression deferred."
"These essays show that the contemporary bureaucracy of repression operated with limited effectiveness, accomplishing only a portion of the religious, cultural, and social changes we associated with the age of reform. Indeed, the volume beautifully shows that late sixteenth-century religion was complex, incomprehensible via simple characterization."
"An anthology of scholarly essays by learned authors examining religious reform movements on the Italian peninsula during the sixteenth and seventeenth centuries... an index for quick references rounds out this thoughtful and multidimensional scrutiny of a critical turning point in Christianity's historical evolution."
"One of the strengths of the collection, however, is that it brings together many of the most important scholars of early modern Italian religion from both North America and Italy, some of whose work appears here for the first time in English translation."
"It brings together a superb collection of North American and Italian scholars, and includes both established figures and younger academics addressing the varieties of reform thought and practice in Italy through the course of the sixteenth century."
"This stimulating and eminently readable collection of twelve articles, dedicated to Elizabeth Gleason, aims to highlight some more recent approaches by some leading historians from Italy and North America to the study of religious debate and conflict and concepts of heresy in Italy and of attempts to control the unorthodox from the 1530s to 1590s... Altogether we have a stimulation collection of high scholarship, fostering new contestations to old prejudices."
"As volume 76 of the prestigious series Sixteenth Century Essays and Studies from Truman State University Press… The exploration of unedited sources… has produced a number of original contributions."
Ronald K. Delph teaches medieval, Renaissance, and Reformation history at Eastern Michigan University, where he has been on the history faculty since 1993.
Michelle M. Fontaine was associate professor at the University of Arkansas and now teaches social sciences at the high school level in the San Francisco Bay area.
John Jeffries Martin serves as chair of the history department at Trinity University in Texas, where he teaches medieval and early modern European history.
Introduction
Renovatio and Reform in Early Modern Italy.....John Jeffries Martin
Part One—Reformers and Heretics: New Perspectives
Lorenzo Lotto and the Reformation in Venice.....Massimo Firpo
Making Heresy Marginal in Modena.....Michelle M. Fontaine
Rumors of Heresy in Mantua.....Paul V. Murphy
Part Two—Culture and Religion: The Contexts of Reform
Renovatio, Reformatio, and Humanist Ambition in Rome.....Ronald K. Delph
An Erasmian Legacy: Ecclesiastes and the Reform of Preaching at Trent.....Frederick J. McGinness
The Turbulent Life of the Florentine Community in Venice.....Paolo Simoncelli
Gasparo Contarini and the University of Padua....Paul F. Grendler
Venice and Justice: Saint Mark and Moses....Marion Leathers Kuntz
Part Three—The Vicissitudes of Repression
The Inquisitor as Mediator....Silvana Seidel Menchi
The Expurgatory Policy of the Church and the Works of Gasparo Contarini....Gigliola Fragnito
The Heresy of a Venetian Prelate: Archbishop Filippo Mocenigo....Elena Bonora
Legal Remedies for Forced Monachization in Early Modern Italy....Anne Jacobson Schutte