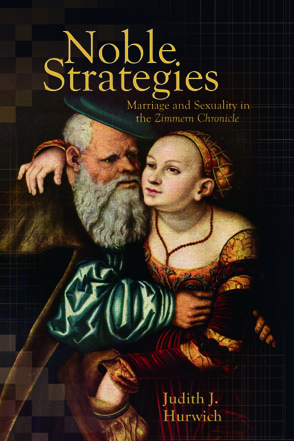 Noble Strategies
Marriage and Sexuality in the Zimmern Chronicle
Judith J. Hurwich
Buy
Noble Strategies
Marriage and Sexuality in the Zimmern Chronicle
Judith J. Hurwich
"An insightful close reading of the sixteenth-century Zimmern Chronicle that provides us with a valuable insider's perspective on virtually every aspect of noble marriage, from courtship to marital breakdown."
Description

Reviews

Bio

Table of Contents
Through the colorful family histories and rich detail of the Zimmern Chronicle, historian Judith Hurwich examines marriage, family, and sexuality among the early modern German nobility. She uses the house chronicles of the Zimmern family and the families of the counts and barons with whom they intermarried to investigate marriage and nonmarital sexuality in the southwest German nobility in the late fifteenth and the sixteenth centuries. Along with a deeper look at women's roles as wives, mothers, and concubines, Noble Strategies shines a light on the intimate lives of the early modern German elite.
"An insightful close reading of the sixteenth-century Zimmern Chronicle that provides us with a valuable insider's perspective on virtually every aspect of noble marriage, from courtship to marital breakdown."
"Judith Hurwich has written a rewarding study of the mores and marriage politics of Southwest German nobles. Particularly satisfying is Part III, which offers intriguing insights into the extramarital habits of both genders as well as into the treatment of concubines and bastards. Noble Strategies should be of interest to a broad range of historians and literary scholars, particularly those working on sexuality, gender studies, self-representation, the nobility, and the history of the family."
"Count Froben Christoph von Zimmern was a deeply cynical man who feared that the sexual transgressions of his family members, and their ensuing illegitimate children, posed the greatest threat to the future of his lineage. Because Hurwich largely allows him to tell his own story, her closing chapters offer the reader satisfying access to issues of familial affection, emotion, and marital conflict within an aristocratic family that was on the brink of dying out."
"A well-documented and solidly researched study that sheds important light on marriage practices and attitudes toward sexuality among the early modern Southwest German nobility."
"Hurwich's work is particularly strong in its careful contextualizing of the Chronicle itself and the practices of the German nobility in general. Hurwich combines a solid, fascinating social history of one small section of the German nobility with a compelling analysis of the marriage and inheritance practices of the nobility across Europe. The book will be of great interest to social historians, legal historians, and especially historians of the family, and it is an important contribution to the comparative history of the family in early modern Europe."
"Hurwich also does an interesting job of contextualizing some of the broader issues around marriage, family interests, and sexual attitudes that influenced shifting noble views in sixteenth-century Swabia."
Since retiring from teaching at independent secondary schools for thirty years in the New York City area, Judith J. Hurwich has taught as an adjunct professor at Fordham University, the University of Connecticut at Stamford, and Purchase College of State University of New York. She received her PhD from Princeton University.
Figures and Tables
Acknowledgments
The Zimmern Chronicle and the Zimmern Family
Part I: Family Strategy
Inheritance and Dowry
Age at Marriage and Proportions Marrying
Intermarriage and Rank of Spouses
Part II: Marriage
Choice of Marriage Partners
Marriage Negotiations
Marital Happiness and Marital Breakdown
Part III: Sexuality
Sexuality: Laws, Attitudes, and the Sexual Honor Code
Concubines
Bastards
Conclusion
Family Strategies and Pragmatic Morality
Appendix: Genealogy of the Zimmern Family
Bibliography
About the Author
Index