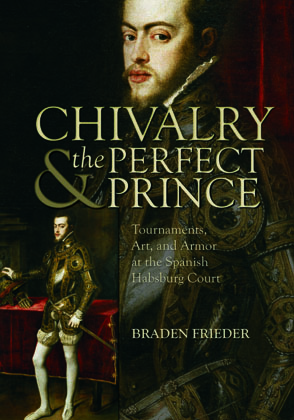 Chivalry and the Perfect Prince
Tournaments, Art, and Armor at the Spanish Habsburg Court
Braden Frieder
Buy
Chivalry and the Perfect Prince
Tournaments, Art, and Armor at the Spanish Habsburg Court
Braden Frieder
"A thoroughly researched study of the context and meaning of Renaissance armor and weapons at the Spanish Habsburg court.… Frieder has provided a provocative view of a subject deserving more attention, as armor formed a central part of royal collecting at the Spanish court."
Description

Reviews

Bio

Table of Contents
Chivalry and the Perfect Prince is a survey of the ceremonial armor crafted for the Spanish Habsburg monarchs of the sixteenth century. It examines notable tournaments and pageantry held at the courts of Charles V and Philip II, and the artworks associated with them. Braden Frieder guides the reader through these tournaments, jousting, and other knightly exercises as part of a larger aristocratic culture that included arms and armor, paintings, tapestries, medals, and sculptures with chivalric themes. Frieder presents Habsburg tournaments in their proper historical context as an extension of imperial politics, drawing comparisons with popular chivalric literature of the period. Frieder's study utilizes extensive primary source material and contemporary documents, many appearing for the first time in English.
Included in this book are eighty-one illustrations of fine art and armor from the sixteenth century, the crescendo of the armorer's art in Europe. For the first time in print, these artworks are treated collectively, as integral parts of aristocratic life and culture during the Renaissance.
"A thoroughly researched study of the context and meaning of Renaissance armor and weapons at the Spanish Habsburg court.… Frieder has provided a provocative view of a subject deserving more attention, as armor formed a central part of royal collecting at the Spanish court."
"Examining museum artifacts, financial records, and eyewitness accounts, Frieder builds a detailed history of martial display under the Habsburgs of the sixteenth century."
"Scarce critical attention has been paid to tournaments, a central element of Renaissance aristocratic culture.... Frieder examines the techniques for tournaments, the variation and evolution in armour, in Emperors Maximilian and Charles V, and his son Philip II, who were important collectors of arms and armour."
Braden Frieder is assistant professor of art history at Morehead State University. His research interests range from Renaissance and baroque art to Latin America and the decorative arts. He has published articles in books and journals, and critical reviews on art, music, and cultural history. He received his doctorate in art history from the University of Wisconsin-Madison.
Figures
Preface
Acknowledgments
A Note on Sources
A Sport for Princes: The Art of the Tournament in the Renaissance
Beauty, Love, and Pleasure: The Prince as Knight-Errant and Consort
A Soldier of Christ: The Prince as Crusader and Defender of the Church
The Empire Reborn: The Prince as Heir Apparent and Divine Deliverer
Epilogue: The Long Journey Home
Appendix 1: A Chronology of Tournaments at the Spanish Habsburg Court, 1504–1604
Appendix 2: Tournaments and Competitors on the Grand Tour of Philip of Spain, 1548–1551
Glossary
Bibliography
About the Author
Index