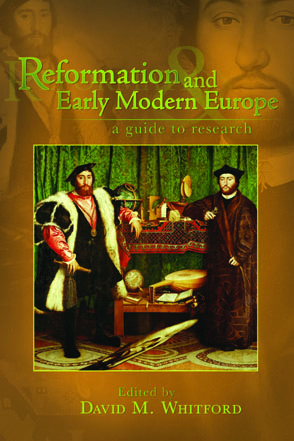 Reformation and Early Modern Europe
A Guide to Research
Edited by David M. Whitford
Buy
Reformation and Early Modern Europe
A Guide to Research
Edited by David M. Whitford
"Comprehensive and lucidly written, Whitford's outstanding new research guide to the last fifteen years of scholarship on the Reformation and early modern Europe will enlighten and please both lay and scholarly readers at all levels."
Description

Reviews

Bio

Table of Contents
Continuing the tradition of historiographic studies, this volume provides an update on research in Reformation and early modern Europe. Written by expert scholars in the field, these eighteen essays explore the fundamental points of Reformation and early modern history in religious studies, European regional studies, and social and cultural studies. Authors review the present state of research in the field, new trends, key issues scholars are working with, and fundamental works in their subject area, including the wide range of electronic resources now available to researchers.
Reformation and Early Modern Europe: A Guide to Research is a valuable resource for students and scholars of early modern Europe.
"Comprehensive and lucidly written, Whitford's outstanding new research guide to the last fifteen years of scholarship on the Reformation and early modern Europe will enlighten and please both lay and scholarly readers at all levels."
"This third Guide to Research in Reformation, edited by David Whitford, follows from those edited by Steven Ozment (1982) and William Maltby (1992), and is as indispensable a resource as its predecessors. This volume speaks to the historiographical questions of the moment, and includes assessments of sources available on the Internet, something not examined in prior volumes. After fifteen years, this new volume is a welcome addition to this dynamic field."
"This valuable and long overdue book will be useful for students and scholars seeking to learn the state of a particular field, especially outside one's area of expertise. The articles are well written and clear, with an exposition of the main issues in the field, a survey of important secondary literature, a listing of published sources, and suggestions for future research, emphasizing connections between historiographical traditions. Chapters on east central Europe, Jewish history, and Catholicism mean that this really is a guide to Reformation and early modern European history."
"It is blessed with an outstanding bench of contributors, and it would be the perfect book to place in the hands of an eager graduate student—although it has much to offer the specialist as well. There are pithy summaries of recent work on the different varieties of early-modern Christianity (plus a chapter on Judaism), the regional variants of Protestant and Catholic reform, and some of the most popular subjects of contemporary inquiry (including witchcraft, gender, print culture, confessionalization, and art history). The contributors to Whitford's book are also to be commended for providing digests (alongside more traditional reading lists) of the best digital resources currently available."
"An excellent addition to world history shelves, Reformation and Early Modern Europe: A Guide to Research is an anthology of eighteen scholarly essays by learned authors discussing confessional, regional, social, and cultural trends in early modern Europe, especially 1500–1700 CE. Each essayist draws upon extensive research and his or her expertise in the field; topics include art history; religious traditions ranging from Lutheran to Reformed to early modern Catholicism; regional paradigm shifts in France, Italy, England, Spain, Switzerland, and the Netherlands; and much more. It should be recognized that cultural history does not always (or even usually) follow the lead or intentions of the cultural leaders or intellectuals. Important events often run directly counter to intent and expectation. Witchcraft historians have spent a lot of energy examining those figures who openly and explicitly opposed witchcraft trials.… It has, however, turned out to be difficult to find any direct influence of the skeptic upon actual witchcraft trials. An excellent addition to world history."
"As the third guide to Reformation literature and related topics published in a quarter century, this work reflects the displacement of older historiographic trends by new ones, and the emergence of digital resources that have made some types of research easier. Essays reflect both developments, although some lean more to historiography and others to bibliography. The book is divided into "Confessional Trends," "Regional Trends," and "Social and Cultural Trends." Absent is any essay covering the Reformation as a transdenominationl and trans-European phenomenon. Perhaps the move to lived experience and microhistory noted by more than one contributor helps explain this omission. Expanded geographic coverage gives more attention to central Europe as a whole, but topics once covered, like cities in the Reformation and pamphlet warfare, have been omitted, possibly because of limited space. That said, the essays are solid and useful. Some address phenomena like witchcraft, recent studies of which are fruitful and full of new insights. The volume covers gender in greater depth than in previous guides. Even long-established literatures, like those covering Lutheranism and the Reformed tradition, are the subjects of new work expanding the boundaries of inquiry. The Reformation no longer appears as the preserve of just a few giants. The Radicals too receive new attention, and the book addresses the attempt to find a new term to replace Counter-Reformation when describing Catholic thought and practice in this period. A very useful article examines the vexing question of how to understand "popular religion." All essays conclude with extensive bibliographies (most incorporate online resources). The work lacks an index; a brief index of major concepts covered by multiple contributors would have been useful. Nevertheless, this is a worthwhile road map to a very lively field of research and teaching. Summing Up: Recommended. Lower-level undergraduates through faculty/researchers."
"Designed for use by non-specialist professionals as well as undergraduate and graduate students, this collection gives solid historiographic summaries along with up-to-date resources in religious studies, European regional studies, and social and cultural studies."
"Reformation and Early Modern Europe: A Guide to Research continues to provide an excellent introduction to the scholarship and research trends concerning the study of the Reformation period in Europe. Both newcomers to Reformation studies and experienced scholars will find it a useful tool in their research and teaching."
"The overwhelming strengths of this invaluable collection of essays and bibliographies mean it should find an accessible location on the shelf of every serious student and scholar of Reformation and early modern history."
David Whitford is associate professor of the history of Christianity at United Theological Seminary. He is the author of Tyranny and Resistance: The Lutheran Tradition and the Magdeburg Confession (2001) as well as a number of articles on Martin Luther. He is associate editor of The Sixteenth Century Journal.
Part 1—Confessional Trends
Contributors to the Lutheran Tradition.....David M. Whitford
Contributors to the Reformed Tradition.....Amy Nelson Burnett
Early Modern Catholicism.....Robert Bireley
Radicals.....R. Emmet McLaughlin
Jewish History and Thought.....Matt Goldish
Confessionalization.....Ute Lotz-Heumann
Part 2—Regional Trends
Central Europe, 1500–1700.....Howard Hotson
France.....Barbara Diefendorf
Italy.....Nicholas Terpstra
England.....Peter Marshall
The Netherlands.....Christine Kooi
Spain.....Allyson Poska
The Swiss.....Bruce Gordon
Part 3—Social and Cultural Trends
Popular Religion.....Kathryn Edwards
Witchcraft.....H. C. Erik Midelfort
Society and the Sexes Revisited.....Merry Wiesner-Hanks
Art History.....Larry Silver
Books and Printing.....Andrew Pettegree