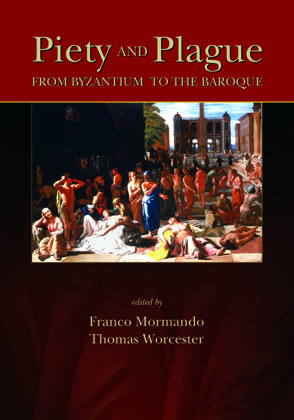 Piety and Plague
From Byzantium to the Baroque
Edited by Franco Mormando, and Thomas Worcester
Buy
Piety and Plague
From Byzantium to the Baroque
Edited by Franco Mormando, and Thomas Worcester
"While much has been written of late concerning the plague, each and every one of these authors has given us a new insight into the problem of dealing with ostensibly incurable epidemic disease in the context of contemporary religious belief as expressed in art and literature."
Description

Reviews

Bio

Table of Contents
Plague was one of the enduring facts of everyday life on the European continent, from earliest antiquity through the first decades of the eighteenth century. It represents one of the most important influences on the development of Europe's society and culture. In order to understand the changing circumstances of the political, economic, ecclesiastical, artistic, and social history of that continent, it is important to understand epidemic disease and society's response to it.
To date, the largest portion of scholarship about plague has focused on its political, economic, demographic, and medical aspects. This interdisciplinary volume offers greater coverage of the religious and the psychological dimensions of plague and of European society's response to it through many centuries and over a wide geographical terrain, including Byzantium. This research draws extensively upon a wealth of primary sources, both printed and painted, and includes ample bibliographical reference to the most important secondary sources, providing much new insight into how generations of Europeans responded to this dread disease.
"While much has been written of late concerning the plague, each and every one of these authors has given us a new insight into the problem of dealing with ostensibly incurable epidemic disease in the context of contemporary religious belief as expressed in art and literature."
"[Piety and Plague] creatively explores how historians of Christian thought and ecclesiastical life, art historians, and social historians can successfully blend their insights to produce more sharply focused pictures of the past than each might without the other disciplines' insights.... These nine essays, enriched by copious reproductions of works of art in several cases, are indeed illuminating and provide patterns for further interdisciplinary study."
"This is a rich volume that should find a home on the shelves not only of specialists but of anyone interested in Medieval and Renaissance Europe. The themes present in this work–in particular the variety of reactions to death and disease a any time, and the tensions between physical and spiritual in cause and remedy–open a window onto more general attitudes of the different times and places under consideration."
"This is a welcome addition to a field often dominated by demographic and epidemiological studies…the collection offers challenging readings of well known and less familiar plagues and pictures, and deservedly focuses attention on the issue of how Christian beliefs shaped responses to epidemic disease."
"Epidemics of acute disease are now recognized as one of the most important influences shaping European history, but most studies of it have focused on political, economic, demographic, and medical aspects. Here scholars of the classics, art history, history, church history, literature, and theology explore the religious, cultural, and psychological aspects of plague and society's response to it."
"This fine interdisciplinary collection of essays addresses the religious, psychological, and cultural responses to the onslaughts of the bubonic plague from late antiquity to the late seventeenth century. It offers a range of novel insights based on known but otherwise unexplored material, written evidence, and visual sources, and provides examples of superb methodological skill and sophistication in action."
"A genuine strength of the volume is its contribution to our understanding of plague iconography and metaphor... it is refreshing to see a variety of source material being utilized."
Franco Mormando is associate professor of Italian studies at Boston College. His book, The Preacher's Demons: Bernardino of Siena and the Social Underworld of Early Renaissance Italy, was awarded the Howard Marraro Prize for Excellence in Italian historical scholarship by the American Catholic Historical Association.
Thomas Worcester is associate professor of history at the College of the Holy Cross. Worcester is the author of Seventeenth-Century Cultural Discourse: France and the Preaching of Bishop Camus.
The Literature of Plague and the Anxieties of Piety in Sixth-Century Byzantium....Anthony Kaldellis
Mice, Arrows, and Tumors: Medieval Plague Iconography North of the Alps.....Pamela Berger
Visualizing Death: Medieval Plagues and the Macabre.....Elina Gertsman
The Making of a Plague Saint: Saint Sebastian's Imagery and Cult before the Counter-Reformation.....Sheila Barker
Protestants and Plague: The Case of the 1562/63 Pest in Nurnberg.....Ronald K. Rittgers
The Canker Friar: Piety and Intrigue in an Era of New Diseases.....William Eamon
Poussin's The Plague at Ashdod: A Work of Art in Multiple Contexts.....Elisabeth Hipp
Plague as Spiritual Medicine and Medicine as Spiritual Metaphor: Three Treatises by Etienne Binet, S.J. (1569–1693).....Thomas Worcester
Pestilence, Apostasy, and Heresy in Seventeenth-Century Rome: Deciphering Michael Sweerts's Plague in an Ancient City.....Franco Mormando
Mailing List
Subscribe to our mailing list and be notified about new titles, journals and catalogs.