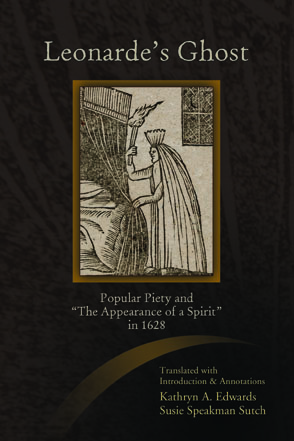 Leonarde's Ghost
Popular Piety and "The Appearance of a Spirit" in 1628
Translated and edited by Kathryn A. Edwards and Susie Speakman Sutch
Buy
Leonarde's Ghost
Popular Piety and "The Appearance of a Spirit" in 1628
Translated and edited by Kathryn A. Edwards and Susie Speakman Sutch
"Leonarde's Ghost offers a uniquely vivid glimpse of early modern Catholicism in Burgundy, especially of commonly held beliefs concerning death and the afterlife. Few other narratives from this era offer as revealing—or as beguiling—an account of the way in which local religion reified the responsibilities shared by the dead and the living. Unlike Leonarde, whose ghost lingered around Dole for only a few weeks, this book will make its presence felt for some time to come."
Description

Reviews

Bio

Table of Contents
For seven weeks in late spring and early summer of 1628, a ghost haunted the modest dwelling of Huguette Roy and her husband in the small city of Dole in the Holy Roman Empire near the French border. Before and after giving birth to her third child, Huguette received visits twice daily from a young woman clothed in white who cleaned her house, eased her pains, and tended her newborn son. Only Huguette could see this apparition, and the haunting aroused curiosity and fear throughout her community. Soon after the spirit departed, a young man from Dole prepared a manuscript in colloquial French to recount Huguette's experiences, the ghost's demands, and the event's orthodoxy. Translators Edwards and Sutch present this primary source in English to allow modern readers to view the spirituality, piety, and daily lives of ordinary people in early modern Europe.
Transcription of the original French of Leonarde's Ghost with editor's notes in English, supplemental material [download pdf]
"Leonarde's Ghost offers a uniquely vivid glimpse of early modern Catholicism in Burgundy, especially of commonly held beliefs concerning death and the afterlife. Few other narratives from this era offer as revealing—or as beguiling—an account of the way in which local religion reified the responsibilities shared by the dead and the living. Unlike Leonarde, whose ghost lingered around Dole for only a few weeks, this book will make its presence felt for some time to come."
"Thanks to Edwards and Sutch, students and scholars now have access to a meticulous English translation, prefaced by a full introduction to the political, social, and religious contexts in which this haunting occurred. Their rendering preserves the "otherness" of the original text and the occurrences it relates. What "really happened"—that is, who actually came to Huguette's assistance? Wisely, the editors refrain from raising, let alone seeking to answer, such a present-minded question."
"The editors/translators try to preserve "the roughness, vitality, rhythms, and ambiguities of the original manuscript," but they are cautious to avoid didactically telling readers how to interpret the text. They do, however, offer an extended introduction that provides a useful setting for Mercier's account. We are encouraged to see the connections between the popular piety in the daily lives of ordinary people alongside and in conjunction with the concerns and teachings of the institutional church during a period of intense Catholic reformation.... This modest volume could be useful as an ancillary text in an undergraduate course on early-modern religiosity. It holds few surprises for specialists in the field, but the able introduction provides useful insights into popular piety not easily gained from printed texts."
"The sharing of a new primary source rightly generates feelings of appreciation and celebration, and Edwards and Sutch's edition of "The History of the Appearance of a Spirit Which Happened in the City of Dole" should excite much fascination and discussion among scholars of early modern religion, as well as among fans of ghost stories. In its relative brevity, its thorough introduction, and its mesmerizing subject matter, the text is ideal for classroom use."
"The episode—despite the intentions of its clerical scribe—is rather complex, with strange folkloric elements, hints of local anxiety and conflict, and the controlling hand of an uneducated young woman, not afraid to gainsay the clerical experts. Edwards and Sutch wisely allow this strange document to speak for itself, while contextualising it in a useful and lively introduction. Historians of Catholic Reform, of popular belief and of gender, will find it an intriguing and challenging source."
"While the story of the haunting itself is intriguing and entertaining, the way in which Edwards and Sutch set the scene in their introduction is equally important to the book's value.… Leonarde's Ghost offers a multifaceted view of its characters' world and should be required reading for anyone interested in exploring the vitality and complexity of early modern Catholic society."
"This translation of a 17th century French manuscript tells a story which shows how anomalous personal experiences are mediated through the culture of the times, locale, and prevailing ideology."
Kathryn A. Edwards is associate professor of history at the University of South Carolina. Her publications include Families and Frontiers: Re-Creating Communities and Boundaries in the Early Modern Burgundies, "Female Sociability, Physicality, and Authority in an Early Modern Haunting" (Journal of Social History), and The History of the Apparition of a Spirit.
Acknowledgments
Foreword: The Editorial Process
Introduction: A Setting for a Ghost Story
History of the Appearance of a Spirit Which Happened in the City of Dole, July 24, 1628
Cast of Characters
First Chapter
What happened on the first day
Second Chapter
What happened from the second day till the tenth
Third Chapter
What happened from the tenth day till the twentieth
Fourth Chapter
What happened the twenty-first day
Fifth Chapter
What happened the twenty-second [day] till the thirtieth
Sixth Chapter
The spirit declares that it is Leonarde Colin…
Seventh Chapter
The spirit says that it cannot write and makes a sign of the cross…
Eighth Chapter
The spirit refuses to take the crucifix in its hand…
Ninth Chapter
The spirit declares that it has spent seventeen years in purgatory…
Tenth Chapter
The spirit says it is the true aunt of Huguette…
Eleventh Chapter
The spirit completes its services…
Twelfth Chapter
On the forty-first day the spirit says not a word…
Thirteenth Chapter
The holy sacrament is brought…
Fourteenth Chapter
The most reverend father Franciscans are visited…
Fifteenth Chapter
The trip to Our Lady of Montjeux is made…
Sixteenth Chapter
The trip to Our Lady of La Lève is made…
Seventeenth Chapter
A prayer of congratulation by Huguette's confessor…
Works Cited