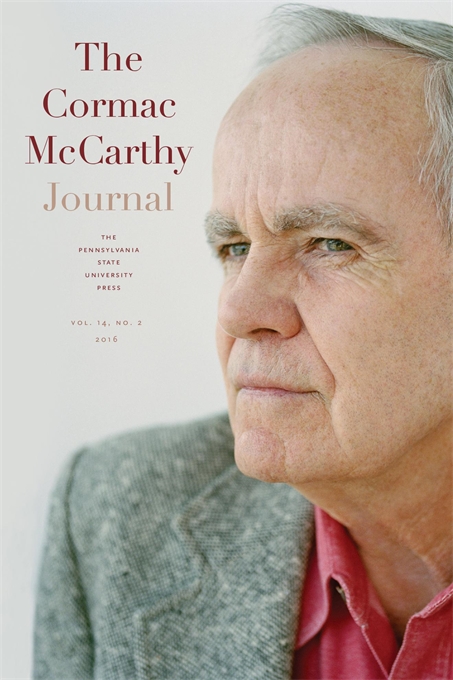 The Cormac McCarthy Journal
Stacey Peebles, Editor
SUBSCRIBE / RENEW
The Cormac McCarthy Journal
Stacey Peebles, Editor
Description

Board

Submissions

Pricing

Indexing
The Cormac McCarthy Journal is a peer-reviewed journal focusing on the works and influence of Cormac McCarthy. The journal publishes articles, notes, and reviews related to Cormac McCarthy's novels, dramas, and screenplays, the film adaptations of his work, and other appropriate scholarly materials.
CMJ is affiliated with The Cormac McCarthy Society. Formally, The Society was founded in 1995 as a State of Florida nonprofit educational organization by scholars and interested lay readers (who had originally met at the conference) of McCarthy's works in cooperation with Marty Priola, Society Webmaster, who was then running a small independent web site devoted to Cormac McCarthy. The Society's stated purpose is "to further the scholarship and general appreciation of Cormac McCarthy's writing and to facilitate the gathering of scholars and enthusiastic lay readers alike who share a common interest in Cormac McCarthy and his work."
Editor
Stacey Peebles, Centre College
Associate Editor
Dustin Anderson, Georgia Southern University
Book Review Editor
Lydia Cooper, Creighton University
Editorial Board
David Cremean, Black Hills State University
Steven Frye, California State University-Bakersfield
Nicholas Lawrence, USC Lancaster
Dianne C. Luce, Midlands Technical College, retired
Nell Sullivan, University of Houston-Downtown
Rick Wallach, The Cormac McCarthy Society
John Wegner, Angelo State University
Scott Yarbrough, Charleston Southern University
The Cormac McCarthy Journal welcomes article-length manuscripts, no longer than 9,000 words, on themes and issues pertinent to the writings and literary environment of Cormac McCarthy.
If you would like to submit an article to The Cormac McCarthy Journal, please visit http://www.editorialmanager.com/mccarthy and create an author profile. The online system will guide you through the steps to upload your article for submission to the editorial office.
Institutional Print & Online - $204.00
Institutional Print or Online - $146.00
Institutional Single Issue - $79.00
Individual Print & Online - $79.00
Individual Print or Online - $55.00
Individual Single Issue - $34.00
Outside US add Shipping & Handling - $12.00
Emerging Sources Citation Index
European Reference Index for the Humanities and Social Sciences (ERIH PLUS)
IBZ