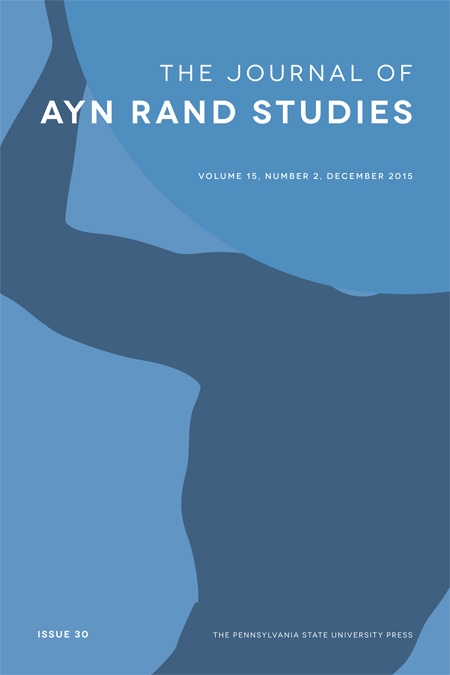 The Journal of Ayn Rand Studies
Chris Matthew Sciabarra, Editor
Stephen Cox, Editor
Roderick T. Long, Editor
Robert L. Campbell, Editor
SUBSCRIBE / RENEW
The Journal of Ayn Rand Studies
Chris Matthew Sciabarra, Editor
Stephen Cox, Editor
Roderick T. Long, Editor
Robert L. Campbell, Editor
Description

Board

Submissions

Pricing

Indexing
The Journal of Ayn Rand Studies is a nonpartisan journal devoted to the study of Ayn Rand and her times. It is the official journal of The Journal of Ayn Rand Studies Foundation. The journal is not aligned with any advocacy group, institute, or person. It welcomes papers from a wide array of disciplines, including: aesthetics, anthropology, ethics, feminism, history, political theory, psychology, and sociology. The journal aims to foster scholarly dialogue through a respectful exchange of ideas and has become a unique place that has welcomed those working from diverse interpretive and critical perspectives.
Looking for more? See what the editor has to say about the journal in Notablog and view a current TOC here.
The journal is a publication of The Journal of Ayn Rand Studies Foundation.
Editors
Chris Matthew Sciabarra, New York University
Stephen Cox, University of California, San Diego
Roderick T. Long, Auburn University
Robert L. Campbell, Clemson University
Associate Editor
Roger E. Bissell, Molinari Institute
Board Of Advisors
David T. Beito, Emeritus, University of Alabama
Peter J. Boettke, George Mason University
Susan Love Brown, Florida Atlantic University
Douglas J. Den Uyl, The Liberty Fund
Hannes Hólmsteinn Gissurarson, University of Iceland
Mimi Gladstein, University of Texas at El Paso, US
Laurence I. Gould, Emeritus, University of Hartford
Robert Hessen, The Hoover Institution
Lester H. Hunt, University of Wisconsin - Madison
Eric Mack, Emeritus, Tulane University
Kirsti Minsaas, University of Oslo
Douglas B. Rasmussen, St. John's University
Aeon J. Skoble, Bridgewater State University
Edward W. Younkins, Wheeling University
To submit a manuscript to the editorial office, please visit http://www.editorialmanager.com/aynrand and create an author profile. The online system will guide you through the steps to upload your article for submission to the editorial office.
Both solicited and unsolicited research papers, articles, symposia, and comments on papers previously published in this journal are welcome. Send proposals for book reviews and queries about the appropriateness of an article to . Only contributions not under consideration elsewhere will be accepted, and these will be subject to double-blind peer review. Replies and rejoinders are not usually subject to such review, but they will be evaluated by the editorial board for appropriateness. All submitted papers must conform to the style guidelines below.
All papers must be submitted in Windows-based Microsoft Word, WordPerfect, or rtf formats. Appropriate articles are fully refereed. Manuscripts and endnotes should be double-spaced and paginated throughout in Times New Roman 12 point type. Place all tables, figures, and notes at the end of the manuscript. Manuscripts should be between 4,000 and 15,000 words. A 50–100 word abstract or summary statement of the essay's central argument should be included at the beginning of the paper, along with a 50–100 word biographical sketch that includes email and street addresses, academic affiliation, telephone and telefax numbers, titles, publishers, and years of relevant publications. Authors who want their manuscripts or other media returned must enclose postage.
Page citations should be included in-text, in the following format: "20–22," "201–2," "413–14," "552–53" without "p." or "pp." abbreviations. The journal uses a dual system of notes as outlined by the Chicago Manual of Style. Citations and references should follow the "author-date" system in-text as seen in the pages of this journal. Explanatory notes should be in the form of endnotes, not footnotes. A list of sources should be placed at the end of the manuscript, titled "References," and should follow the reference-list style of the Chicago Manual of Style. Please use italics for book titles and emphasis and leave right margins ragged, rather than justified.
Submissions should be accompanied by an Abstract of up to 150 words. Abstract Guidelines may be found here.
Institutional Print & Online - $208.00
Institutional Print or Online - $149.00
Institutional Single Issue - $80.00
Individual Print & Online - $55.00
Individual Print or Online - $42.00
Individual Single Issue - $26.00
Outside US add Shipping & Handling - $12.00
European Reference Index for the Humanities and Social Sciences (ERIH PLUS)
IBZ
MLA International Bibliography
SCOPUS