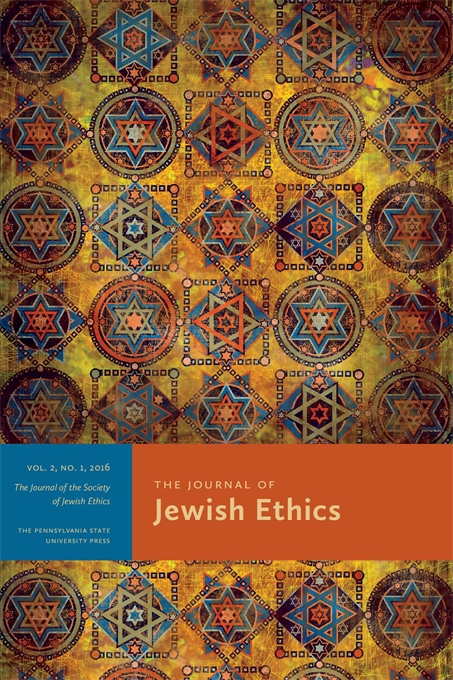 The Journal of Jewish Ethics
Jonathan K. Crane, Editor
Emily Filler, Editor
SUBSCRIBE / RENEW
The Journal of Jewish Ethics
Jonathan K. Crane, Editor
Emily Filler, Editor
Description

Board

Submissions

Pricing

Indexing
The Journal of Jewish Ethics publishes outstanding scholarship in Jewish ethics, broadly conceived. It serves as a location for the exchange of ideas among those interested in understanding, articulating, and promoting descriptive and normative Jewish ethics. It aspires to advance dialogue between Jewish ethicists and ethicists working through other religious and secular traditions.
The Society of Jewish Ethics is an academic organization dedicated to the promotion of scholarly work in the field of Jewish ethics, including the relation of Jewish ethics to other traditions of ethics and to social, economic, political and cultural problems.
Editors
Jonathan K. Crane, Emory University
Emily Filler, Washington and Lee University
Associate Editors
Julia Watts Belser, Georgetown University
Yonatan Brafman, Jewish Theological Seminary
Geoffrey Claussen, Elon University
Aaron S. Gross, University of San Diego
Jeffrey Israel, Williams College
Moses Pava, Yeshiva University
Michal Raucher, Rutgers University
Suzanne Last Stone, Yeshiva University
Book Review Editor
Jonathan Schofer, University of Texas-Austin
Editorial Board
Elliot N. Dorff, American Jewish University
Rebecca Epstein-Levi, Vanderbilt University
Alyssa Gray, Hebrew Union College – Jewish Institute of Religion
Martin Kavka, Florida State University
Amanda Mbuvi, High Point University
Jonathan Sacks, King's College London, Yeshiva University, New York University
Mira Wasserman, Reconstructionist Rabbinical College
Noam Zohar, Bar Ilan University
Laurie Zoloth, Northwestern University
Sponsors
American Jewish University
Anne Tanenbaum Centre for Jewish Studies at University of Toronto
Center for Ethics at Emory University
Hebrew Union College – Jewish Institute of Religion
Jewish Theological Seminary
Reconstructionist Rabbinical College
Sy Syms School of Business at Yeshiva University
If you would like to submit an article to Journal of Jewish Ethics, please visit http://www.editorialmanager.com/jje/ and create an author profile. The online system will guide you through the steps to upload your article for submission to the editorial office. Complete submission guidelines may be found here. Books for review should be sent to the editor at the address below.
Jonathan K. Crane, Editor
Journal of Jewish Ethics
1531 Dickey Drive
Atlanta, GA 30322 USA
Institutional Print & Online - $304.00
Institutional Print or Online - $208.00
Institutional Single Issue - $110.00
Individual Print & Online - $81.00
Individual Print or Online - $57.00
Individual Single Issue - $35.00
Outside US add Shipping & Handling - $12.00
ATLA
Emerging Sources Citation Index
European Reference Index for the Humanities and Social Sciences (ERIH PLUS)
IBZ
Scopus