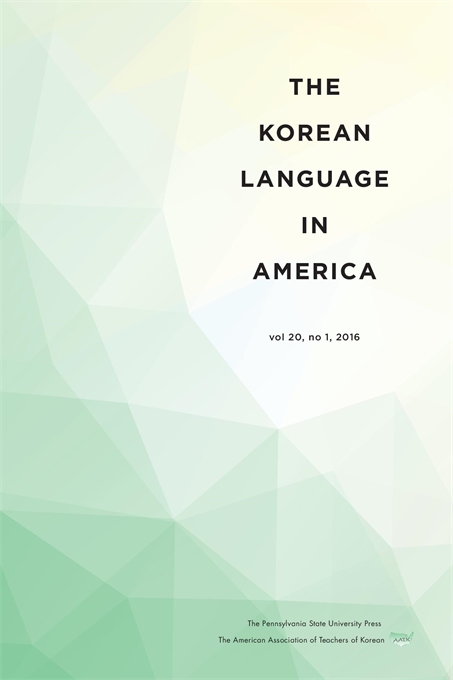 The Korean Language in America
Hae-Young Kim, Editor in Chief
SUBSCRIBE / RENEW
The Korean Language in America
Hae-Young Kim, Editor in Chief
Description

Board

Submissions

Pricing

Indexing
The Korean Language in America is a refereed scholarly journal that provides a platform for scholarship and professional best practices centering on the teaching of Korean both within the United States and outside.
The American Association of Teachers of Korean was founded in 1994 for all levels of teachers of the Korean language, culture, and literature in the United States of America. Its mission is to enhance and promote an interest in the teaching and learning of the Korean language, culture and literature; to carry out research in second language acquisition, applied linguistics, language pedagogy, as well as in the teaching of culture and literature, and to provide a forum for presenting research findings.
Editor in Chief
Hae-Young Kim, Duke University
Editorial Board
Heidi Liu Banerjee, Northeastern University
Young-mee Yu Cho, Rutgers University
Corinne Crane, The University of Alabama
Agnes He, Stony Brook University
Hae-Sung Jeon, University of Central Lancaster
Mary Shin Kim, University of Hawai'i
Jin Sook Lee, University of California, Santa Barbara
Innhwa Park, Westchester University
Sunyoung Shin, Indiana University
Yasuhiro Shirai, Case Western Reserve University
Susan Gayle Strauss, Pennsylvania State University
The journal welcomes submissions on topics related to Korean language teaching and learning from a variety of disciplines and theoretical/methodological perspectives, representing Korean language teaching at all levels of instruction (i.e., K – 16 and beyond). Submissions should conform to the style/format requirements of The Korean Language in America (KLA), which can be obtained from the AATK website at http://www.aatk.org.
To submit a manuscript to the editorial office, please visit http://www.editorialmanager.com/kla and create an author profile. The online system will guide you through the steps to upload your article for submission to the editorial office.
Institutional Print & Online - $185.00
Institutional Print or Online - $132.00
Institutional Single Issue - $71.00
Individual Print & Online - $53.00
Individual Print or Online - $41.00
Individual Single Issue - $25.00
Outside US add Shipping & Handling - $12.00
Emerging Sources Citation Index
IBZ
Scopus