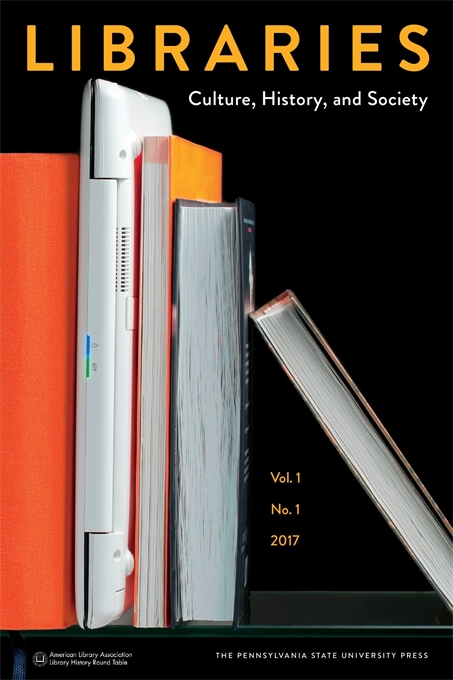 Libraries
Culture, History, and Society
Bernadette Lear, Editor
Eric Charles Novotny, Editor
SUBSCRIBE / RENEW
Libraries
Culture, History, and Society
Bernadette Lear, Editor
Eric Charles Novotny, Editor
Description

Board

Submissions

Pricing

Indexing
Libraries: Culture, History, and Society aims to study libraries within their broader historical, humanistic, and social contexts. In addition to Library Science, the journal welcomes contributors from History, English, Literary Studies, Sociology, Education, Gender/Women's Studies, Race/Ethnic Studies, Political Science, Architecture, Anthropology, Philosophy, Geography, Economics, and other disciplines. The only journal in the United States devoted to library history, LCHS positions library history as its own field of scholarship, while promoting innovative cross-disciplinary research on libraries' relationships with their unique environments.

Libraries: Culture, History, and Society is the official peer-reviewed journal of the Library History Round Table of the American Library Association. Founded in 1947, LHRT is an inclusive and diverse organization that supports anyone who is interested in the history of libraries. It facilitates communication, provides thought-provoking programs, offers awards for outstanding research, and is active in issues, such as preservation, that concern all library historians.

Attention LHRT Members: Members of LHRT receive a free subscription of LCHS with membership. To join, visit http://www.ala.org/membership/joinala.
The Editorial Board of Libraries: Culture, History, and Society recently approved a Diversity, Equity, and Inclusion Statement and Action Plan. The plan can be found by clicking here: https://docs.google.com/document/d/1WwMbUDEIvp7Z0XT05ZQRsl6NVYESrhWbf3oPZSsDSmQ/edit?usp=sharing .
Editors
Bernadette Lear, Penn State Harrisburg Library
Eric Charles Novotny, Pennsylvania State University
Book Review Editor
Brett Spencer, The Pennsylvania State University
Editorial Board
Hermina G.B. Anghelescu, Wayne State University
Jennifer Burek Pierce, University of Iowa
Mary Carroll, Charles Sturt University, Australia
Rachel Ivy Clarke, Syracuse University
Nicole A. Cooke, University of South Carolina
Dominique Daniel, Oakland University
Michele Fenton, Indiana State Library
Tom Glynn, Rutgers University
LaVerne Gray, Syracuse University
Charles Johanningsmeier, University of Nebraska at Omaha
Steven A. Knowlton, Princeton University Library
Loriene Roy, University of Texas at Austin
Jonathan Senchyne, University of Wisconsin-Madison
Andrew B. Wertheimer, University of Hawai'i at Manoa
Steven Witt, University of Illinois at Urbana-Champaign
Call for Papers

Libraries: Culture, History, and Society welcomes submissions of research papers. Manuscripts that offer interdisciplinary perspectives are strongly encouraged, as are authors from outside library science. LCHS also publishes evaluative reviews of books that complement our journal's mission to situate libraries within their broader historical context. See our list of books available for review.
To submit a paper, please visit http://www.editorialmanager.com/LCHS. The online system will guide you through the steps to upload your manuscript to the editorial office.
Please review the complete Submission Guidelines prior to submitting a manuscript.
Institutional Print & Online - $239.00
Institutional Print or Online - $170.00
Institutional Single Issue - $92.00
Individual Print & Online - $73.00
Individual Print or Online - $52.00
Individual Single Issue - $33.00
Outside US add Shipping & Handling - $12.00
America: History and Life
European Reference Index for the Humanities and Social Sciences (ERIH PLUS)
Historical Abstracts
Humanities Abstracts
Library & Information Science Source
Library, Information Science & Technology Abstracts
Library Literature & Information Science Index
MLA International Bibliography