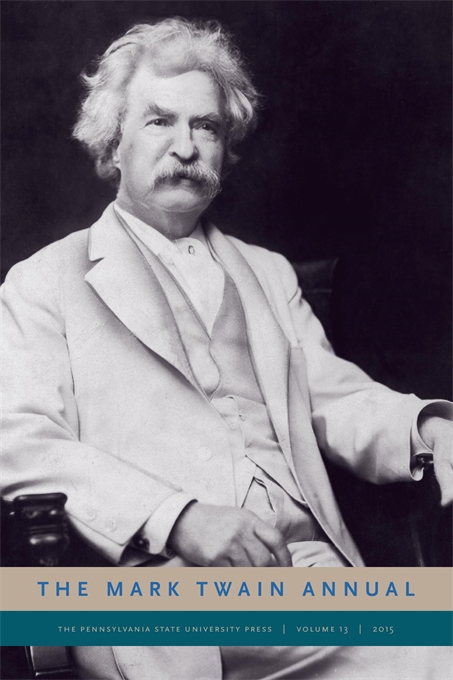 The Mark Twain Annual
Ben Click, Editor
SUBSCRIBE / RENEW
The Mark Twain Annual
Ben Click, Editor
Description

Board

Submissions

Pricing

Indexing
The Mark Twain Annual publishes articles related to Mark Twain and those who surrounded him and serves as an outlet for new scholarship as well as new pedagogical approaches. It is the official publication of the Mark Twain Circle of America, an international association of people interested in the life and work of Mark Twain.
The Mark Twain Circle is an international association of people interested in the life and work of Mark Twain. The Circle was formed in 1986 at the Modern Language Association convention in New York. Although many members are academic specialists, the Circle also includes many non-academic Twain enthusiasts. The Circle sponsors sessions at MLA, ALA, and other regional organizations.
Editor
Ben Click, St. Mary's College of Maryland
Managing Editor
James S. Leonard, The Citadel
Associate Editor
Joseph Csicsila, Eastern Michigan University
Book Review Editor
Nathaniel Williams, University of California, Davis
Editorial Board
John Bird, Winthrop University
James E. Caron, University of Hawai'i at Manoa
Jocelyn A. Chadwick, Harvard University
Kerry Driscoll, University of California, Berkeley
Lawrence Howe, Roosevelt University
Sharon D. McCoy, University of Georgia
Linda A. Morris, University of California, Davis
Chad Rohman, Dominican University
Ann Ryan, Le Moyne College
Matt Seybold, Elmira College
David E. E. Sloane, University of New Haven
Laura Skandera Trombley, Southwestern University
Henry B. Wonham, University of Oregon
Tracy Wuster, University of Texas at Austin
Past Editors
John Bird, Winthrop University
Chad Rohman, Dominican University
Ann Ryan, Le Moyne College
The Mark Twain Annual publishes critical articles about Mark Twain, his writing, and the literary and cultural legacy of his work. Biographical and historical articles will generally not be considered, unless such articles have a clear pedagogical focus. Critical articles may be 5,000–8,000 words long. In addition, the Annual also accepts pedagogical articles, which are generally shorter, 2,000–5,000 words long. Book reviews may be 1,000–1,400 words long and are assigned by the editor.
To submit a manuscript to the editorial office, please visit http://www.editorialmanager.com/mta/ and create an author profile. The online system will guide you through the steps to upload your article for submission to the editorial office.
SPECIAL ISSUE: Mark Twain and the West
The Mark Twain Annual will commemorate the sesquicentennial of Roughing It in 2022 with a special issue devoted to Mark Twain and the West. The Annual is seeking article-length submissions that examine Twain's relationship to all aspects of the American West.
This broad scope allows for critical examinations of Twain's work as:
-Western regionalist writing
-Twain and indigenous peoples
-Twain and immigrant populations
-Commentary on the American frontier
-Twain and domestic travel
-Twain's Western journalism
-The West as a shaping force on his development as an artist
-The circle of writers Twain encountered out West and their continued relationship
-Twain and contemporary Western writers
While Twain and the West has been the subject of numerous studies since the early twentieth century, this special issue seeks to explore what in recent years has become somewhat forgotten territory in Twain's fictive and nonfictive writings.
In addition to being published in The Annual, authors will have the opportunity to be part of the Eighth Annual Quarry Farm Weekend Symposium sponsored by the Center for Mark Twain Studies in Elmira, New York. The symposium will be held in October 2021, one year prior to publication of The Annual. The gathering will begin with a dinner on the Elmira College campus, followed by a keynote address. The symposium will continue throughout the next day with presentations and discussions in the tranquil atmosphere of Quarry Farm, a writing retreat reserved for scholars and writers working in the field of Mark Twain Studies, where breakfast, lunch, and dinner will also be served. Registrants will be invited back to Quarry Farm on Sunday morning to enjoy an autumnal breakfast and casual discussions.
Those interested should submit a 150-word proposal to Ben Click at by March 31, 2021. Proposals will be accepted on a rolling basis, and final decisions for symposium participation will be before July 1, 2021 when the symposium program needs to be finalized. Final manuscripts for publication in The Annual must be submitted by December 15, 2021. Selected essays should be 4,000-8,000 words in length, but longer essays of more than 8,000 words will also be considered.
Institutional Print & Online - $204.00
Institutional Print or Online - $146.00
Institutional Single Issue - $152.00
Individual Print & Online - $79.00
Individual Print or Online - $55.00
Individual Single Issue - $60.00
Outside US add Shipping & Handling - $12.00
Emerging Sources Citation Index
European Reference Index for the Humanities and Social Sciences (ERIH PLUS)
IBZ
MLA International Bibliography
Scopus