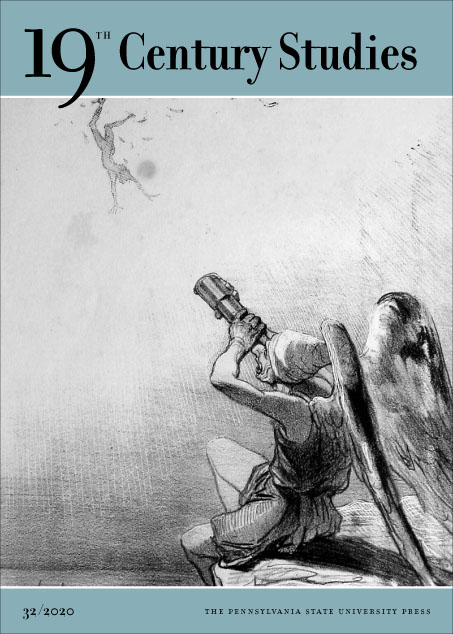 Nineteenth Century Studies
Sunayani Bhattacharya, Editor
Lanya Lamouria, Editor
Nicole Lobdell, Editor
Michelle Meinhart, Editor
SUBSCRIBE / RENEW
Nineteenth Century Studies
Sunayani Bhattacharya, Editor
Lanya Lamouria, Editor
Nicole Lobdell, Editor
Michelle Meinhart, Editor
Description

Board

Submissions

Pricing
Nineteenth Century Studies is the interdisciplinary journal of the Nineteenth Century Studies Association. The journal publishes studies of interest to scholars of the nineteenth century in all humanistic fields. The journal welcomes submissions that cross disciplinary and national boundaries and/or range across the nineteenth century. Successful submissions tend to be both deeply researched in their particular fields and sufficiently wide-ranging to engage readers whose main research interests lie in other areas.
Although contributors most frequently write on American, British, and Continental topics, the journal places no geographical limitations on potential contributions. Topics include, but are not limited to, literature, art history, history, music, and the history of science and the social sciences.
The Nineteenth Century Studies Association (NCSA), formerly known as the Southeastern Nineteenth Century Studies Association, is an interdisciplinary association for the study of nineteenth-century world cultures. Founded in 1979 as a forum to encourage interdisciplinary exchange, the membership has grown to include scholars whose disciplinary focus ranges from art, architecture, and literature to religious, scientific, and legal writing, to social, political, and economic debate. Visit us online: http://www.ncsaweb.net/.
Editors
Sunayani Bhattacharya, Saint Mary's College of California, US
Lanya Lamouria, Missouri State University, US
Nicole Lobdell, Louisiana Scholars' College, US
Michelle Meinhart, Trinity Laban Conservatoire of Music and Dance, UK
Consulting Editors
David C. Hanson, Southeastern Louisiana University, US
Kimberly Jo Stern, University of North Carolina, US
Sarah Wadsworth, Marquette University, US
Exhibitions Editor
Maria Gindhart, Georgia State University, US
Editorial Board
Sarah Lea Burns, Indiana University, Bloomington, US
Silvana Colella, University of Macerata, US
Robert Craig, Georgia Institute of Technology, US
Tracy C. Davis, Northwestern University, US
Thomas Dixon, Queen Mary, University of London, GB
Mark Frost, University of Portsmouth, US
Barbara Gates, Emerita, University of Delaware, US
Vincent Giroud, University of Bourgogne Franche-Comté, US
Thomas Grey, Stanford University, US
Elizabeth K. Helsinger, University of Chicago, US
Kathleen McCormack, Emerita, Florida International University, US
Walter Benn Michaels, University of Illinois at Chicago, US
Claudia Nelson, Texas A&M University, US
Talia Schaffer, Queens College, City University of New York, US
Michael Scrivener, Wayne State University, US
Margaret D. Stetz, University of Delaware, US
Sharon Aronofsky Weltman, Louisiana State University, US
Alexandra K. Wettlaufer, University of Texas, Austin, US
Laura M. White, University of Nebraska, Lincoln, US
Julia Wright, Dalhousie University, US
Marnin Young, Yeshiva University, US
Linda Zatlin, Morehouse College, US
Editorial Assistant
Samantha Pertuit, Southeastern Louisiana University, US
The expected length of feature essays ranges between 6,000 and 10,000 words, including notes. Longer essays may be acceptable, although very long submissions will be scrutinized for excess baggage.
Review essays typically discuss at least three texts, usually several more. They should therefore be no shorter than about 2,500 words and can run longer, depending on the number of publications discussed. Unusually long review contributions should be cleared with the editor. Reviews published online typically deal with a single text and average 500–1000 words.
To submit a manuscript to Nineteenth Century Studies, please visit Editorial Manager. The online system will guide you through the steps to upload your article to the editorial office.
Send inquiries to the editors at .

Institutional Print & Online - $303.00
Institutional Print or Online - $217.00
Institutional Single Issue - $221.00
Individual Print & Online - $80.00
Individual Print or Online - $58.00
Individual Single Issue - $59.00
Outside US add Shipping & Handling - $12.00