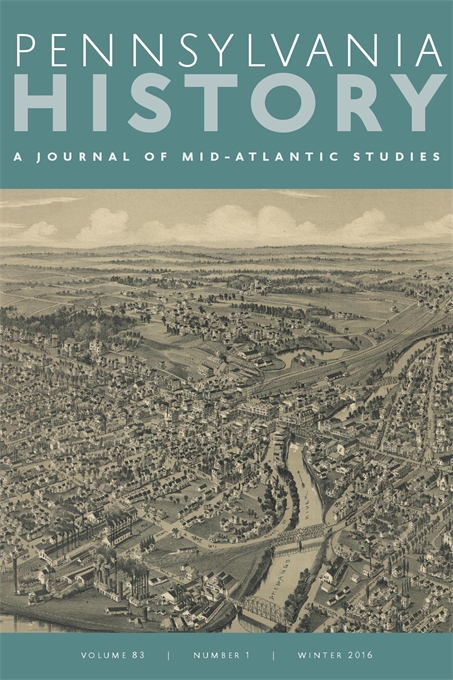 Pennsylvania History
A Journal of Mid-Atlantic Studies
Linda A. Ries, Editor
SUBSCRIBE / RENEW
Pennsylvania History
A Journal of Mid-Atlantic Studies
Linda A. Ries, Editor
Description

Board

Submissions

Pricing

Indexing
Pennsylvania History presents previously unpublished works that are of interest to scholars of the Middle Atlantic region. The journal also reviews books, exhibits, and other media that deal primarily with Pennsylvania history or that shed significant light on the state's past.
Pennsylvania History is the official journal of the Pennsylvania Historical Association, which advocates and advances knowledge about the history and culture of Pennsylvania and the mid-Atlantic region.
For more information or to become a member, visit the Pennsylvania Historical Association online at http://www.pa-history.org/.
Editor
Linda A. Ries, Pennsylvania Historical Association
Book Review Editor
Karol Weaver, Susquehanna University
Editorial Board
Brian Alnutt, Northampton Community College
Rachel Batch, Widener University
Adam T. Bentz, York County History Center
Paul E. Doutrich, York College of Pennsylvania
Karen Guenther, Mansfield University of Pennsylvania
Kenneth J. Heineman, Angelo State University
Michael McCoy, SUNY Orange
Carla Mulford, Pennsylvania State University
Paul Douglas Newman, University of Pittsburgh, Johnstown
Kristin O'Brassill-Kulfan, Rutgers University
Susan Rimby, Lock Haven University
Benjamin Scharff, Mercyhurst University
William John Sheperd, Catholic University of America
Beverly C. Tomek, Universty of Houston-Victoria
Diane Wenger, Wilkes University
If you would like to submit an article to Pennsylvania History, please visit http://www.editorialmanager.com/pah and create an author profile. The online system will guide you through the steps to upload your article for submission to the editorial office.
The editors invite the submission of articles dealing with the history of Pennsylvania and the Middle Atlantic region, regardless of their specialty. Prospective authors should review past issues of Pennsylvania History, where they will note articles in social, intellectual, economic, environmental, political, and cultural history, from the distant and recent past. Articles may investigate new areas of research or they may reflect on past scholarship. Material that is primarily of an antiquarian or genealogical nature will not be considered. Please conform to the Chicago Manual of Style in preparing your manuscript.
Send books for review to Karol K. Weaver, History Department, 309 Steele Hall, Susquehanna University, 514 University Avenue, Selinsgrove, PA 17870, .
Institutional Print & Online - $305.00
Institutional Print or Online - $218.00
Institutional Single Issue - $60.00
Individual Print & Online - $111.00
Individual Print or Online - $79.00
Individual Single Issue - $25.00
Outside US add Shipping & Handling - $24.00
ATLA
Emerging Sources Citation Index
ERIH PLUS (European Reference Index for the Humanities and Social Sciences)
IBZ
MLA International Bibliography
SCOPUS