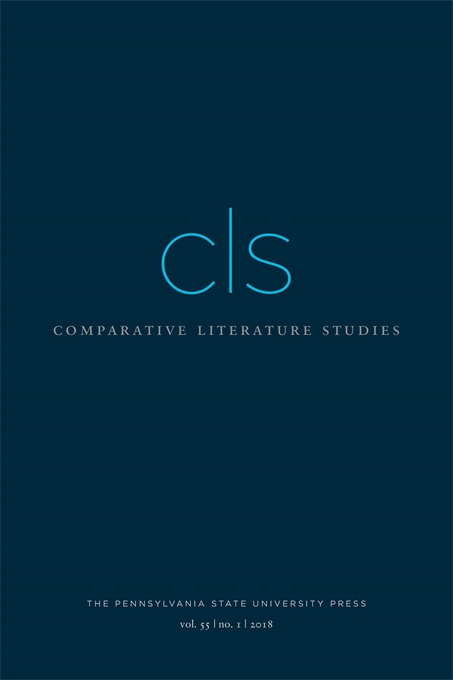 Comparative Literature Studies
Nergis Ertürk, Editor in Chief
SUBSCRIBE / RENEW
Comparative Literature Studies
Nergis Ertürk, Editor in Chief
Description

Board

Submissions

Pricing

Indexing
Founded in 1963, Comparative Literature Studies publishes critical comparative essays on literature, cultural production, the relationship between aesthetics and political thought, and histories and philosophies of form across the world. Articles may also address the transregional and transhistorical circulation of genres and movements across different languages, time periods, and media. CLS welcomes a wide range of approaches to comparative literature, including those that draw on philosophy, history, area studies, Indigenous, race, and ethnic studies, gender and sexuality studies, media studies, and emerging critical projects and methods in the humanities. Each issue of CLS also includes book reviews of significant monographs and collections of scholarship in comparative literature.
Editor in Chief
Nergis Ertürk, Pennsylvania State University, US
Associate Editor
Shuang Shen, Pennsylvania State University, US
Book Review Editors
Jonathan E. Abel, Pennsylvania State University, US
Magalí Armillas-Tiseyra, Pennsylvania State University, US
Editorial Committee
Kevin Bell, Pennsylvania State University, US
Jonathan P. Eburne, Pennsylvania State University, US
Charlotte Eubanks, Pennsylvania State University, US
Emmanuel Bruno Jean-François, Pennsylvania State University, US
Brian Lennon, Pennsylvania State University, US
Nicolai Volland, Pennsylvania State University, US
Advisory Board
Michael Allan, University of Oregon, US
Alexander Beecroft, University of South Carolina, US
Baidik Bhattacharya, Center for the Study of Developing Societies, IN
Lucia Boldrini, Goldsmiths, University of London
Pheng Cheah, University of California, Berkeley, US
David Damrosch, Harvard University, US
Gina Dent, University of California, Santa Cruz, US
Evgeny Dobrenko, Ca' Foscari University of Venice, IT
Simon Gikandi, Princeton University, US
Erin Graff Zivin, University of Southern California, US
Tsitsi Ella Jaji, Duke University, US
R. A. Judy, University of Pittsburgh, US
Lydia H. Liu, Columbia University, US
Ania Loomba, University of Pennsylvania
Nelson Maldonado-Torres, Rutgers University, New Brunswick, US
Rosalind C. Morris, Columbia University, US
Francesca Orsini, School of Oriental and African Studies, University of London
Beth Piatote, University of California, Berkeley, US
Vicente L. Rafael, University of Washington, US
Jordy Rosenberg, University of Massachusetts, Amherst, US
Jeff Sacks, University of California, Riverside, US
Gerhard F. Strasser, Pennsylvania State University, US
Shaden M. Tageldin, University of Minnesota, US
Alice Te Punga Somerville, University of British Columbia, CA
Editorial Assistant
Andrea Martinez Teruel, Pennsylvania State University, US
Founding Editors
Alfred Owen Aldridge
Melvin J. Friedman
CLS publishes original scholarly articles on a wide range of critical comparative topics. Authors should keep in mind the diverse readership of CLS when they prepare their submissions and draw out clearly the implications of their findings both for specialists in their respective field(s) and the broader audience of comparatists. Manuscripts should be between 7,000 to 12,000 words including endnotes and quotations, and must include an additional 200-word abstract. CLS does not accept manuscripts simultaneously submitted elsewhere or articles previously published, in any language. Manuscripts should adhere to the guidelines of the most recent Chicago Manual of Style (CMS). In preparing notes, authors should use "endnote style"—CLS does NOT use the "Works Cited" style. All quotes should be in both the original language and in English translation, and for the sake of readability we request that you use a 12-point font, double-spaced.
To submit a manuscript to the editorial office, please visit http://www.editorialmanager.com/cls/ and create an author profile. The online system will guide you through the steps to upload your manuscript.
Unsolicited reviews are not considered for publication in CLS. However, the Book Review Editors will consider proposals to review a book on a case-by-case basis. Interested reviewers should send a short proposal to the Book Review Editors ().
Institutional Print & Online - $364.00
Institutional Print or Online - $260.00
Institutional Single Issue - $73.00
Individual Print & Online - $105.00
Individual Print or Online - $73.00
Individual Single Issue - $24.00
Outside US add Shipping & Handling - $28.00
Arts & Humanities Citation Index
IBZ
MLA International Bibliography
Scopus