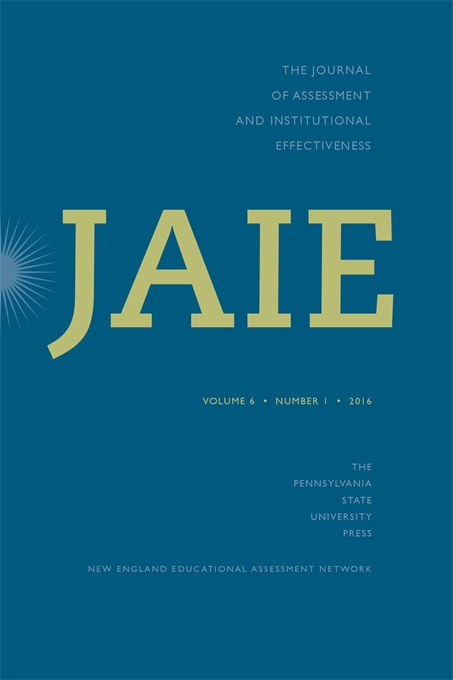 The Journal of Assessment and Institutional Effectiveness
Mark Nicholas, Editor
Raymond Shaw, Editor
SUBSCRIBE / RENEW
The Journal of Assessment and Institutional Effectiveness
Mark Nicholas, Editor
Raymond Shaw, Editor
Description

Board

Submissions

Pricing

Indexing
The Journal of Assessment and Institutional Effectiveness publishes scholarly work on the assessment of student learning at the course, program, institutional, and multi-institutional levels as well as more broadly focused scholarship on institutional effectiveness in relation to mission and emerging directions in higher education assessment.
JAIE is the official publication of the New England Educational Assessment Network, established in 1995 and recognized as one of the leaders in supporting best practices and resources in educational assessment. Its mission is to enhance student learning and development by promoting and supporting evidence-based assessment.
Editors
Mark Nicholas, Framingham State University
Raymond Shaw, Merrimack College
Book Review Editor
Marlene Clapp, Massachusetts Association of Community Colleges
Editorial Board
Gianina Baker, National Institute for Learning Outcomes Assessment
Jonathan Gueverra, The College of the Florida Keys
Peggy L. Maki, Peggy Maki Associates
Kate McConnell, Association of American Colleges & Universities
Rebecca Shearman, National Science Foundation
Martha Stassen, University of Massachusetts Amherst
Manuscripts must conform to APA style, as specified in the latest edition of the Publication Manual of the American Psychological Association. All text must be double-spaced in either 12-point Times New Roman font on 8.5 x 11 inch pages. Text should be left-justified with one-inch margins. You may cite your own work, but be careful not to use wording that identifies you as the manuscript's author. Include your name only on the title page.
Submit manuscripts in Microsoft Word format to JAIE's electronic submission system: http://www.editorialmanager.com/jaie/. Paper submissions will not be accepted. Articles are to be not less than twenty (20) or more than thirty (30) double-spaced pages in length, excluding endnotes and appendixes. JAIE will acknowledge receipt of your manuscript via email.
Publishing decisions are made within 10 weeks of receipt, except in unusual circumstances. Manuscripts undergo a double-blind review process. If your manuscript is accepted for publication, you will be asked to submit within the time specified an electronic copy of the final version in Microsoft Word format. You also must obtain permission to reproduce any copyrighted materials used in your article.
Institutional Print & Online - $270.00
Institutional Print or Online - $185.00
Institutional Single Issue - $101.00
Individual Print & Online - $79.00
Individual Print or Online - $55.00
Individual Single Issue - $34.00
Outside US add Shipping & Handling - $12.00
European Reference Index for the Humanities and Social Sciences (ERIH PLUS)
IBZ